The birthday party today was fun.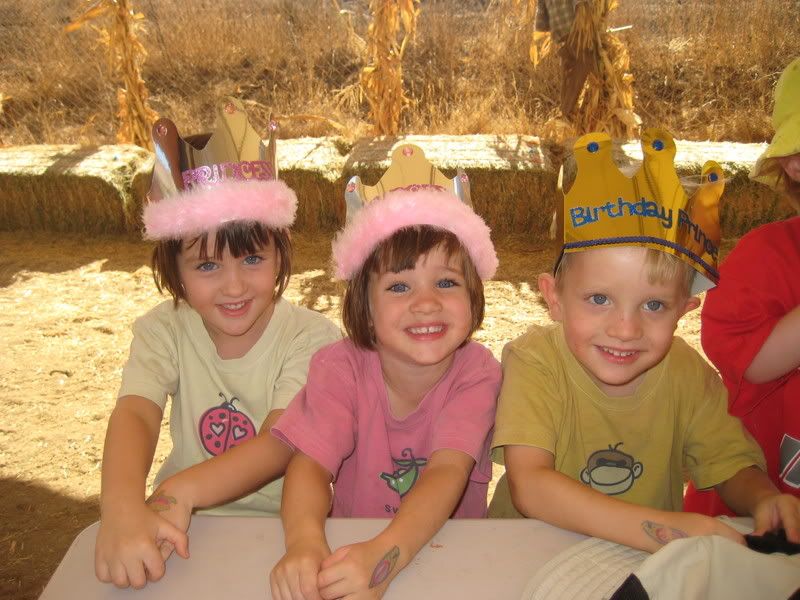 (Thanks for the picture, Lorie. It seems that all of the photos "I" tried to take, the kids are either picking their noses or looking the other way. I think we have hit a point where anyone EXCEPT their own mother can take their picture.)
Charlie and I have both given the party a 7 on a scale of 1 to 10. The three point deduction was due primarily to the heat and large crowds. This is the third birthday we've celebrated at this particular pumpkin patch - but every time we've ever been before, it is overcast and cool and the crowds are lean. After today, I decided that I'd take overcast and lean to scorching and crowded any day.
Still, we had a good time.
The children especially appreciated that not a
single attendee
to their party paid any mind to the request I made on the invitation,
"Your presence is our present. No gifts please!"

I had thought that maybe this year I could get away with the children not receiving presents at their party. But ever since I sent the invitations out three weeks ago, the kids have been asking me with routine frequency
, "We get PRESENTS at our birthday party?!"
This banter of course led me to feel like a huge pile of dung.
What mother denies their four-year-old child birthday presents at their party?!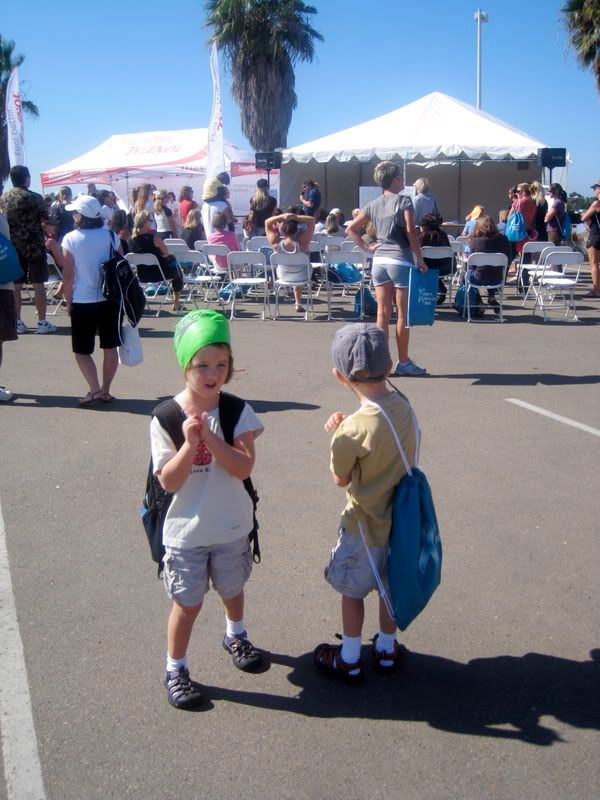 (The same kind of mother that detours from driving her children to their birthday party and then, makes them listen to a 20-minute pre race triathlon talk before dragging them around for another 20 minutes while she picks up her goody bag, swim cap, bib numbers, timing chip and free Accelerade sample.)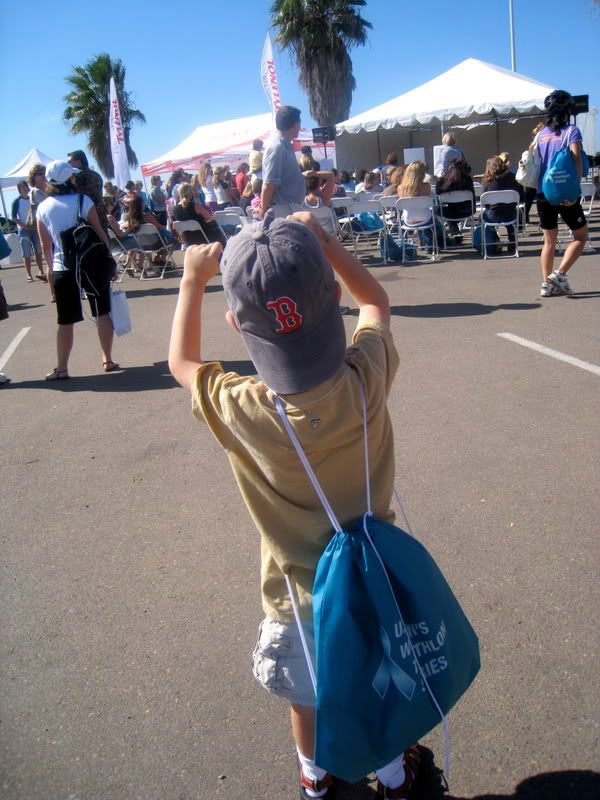 (William showing off his rally cap)
It's not that I don't want to see our children happy.
I just happen to believe it's a little overwhelming to be invited to a party where you have to buy for THREE kids. Unless, of course, you run in triplet circles and know that it is perfectly acceptable to buy ONE gift for the whole family. Besides, we live in a space that seems to be getting smaller by the minute and the thought of bringing MORE stuff in to this house makes me jittery.
So the kids loved all of the presents they received. You've never seen such
happy
kids. Until I told them that they couldn't rip every last gift open while we were at the pumpkin patch and instead, they needed to wait until we drove home. And then, you've never seen such
sad
kids.
Tonight, I am packed and ready to go tomorrow morning. I need to leave the house by 5:15 AM in order to get to the race with enough time to set up my bicycle in the transition area. My race doesn't start until 7:49 AM, but God only knows how long it will take me to get in to this wetsuit all by myself. It took almost 10 minutes tonight with Charlie standing on the bed over my shoulders and telling me to "JUMP!"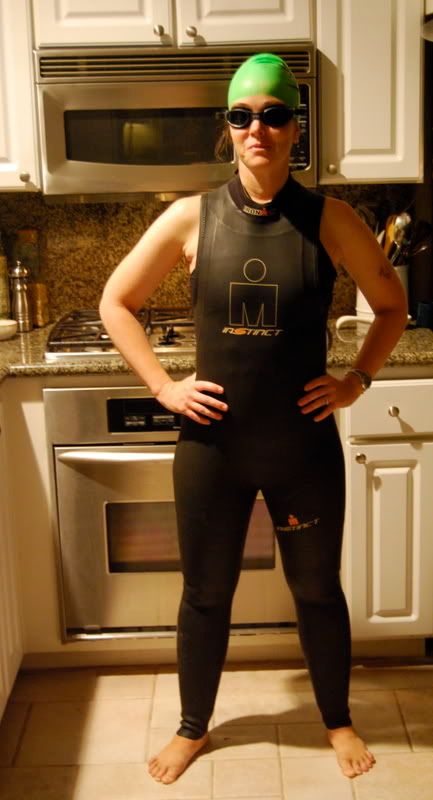 But I figure if the Red Sox can come back from a two game deficit to tie up the ALCS, anything is possible. Although, I might sleep in it tonight, to save myself the heart ache tomorrow. Truly, just putting that wetsuit on has been the most exercise I have accomplished in the past month.