One day last week, I took the children shopping at Target.
The plan was to pick up some diapers. The reality was that I bought diapers, a few gallons of Mums for our garden, six bags of 90-piece Halloween candy and three of the exact same, cheaply made Halloween costume.
William spotted the costume first. And although I tried desperately to convince the girls that they wouldn't want to be Buzz Lightyear on Halloween, they wouldn't listen.
For a solid 20 minutes I tried to persuade William to be a big bad wolf and the girls could be little red riding hood. Or, William could be a prince, the girls could be princesses and Henry could be a frog. Or, they could all be bees. Or they could all be something -
anything
- other than dressing up in the most pathetically cheap costumes I've ever seen.
With a last ditch suggestion that the children all dress up as monkeys, William smiled and said
"Hey Mom, I have a good idea. Why don't YOU be a monkey?"

So, Buzz it is.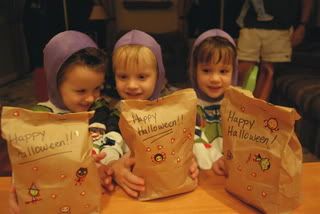 All the way around.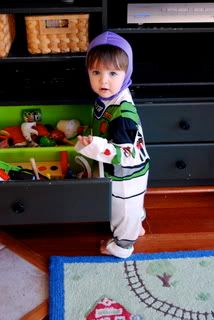 A few weeks ago while at the doctor's office, I got carried away in conversation with the receptionist while I was waiting. She was one of those people that was very easy to talk with and in 20 minutes, we covered topics ranging from the busy life of parenthood to favorite family recipes.
At one point, she indicated that she would be fasting and praying for the next 40 days that
Proposition 8
would pass. I gave her a puzzled look because at the time, I hadn't received my voter pamphlet and wasn't familiar with Proposition 8. I feigned understanding and privately vowed to go home and get caught up on the ballot.
Now I fully understand what the receptionist at my doctor's office was talking about. And honestly? It hurts my heart.
Several months ago, Charlie and I went out to dinner with some of our very good friends, and over dinner, we discussed a recent sermon we had heard at church. During the sermon, our minister indicated that homosexuality is a sin. If people have homosexual tendencies, they need to ignore them and live a pure heterosexual life. Or, they need to abstain from
any
relations.
See, the problem with all of this, in my opinion, is that people are born the way that they are meant to be. I believe that a person has about as much choice in selecting their sexual identity as they do in selecting their eye color. I believe that the reason so many people I know - who have been hurt by relationships in which their spouse discovered that they were gay - is because those people who were born with predominantly homosexual tendencies, attempted to mask their true identity.
What a painful and lonely row to hoe.
To know that you are gay, when every one around you is not? To be told that your very existence is sinful? To try and fit in to a situation by ignoring your true feelings, or living a life alone?
The way I see it ... people are born the way that they are meant to be born and in my opinion,
everyone
is a creation of God. I believe homosexuality has existed as long as humankind has existed even though I don't believe it is completely "normal" because a species would not survive if everyone was gay. Especially if sperm banks went out of business.
However.
I think that
everyone
should have the right to follow their heart and enjoy companionship while they walk through life. I think that if two women or two men would be happy together, than they should have the
civil
right
to be together. What is their alternative? Live a life alone - or one in which they are not true to themself or their
heterosexual
partner?
All around my neighborhood are signs on front lawns advertising "Yes on Prop 8!" People that I've talked to have told me that voting "yes" will protect marriage and family values and make the world a more wholesome place.
Really?
I don't see it that way at all.
I don't think that overturning a law that will provide
everyone
the right to marry, is going to do
anything
to improve the state of our world or humanity. I think that it will only further the discrimination among people who are
already
discriminated against.
If people really want to make the world a better place and enhance family values, they ought to first go after television stations that air Maury Povich shows in the middle of the day, just when children are coming home from school, with episodes about paternity testing. It seems to me that programs regarding "
I slept with four men and don't know who is my baby's daddy!
" and "
Your triplets ain't mine!
" do a lot more to undermine the moral structure of society than allowing a same-sexed couple to form a union in which they are eligible to accept
insurance or benefits
.
The supporters of Prop 8 argue that our children will be taught about same sex marriages in school. The commercials that I've seen show a little girl coming home and telling her appalled mother that she learned how two princesses can get married.
I can't help but wonder if that family would be equally aghast to see a little boy dressed in
ballerina garb
, or answer the door on Halloween night only to find two little girls wearing a boys costume.
I guess I'll soon find out.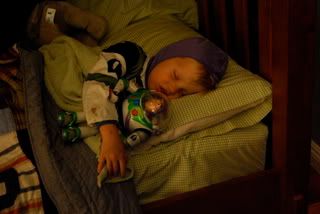 Because thus far, the children show
no sign
of wanting to be anything else.