** Edit: Please read the comments on this post because there is more discussion regarding the apple corer and recipe!! **
We drove up to our local mountains and went apple picking last weekend.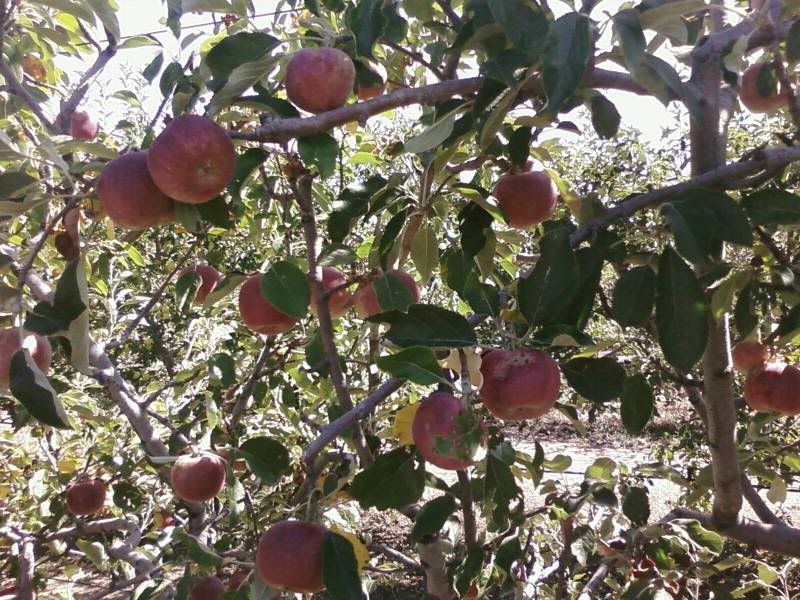 Because we have three children that were
very interested
in picking apples, and wanted nothing more than to hold their very own bag, we picked enough apples to last us for the next four months. Or, to make apple pies for 60 families.
During the drive home, I was telling the children all of the magnificent things that we would do with our three overflowing bags worth of apples. We would make pies! cobbler! sauce! juice!
Heck, we would just pick them up and eat them, like an apple!
We weren't in the door for five minutes and I had three little helpers that were PUMPED to help me cook apples. So I set to work making one of my all-time favorite recipes and ultimate comfort foods ...
apple crisp.
And to make apple crisp, I called upon one of my all-time favorite kitchen utensils and ultimate fruit preparation gadget ..
my apple corer.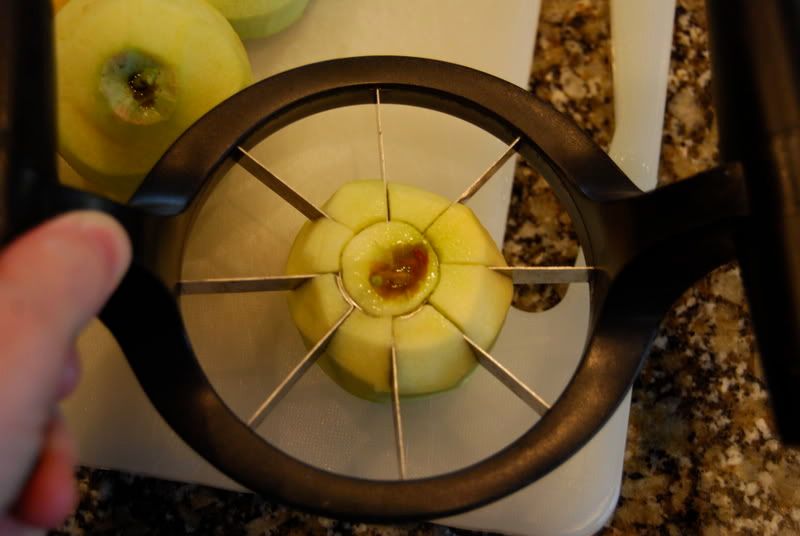 I feel an apple corer is one of those items that probably
everyone
has in their kitchen. But maybe (like me up until about five years ago), you have never
heard
of an apple corer. And when you learn how this tool can slice apples (and pears) cleanly in to perfectly spaced wedges - with no risk of cutting fingers - you will want one.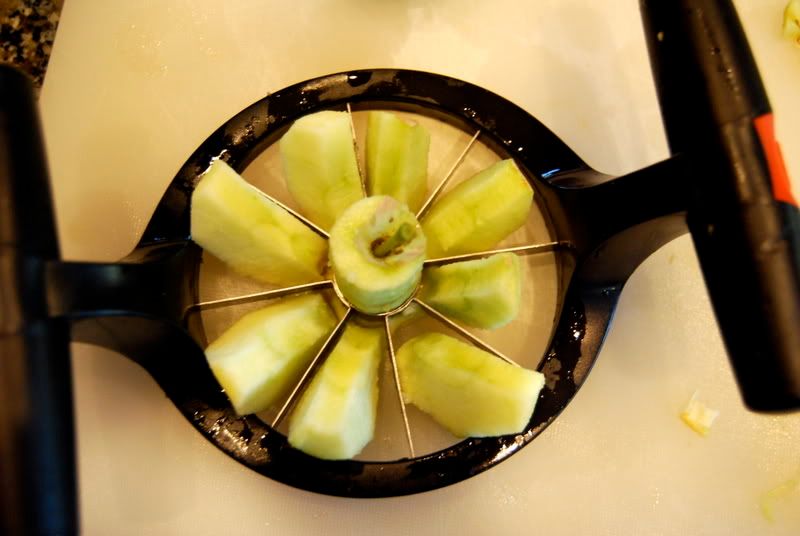 And even if you know all about the glory that is an apple corer, I'll be you don't know all about the glory that is my family's ancient apple crisp recipe.
To make this food that to me, is the true embodiment of the fall season and represents everything that is good in the world ... you will need apples. Approximately eight if they are moderate to large in size.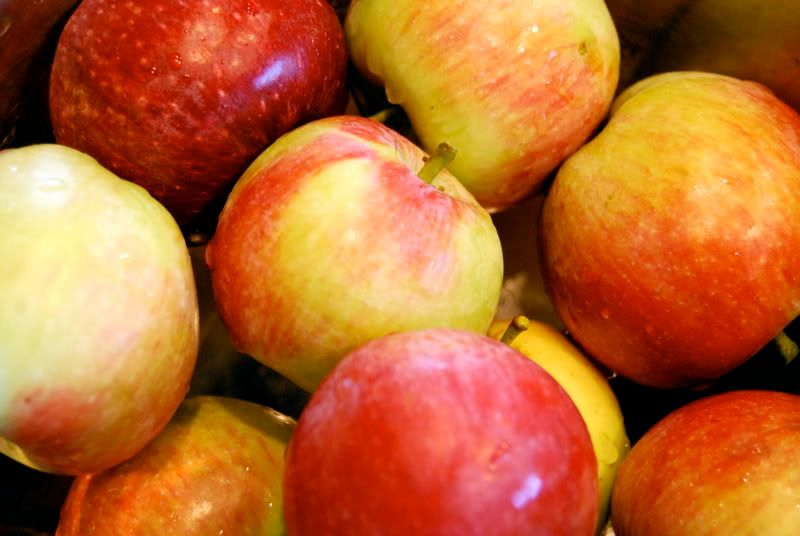 Or, approximately ten if they are the approximate size of a pool ball.
You will also need:
2 sticks of softened

(not melted!)

butter
1 cup of sugar
½ cup of brown sugar
1 ½ cup of flour
Cinnamon
Lemon
Oatmeal
Almonds (optional)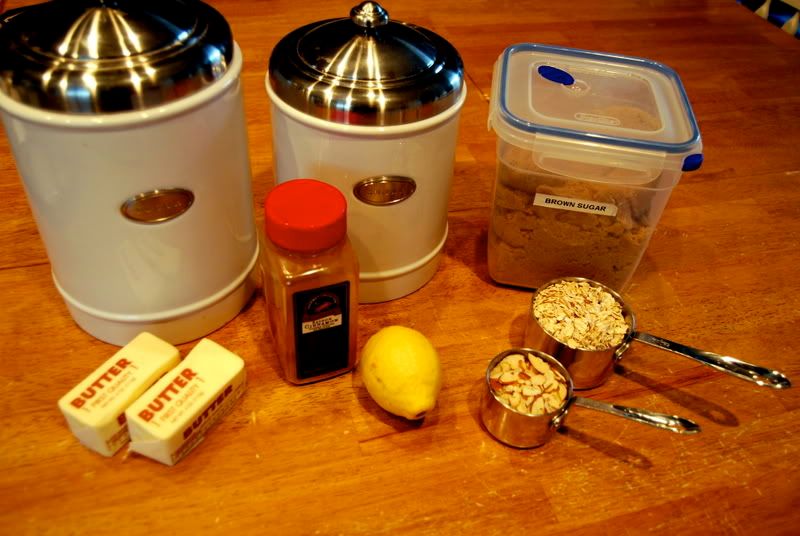 First, you will peel and core your apples.
If you want to do an OCD screening test, you could then line all of the cores up and see if it troubles anyone that some of the stems are facing a different way.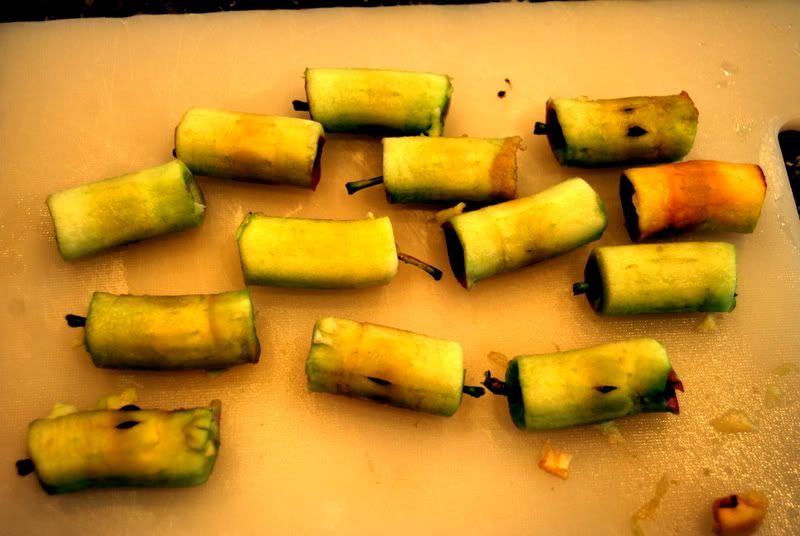 You will then place all of your nice and evenly sliced apples in to a 9 x 13 baking dish.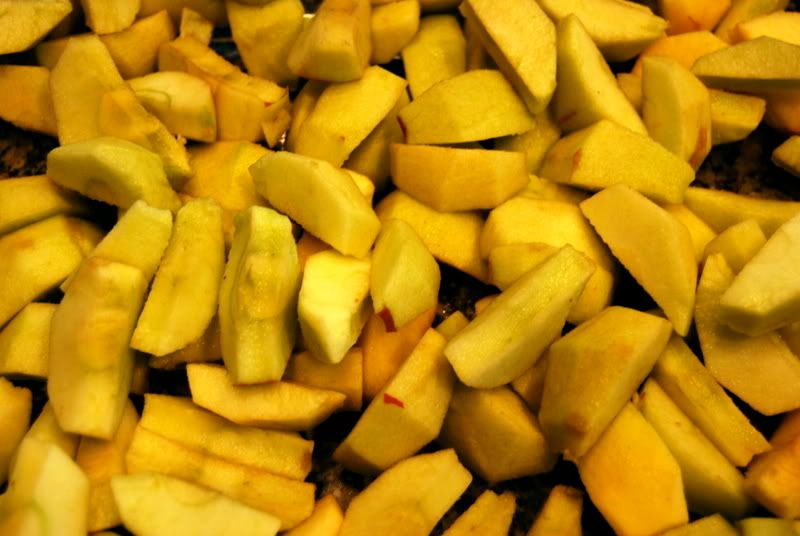 And squeeze the juice of a lemon over them.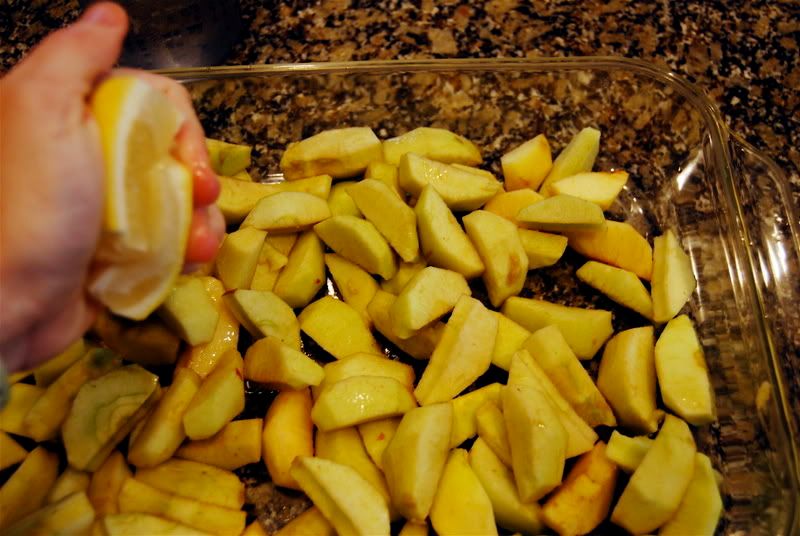 Then, you will evenly sprinkle approximately one cup of oatmeal over the apple slices.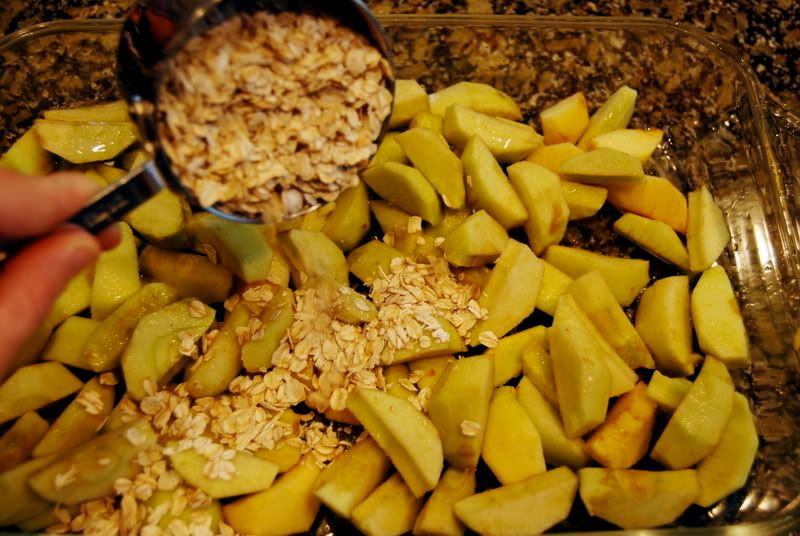 And then, you will
evenly
sprinkle cinnamon over the apple, lemon, oatmeal concoction. You'll want to exercise caution that your cinnamon container is set to "sprinkle" and not "pour".
Oops.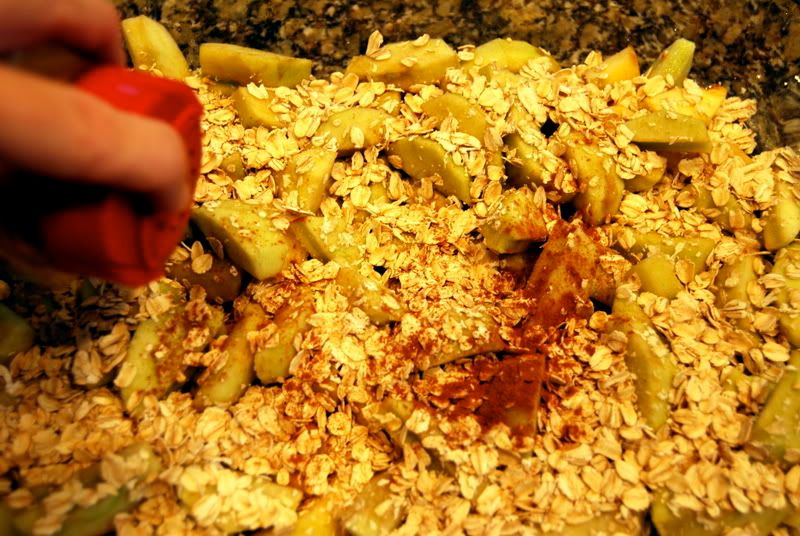 If you have little helpers, this is a great time to call upon them because they will thoroughly enjoy dumping the various dry ingredients in to a big bowl.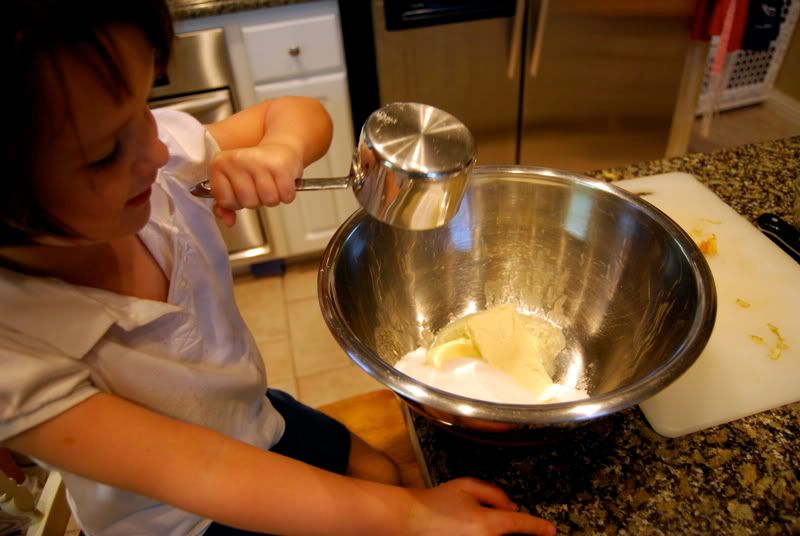 In goes the sugar!
In goes the flour!
The brown sugar!
The softened butter!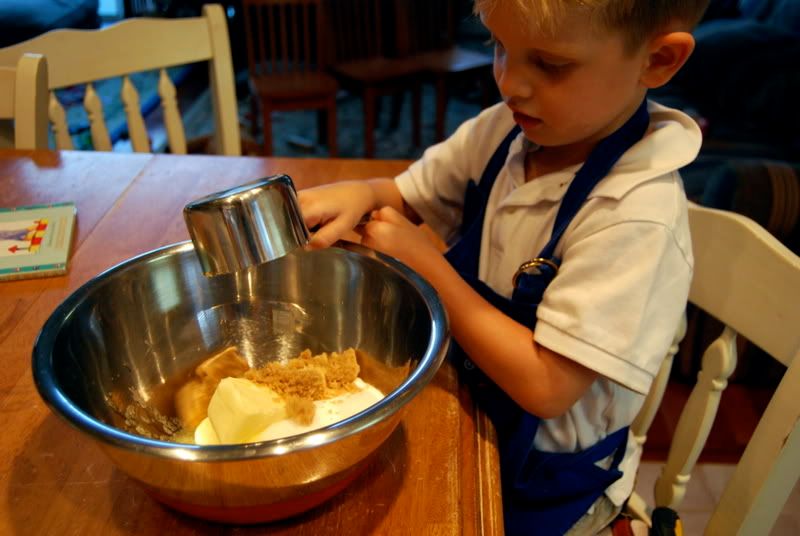 This is the part your little helpers will
especially
enjoy, because once they have nice clean hands, they get to squish all of the ingredients together.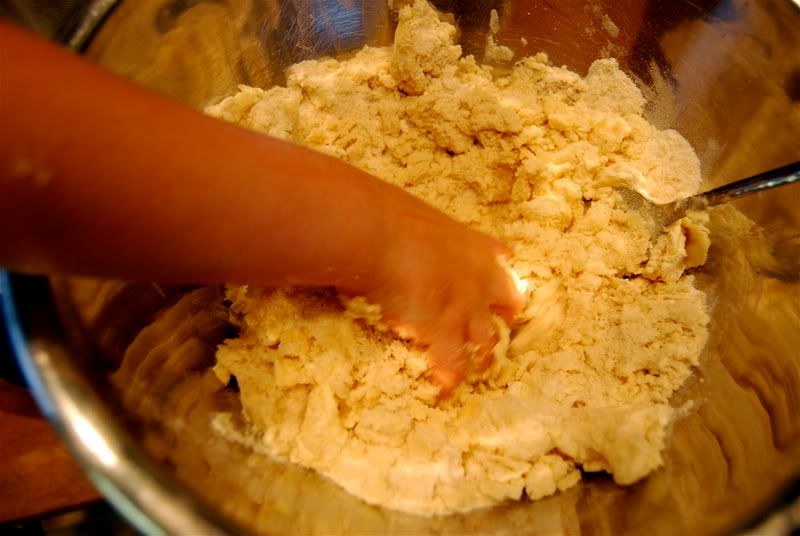 Sure, you could use a mixer if you have one - but I think that the consistency of the "crisp" is so much better if the ingredients are gently "merged" as opposed to "mixed."
You'll then
evenly
distribute the sugar, flour, brown sugar, softened butter concoction over the apple, cinnamon, oatmeal, lemon concoction. If you are feeling a little nutty, you can evenly sprinkle on top of that - some sliced almonds.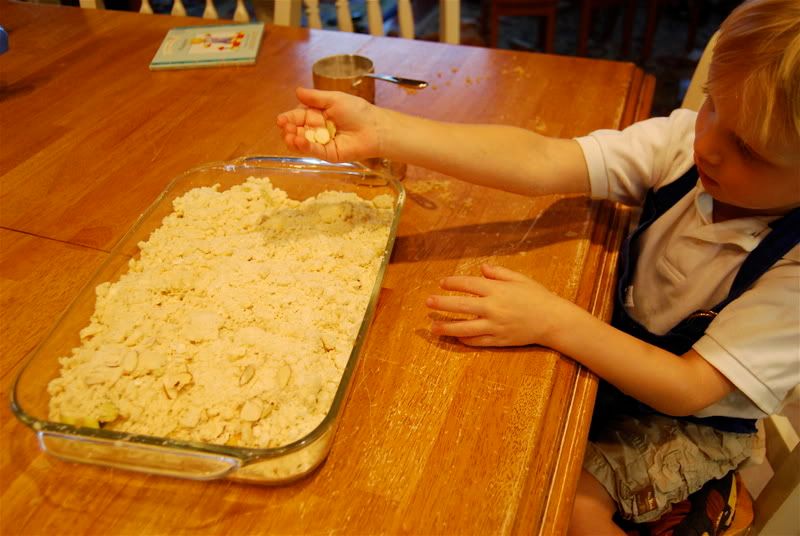 And another gentle sprinkling of cinnamon.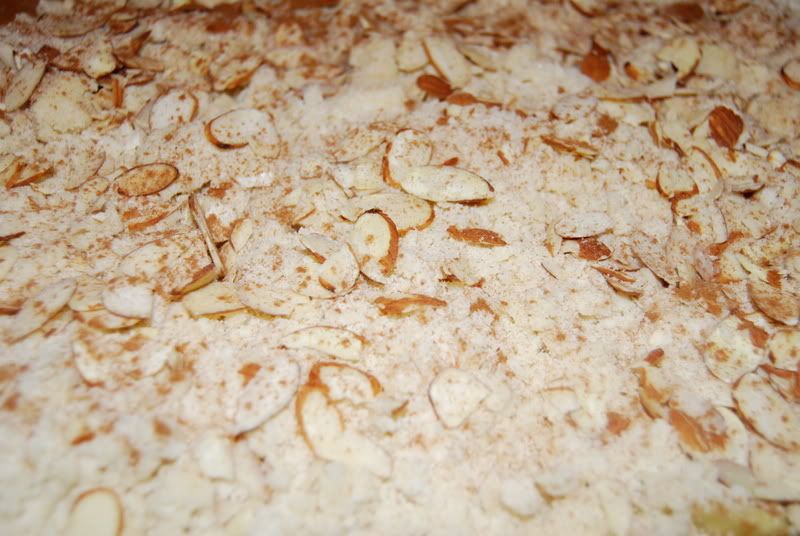 You will place the whole getup in to a pre-heated 350 degree oven and bake
uncovered
for one hour, or until the apples are soft and the top is lightly brown.
While the crisp bakes - bathe your helpers who will most likely be coated from head-to-toe with flour, sugar and butter. And because the lovely aroma of apples and cinnamon will be wafting through your house, you should have no trouble convincing your helpers to get out of the tub and in to their PJ's, which on any other night, might take every last bit of energy that you possess.
Before less than a minute has lapsed once you remove it from the oven, you will carve out a piece, place it in a bowl, throw on a huge dollop of vanilla ice cream, light a candle, reflect on all that is good in the universe, and prepare to experience pure joy.
But first you must decide whether you will eat this masterpiece with a spoon or a fork...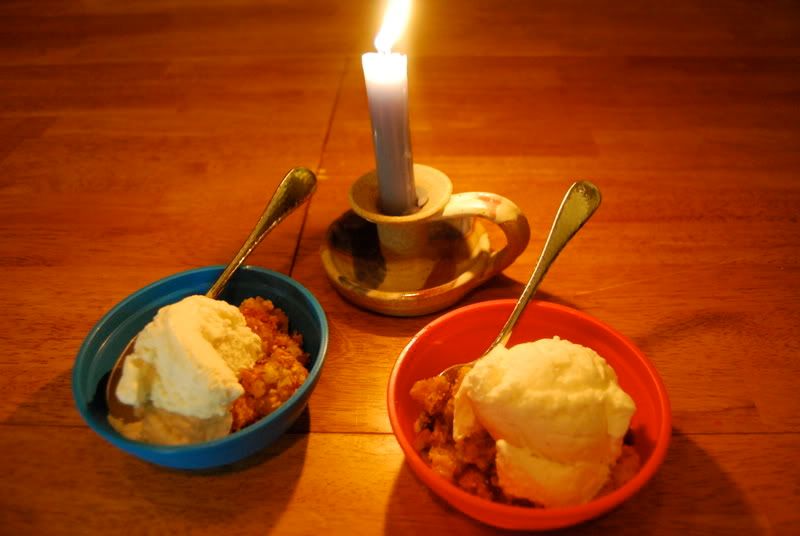 Or, perhaps you will opt for
both
a spoon AND a fork if you happen to be three-years-old.