Hi, I'm Jane.
It's my
new
name.
I've spent the past two hours corresponding via e-mail with
Michele
about internet security and when she sent me a map to my house, I almost passed out. When she
also
sent me a link to
ZabaSearch
and I went online and plugged in a few details about myself, only to discover that for the low price of $49.95, I could purchase my entire life history and telephone number (a number that is supposed to be
unpublished
) I decided that it's a fantastic time to change my identity.

Because what if someone CALLS and wants to talk with me?!
Some might think I'm being a little paranoid and last week, I might have agreed.
But after my sister-in-law called my husband this weekend and strongly suggested that we make our blog private because there have been documented cases of people going to family websites where there are photographs of children, and then, deciphering where those people live and selling that information (essentially a photo of a child with a map to their home), that's all it took for me to replace my name with one that I've adored for years.
Jane. It's a lovely name, isn't it?
Here is some information about Jane that you might not know.
She is considering changing her husband's name to Sam. Or Pinot.
Her children will remain named, although the pseudonymns KnockItOff, QuitYourTeasin, GoToSleep and StopScreamingHolyMotherofGod are under consideration.
She has triplets that are about to turn four-year-old. Within the past week, all three of her triplet children have been pooping on the potty. This brings Jane tremendous happiness. In fact, there are not enough words in the English language to adequately capture the level of joy in Jane's heart.
Jane can't say that it was any
one thing
that happened to result in this monumental occurrence. Although she must admit, she never did think that it would *actually* happen. It's like the Northern Lights. Everyone tells you that they exist and what it takes to see them, but you remain skeptical until the one time it happens and then, the whole Majesty of God opens before your eyes.
Why, just last month, Jane tried laxatives, suppositories and her children's pediatrician provided the telephone number of a pediatric psychiatrist and suggested that she give them a call to profile her one pooping-in-the-potty holdout
BECAUSE NOTHING WAS WORKING.
But Jane wanted to give it a little more time.
What Jane believes is that sitting on the rim of the tub and holding hands with the pooper, while making sounds like YOU TOO are pooping, is a good tactic. Having a stash of candy in your child's favorite color for a reward might benefit you too (or rather them, although also you).
It may help to sing "Little Bunny Foo-Foo" a few hundred times while you wait. What absolutely doesn't help is to threaten your child. As in, "If you don't go poop, I am going to eat every last M&M and then you will be sad." That will only cause your child to cry and tense up and that is counter productive to the process of
letting go
.
Currently, Jane is trying to figure out how to night time train her children,
without
taking off their night time diapers.
BECAUSE,
she don't want to be changing sheets and pajamas all hours of the night. So she suspects that once the children are mature enough to wake up and use the facilities, they will. If they are still wearing diapers by third grade, Jane might change her strategy.
For the most part, Jane's children use a real toilet.
But the chances are excellent that she'll still be hauling a portable potty chair around with her everywhere she goes until at least the first grade, because even today, while she was at a location that had a public restroom within 50 feet, it was EASIER to let the children use the portable potty then tote four children in to a public restroom where it was undeniable that they would be unable to resist the temptation to lick something.
That's right.
Jane's children are going through a
licking
phase and Jane is
dying
from the grossness. She can handle her kids touching things fine enough. But she can't stand it when they run their tongues from one end of a pool banister to the other.
Or, lick a counter in a public restroom.
Or, a conveyance belt at the grocery store.
Or, the handle on an escalator.
Got the picture?
Here's something else about Jane.
She is breastfeeding her 14-month old son.
Why?
Jane
love
s not having to worry about "womanly issues" every month. It's been two years since Jane has had a period and she doesn't miss it one single bit. (Jane especially likes referring to herself in third person when discussing things of
that
nature.)
But mostly, Jane
loves
the bond that she shares with her baby. And eating whatever she wants. But mostly the bond. Really.
(And if ONE PERSON tries to tell Jane he's not a baby anymore, WATCH OUT.)
Jane nursed her daughters until they were 17-months old and she suspects that when her son is ready to stop he will. If he is still nursing strong at 18-months, she will BEGIN to entertain thoughts on weaning. But not a moment before pass the cheesecake thank you very much.
Since you asked ... although Jane sincerely admires Palin, GASP!, she's planning to vote for Obama in November. And Jane will proudly wear a t-shirt to the voting poll that reads,
"Make Cupcakes. Not War."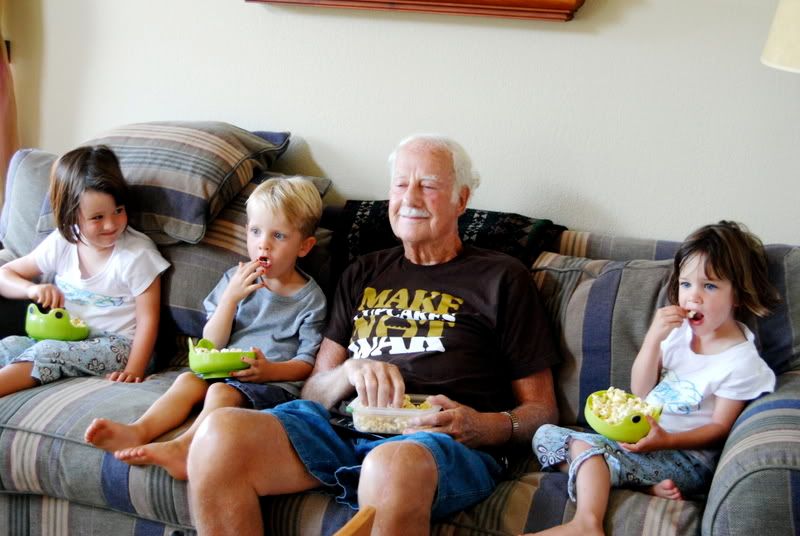 Go Jane. Go.