A few days before Charlie and I were married in 1994, my mother underwent a major dental reconstruction. Mom previously had her top teeth extracted and was fit with a temporary bridge while her permanent bridge was made.
My mother's dentist gave her
strict
instructions to avoid certain foods because her temporary bridge would not be as secure as the permanent bridge, and since mom was slated to read a verse at our wedding in front of 200 guests, she promised that she would be careful.
But on the plane ride from South Carolina to Massachusetts, a mere two days before the wedding, mom bit in to a seemingly harmless-to-fragile-dental-work sandwich and nearly died when she looked down to see that her bridge was
still in the sandwich
when she took it away from her mouth. Mom threw a napkin up to cover her face and leaning over to my Aunt Grace, who was traveling north with her, muttered
"Oh NO!"
When Auntie encouraged mom to drop the napkin, she initially panicked - before falling in to a fit of hysteria. My aunt and my mom laughed and
laughed.
Because there sat the mother of the bride, almost

completely

toothless.
I've
written before
that
dental hygiene
is very important to me.
I have had our children in to see the dentist every four months since the time they were 18-months old, and Henry had his first checkup the same month he turned one. When my mother was in town recently and she watched me struggling with Henry to brush his four little teeth, she casually mentioned that
she
didn't own a toothbrush until she was seven-years-old.
So. As I was saying.
Good dental hygiene is important.
And m
y mother knows that although she was born during the Depression and before the current day emphasis that is placed upon taking care of one's teeth, mom

always

made sure I had my teeth cleaned every six months when I was growing up.

For Christmas in 2000, mom bought me an Oral B electric toothbrush.
Up until that time, I had always used a manual toothbrush, and once I made the switch, I couldn't believe the difference. I went on and
on
about how awesome my new electric toothbrush was and Charlie had such toothbrush envy, he ditched his Reach and went out and bought an Oral B for himself.
For the past eight years, I have used the exact same toothbrush, changing out the heads once every few months. I had no plans to replace my Oral B toothbrush, but very recently, it seemed that whenever I would brush my tongue (I cannot consider any toothbrushing session complete without a good tongue scrubbing), the toothbrush head would come off and get stuck at the back of my throat.
No kidding.
(Does it amaze you as much as it amazes me, the things about my personal life I divulge on this blog?)
The first time it happened, I thought that maybe I needed a new toothbrush head. But when I replaced it - and the same exact thing happened again - I got a little fearful that I was going to die while brushing my teeth.
Instead of running out and buying a new toothbrush (or using one of the 50 manual toothbrushes I have stockpiled from my [nearly] quarterly dental visits), for the next few months, I exercised
extreme caution
when brushing my tongue to insure that the toothbrush head didn't disconnect from the body, get lodged in my throat, and kill me.
(Seriously, in my mind's eye I could actually see the obituary about how I choked to death on a toothbrush head and I leave behind four small children and a grief-stricken husband.)
All this to say ... I recently bought a new toothbrush.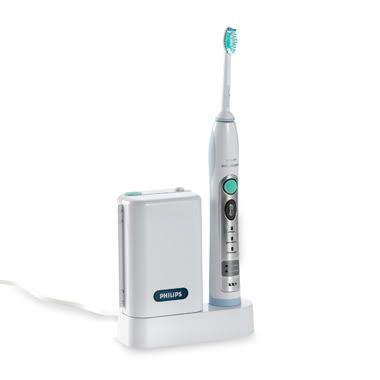 I had heard great things about the Sonicare from my dentist, but never felt compelled to fork over the $100 (or $170 depending upon the model) until my recent disconnecting-toothbrush head-escapades. Now I can honestly say that as much as I loved my Oral B, I love the Sonicare that much more. The level of clean that is achieved after just one tooth brushing, is comparable to the level of clean one obtains after having just visited the dentist.
Sonicare achieves its bristle velocity through a combination of high frequency and high amplitude bristle motion.
This velocity generates dynamic action.
Dynamic action is gentler on dentin than a manual or an oscillating toothbrush. This action cannot be achieved by oscillating, spinning, rotating, or pulsating brushes.
The cleaning power of dynamic action, coupled with the specially designed bristle orientation, results in deep penetration of interproximal spaces.
This process results in a distinctly different brushing experience.
We purchased the Flexcare at Costco for $169.99. It came with two toothbrushes, a recharger and travel recharger (this is convenient for us since Charlie needs HIS OWN charger because he doesn't like sharing his recharger with me since I do not share the same neurosis about cleaning my toothbrush prior to charging. Whatever. He has his hang ups, he says I have mine) a travel pouch and a UV sanitizer.

If it wasn't so late, I would do a little comparison to the Flexcare that is sold at Costco versus Bed, Bath & Beyond. They also show a sale price of $169.99 but I'm not sure if the package sold at Costco is exactly the same, or slightly expanded. If they are the same, purchasing this toothbrush through Bed, Bath & Beyond (with a coupon) could save you 20%.
Our children are still using inexpensive battery-operated electric toothbrushes, but once they are a little older and not as likely to put their toothbrush in to the toilet, I will consider purchasing a Sonicare for them, too. Because dental hygiene is important to me.


(As for my mom: she visited a dentist in Massachusetts who placed her temporary bridge back in, the day before we exchanged nuptials. She had teeth, but her dental work was incredibly fragile and awkward fitting. I love you mom. Thanks for everything you do for me. And thanks for reading at our wedding. I think the lisp was adorable.)