I wasn't planning to write about the contents of my vehicle ... at least not until I first wrote about how I organize our closets and shoes ... but yesterday we had a bit of a mishap while driving on the freeway. And while I was waiting for the fine people from the
Automobile Association of America
to show up and change our flat tire, I started taking pictures of the inside of our car and mentally drafting the content of this post.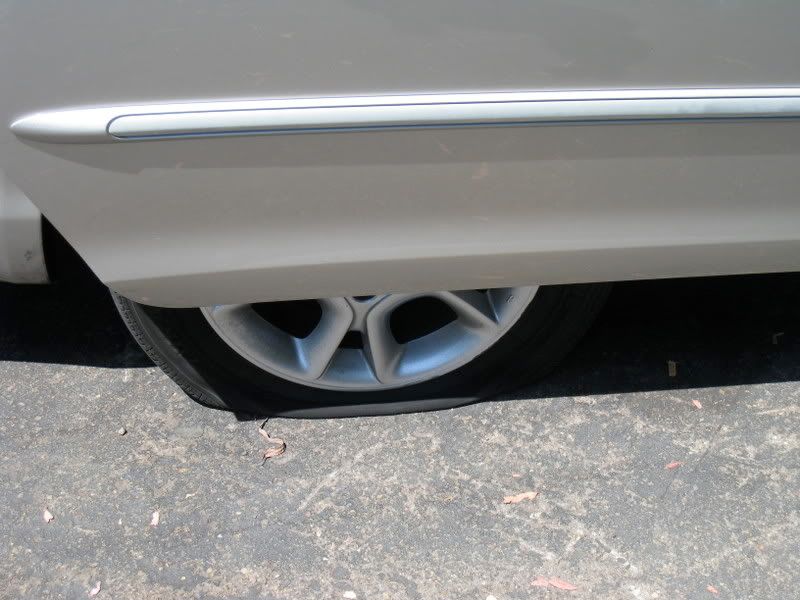 I'm a big time camper ... and a happy one at that.
I love the challenge of going in to the wilderness with everything I need to survive for at least three or four hours. Or, overnight if the weather is warm. So whenever I leave the house, I am almost always thinking,
"What if I get stuck somewhere. Do I have everything I need to make my situation tolerable?"


It is for that very reason I carry a bottle of wine and corkscrew almost everywhere I go.
And breath mints. I always have breath mints.
Our car has pockets on the doors, so on the driver side, I have a good supply of Pampers and Bed, Bath & Beyond 20% off coupons. As soon as they arrive in the mail, Costco coupons are added to my stash. Never again will I be unable to buy something that I need while I'm out because I forgot the coupon that will save me a few dollars. A couple years ago, I wised up and started storing all of the coupons that I will ever need in the car so I have them on hand when I'm out.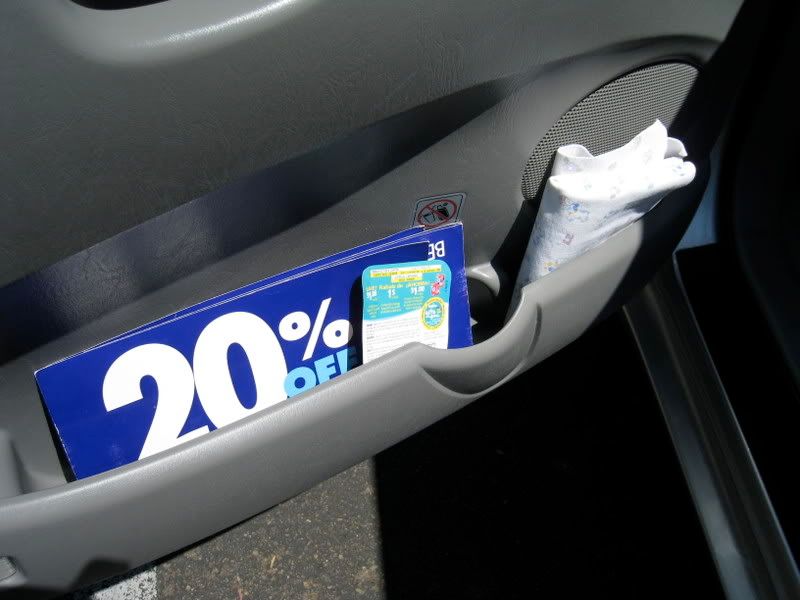 I also have an ample supply of waterproof pads which work exceptionally well to place in a carseat if you have small children that tend to say "I HAVE TO GO POTTY!! I HAVE TO GO POTTY!!" followed by "
OH NO!
" before you have the opportunity to slow from 55 miles an hour to a screeching halt.
On the passenger side, I have a large Johnson and Johnson First Aid kit. Within this kit I have added a bottle of Benadryl, because after William was stung by a bee while at a park, I figured it might be a good thing to have an antihistamine immediately available, in the event any of our children ever have an allergic reaction while we were out on one of our wild escapades.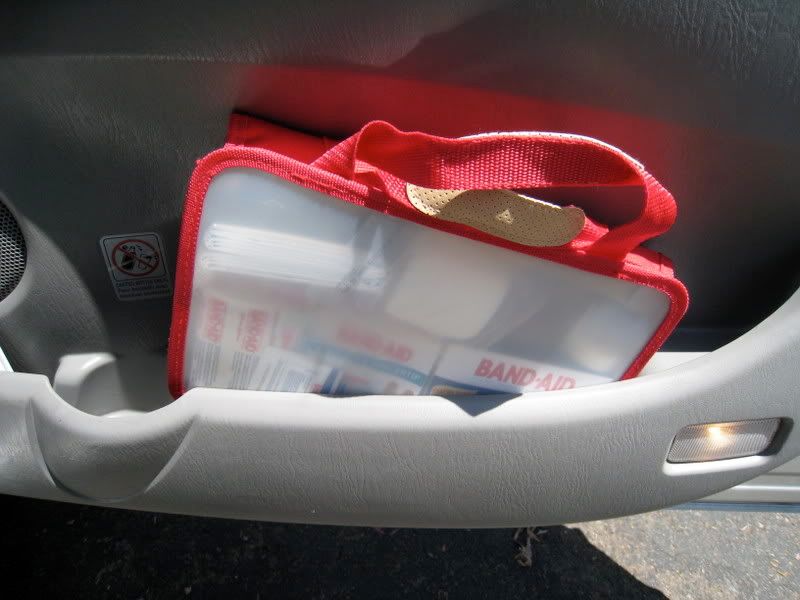 In the dashboard, I have the vehicle owner manual, registration, insurance - a few maps - a bottle of Imodium and a box of Pepto Bismol. In my humble opinion there are few things worse than needing the soothing comfort of certain medications and not having them IMMEDIATELY available. So go on ahead and eat that donut.
I got your back.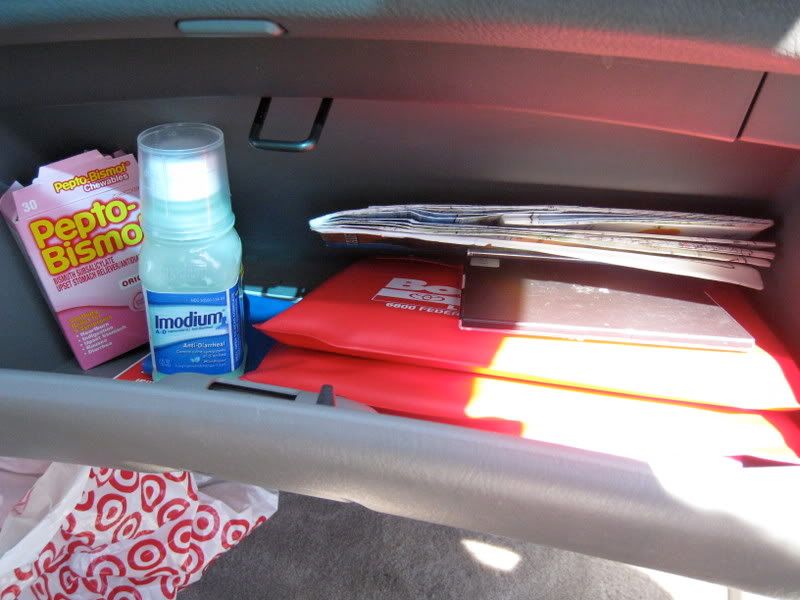 I have a trash bag, cell phone charger and a box of Kleenex...
And in the center console, I have some pens and paper, Princess bubbles, a Mini Mag flashlight, a tire pressure gauge, a screwdriver (not sure why), a floating penny (doesn't every vehicle have at least one?), some Baskin-Robbins coupons and that orange thing with the silver metal head is a
Life Hammer
.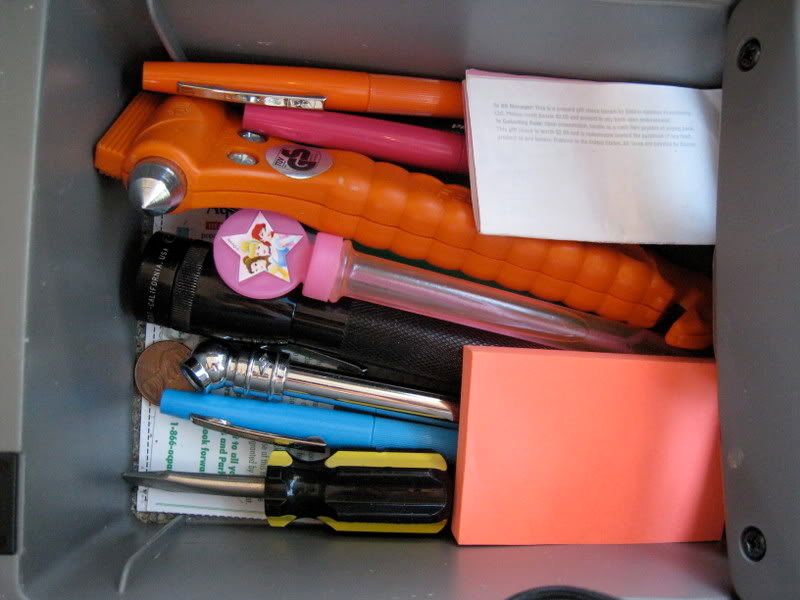 My sister Beth bought Charlie and I each Life Hammers for our cars a few years ago, and I have made sure that it is stored in an easily accessible location, where I know it won't get tossed around in the vehicle should we ever (God forbid) flip in to a canal or get in to a serious accident where we are trapped inside. It gives me peace of mind having this little tool in both of our cars.
The hammer will shatter glass and there is a blade that will slice a seatbelt if you are unable to retract it. In my opinion, it is definitely worth the $23.00 (or less, if you buy them in bulk. What a great gift for friends and family, alike!!)
I also have my
back pack / diaper bag
which contains a change of clothes, wipes, diapers, sunscreen, cookies and a host of other life sustaining supplies.
In the trunk, I have a stroller with me at all times. Even when our children outgrow strollers, I'll probably still have one in the car.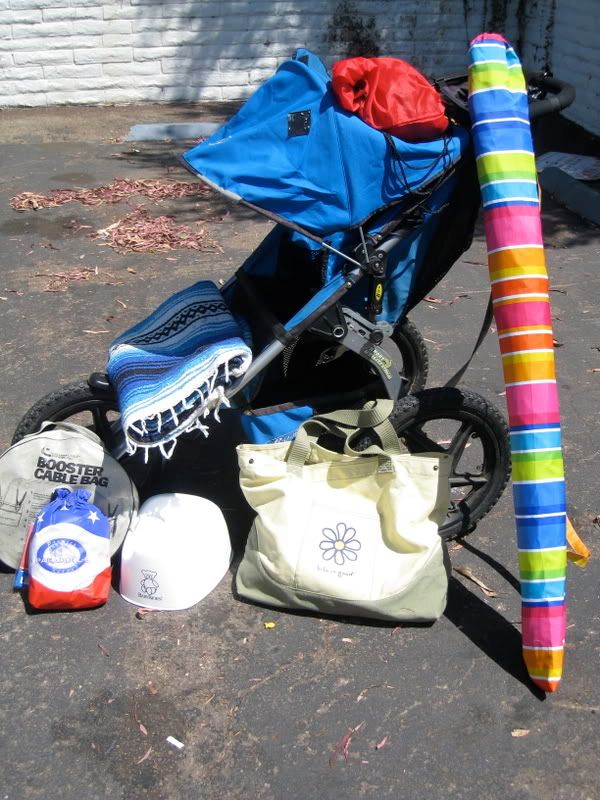 I have a Mexican blanket that we use almost everyday. Anytime we are out, this works great as a table cloth for picnic tables, or a great ground cover for sitting down.
I have a beach umbrella that I picked up at Costco for $12.00 because in Southern California, it frequently happens that there is NO shade in parks and the sun beating down on you can get old after a while.
I have my beloved Baby Bjorn potty chair that I will tuck in the stroller basket and take whenever we leave the car. We (and by "we" I mean "the children") use that potty chair all the time. Whenever we are out at the zoo - or some park - if the kids have to go potty, 9 out of 10 times, I'll walk around a corner and let them do their business. Then, I just dump the contents in a planter (unless there is a "solid" deposit) and spritz the seat clean with my spray bottle. This method is so much easier than trying to schlep four small children in to a public restroom (particularly when I'm by myself) and I am
all
about keeping things easy.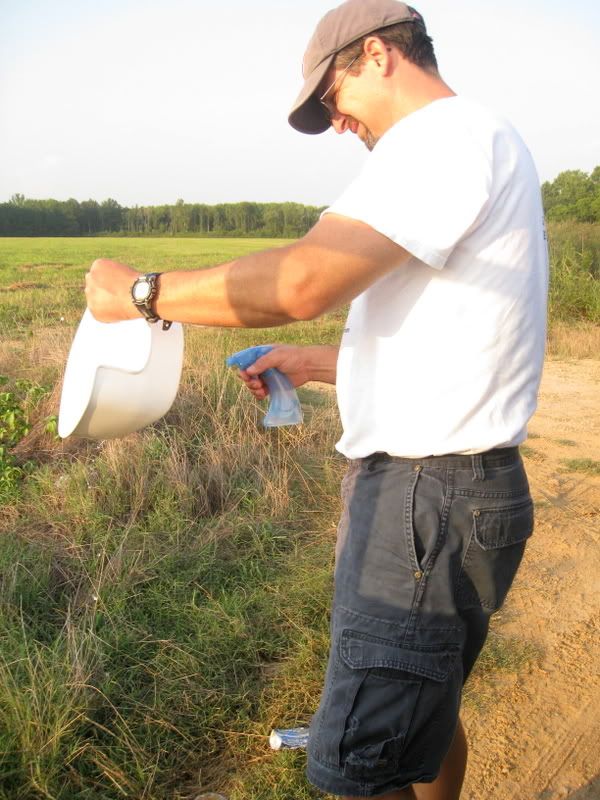 Let's see. What else...
I have our kite, because you never know when you'll catch a good breeze ... and I have a bag that contains a sweatshirt for all six of us along with six hats.
I have an umbrella and an "empty" bag that is to be used - theoretically - to unload the contents of the car after one of our outings to conveniently bring everything inside.
(When I actually
use
this technique, it works great.)
Not shown in this picture, because it's not there (but will be when I restock our car tomorrow) are a few bottles of water and a box of Graham Crackers. And last but not least, I have jumper cables.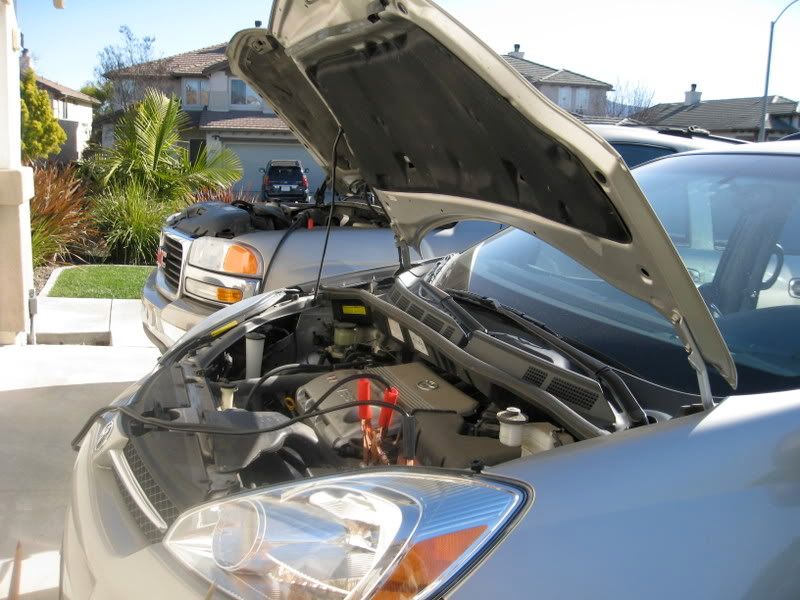 Several times within the past year, one of the children will click on a light in the back of the van and if I don't notice it before the next day, the battery will drain leaving me unable to start the car and a panic sets in because
I MUST GET OUT OF THE HOUSE WITH THE CHILDREN.


The first time this happened, I ran across the street to my neighbor's house and asked if she wouldn't mind giving me a jump. She looked confused.
"A jump? As in, on a rope? I'm not sure what you mean?"


When I explained that the battery was dead and I needed to jump start the car, she stepped back and said,
"Oh goodness. I think we need a man for that."

A WHAT?!

A man?

To jump start a car?


I assured her that I'm
fairly certain
I knew how to do it and when she drove her car over in to my driveway - pulling parallel alongside my van - I masterfully put the red on red, black on black
on her battery
... and the red on red, black on black
on my battery
and then directed that she start her car. When I started my car, ZOOM just like that, the engine turned over and I've never felt so proud to be a woman in all of my life.
The same scenario played out while my mother was in town and we again had a dead battery thanks to small children that turned on all the interior lights without my knowledge. And once again, I solicited the help of a neighbor and rolling up my sleeves, re-enacted my dead-battery jump start prowess while my mother gazed on in amazement.
Her daughter,
the mechanic
.
I am fully capable of doing things like refilling the washer reservoir, checking the oil, and jumping a dead battery. But when it comes to climbing
under
the car and securing a tire to a 4,000 pound vehicle that transports my offspring, I'll gladly fork over the $71.00 a year for membership to AAA.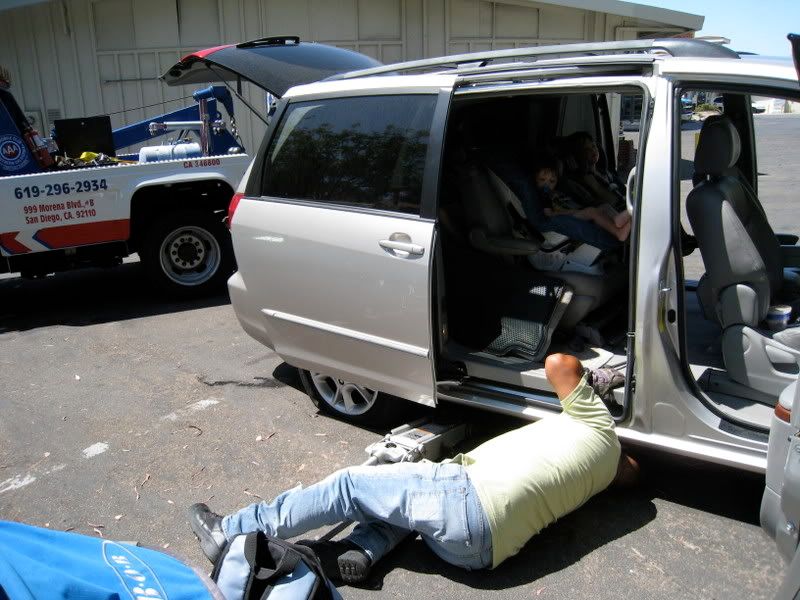 Free maps, travel services, discounts at fine hotels and establishments across the country, and capable mechanics that show up in gleaming tow trucks within 30 minutes to save the day?


That is money well spent.
Amen to that.