I'm not a very competitive person.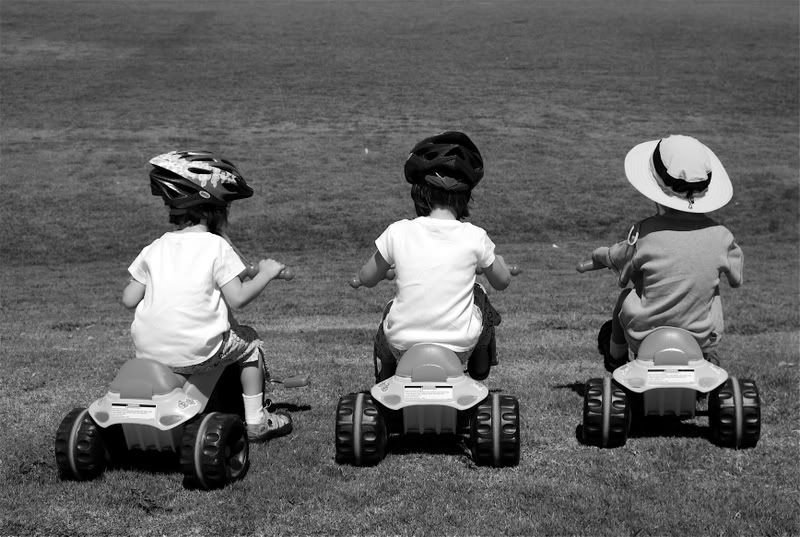 I really don't care what place I finish in my next triathlon, so long as I finish. I'm not at all ashamed to slow down and walk when out for a run, or lag way behind when out on a ride. I very rarely push myself too hard when I'm working out. Sure, my heart rate will go up and I'll break in to a sweat, but I can't stand being uncomfortable for long stretches of time.
I remember going to an aerobics class with one of my friends in high school. Since I had done gymnastics for several years and considered myself rather flexible and coordinated, I thought aerobics would be a breeze.
And the warm up was.

But once they started with the, "And lift. And lift. And lift. And one more time, LIFT. And right and lift. And left and lift. And right and lift. And left and lift. And faster now, right LIFT, left LIFT, right LIFT, left LIFT", I sat down and lifted my foot up and down to the beat of the music.
That marked the end of aerobics for me. Although, in hindsight I wish I had stuck with it, because my friend continued on with the class and she was absolutely
cut
by the time we graduated. But it seems I always cop out when the going gets tough.
Last week, I went swimming with one of our neighbors, Dawn.
Dawn is in fantastic shape. She rides her bike 25 miles to work several mornings a week. She ran the San Diego Rock-n-Roll marathon last year and has competed in numerous triathlons. She rides with her husband a minimum of 50 miles every weekend, including a trek up a road that is 7-miles long and has a 6% up hill grade. Dawn is always encouraging me to go for walks with her, a jog around the block, a weekend ride, or swim some laps before she leaves for work.
So last week when we went swimming and I noticed that I was slightly ahead of Dawn on the flip turn for my final lap, I discovered a competitive streak I never knew existed. I dug in deep and started to swim as fast as I could - kicking like there was a shark chasing me down. But Dawn, the athletic hard body that she is, started to dig deep too ... because there was
no way
she was going to let me beat her in the pool.
(I'm absolutely certain that is what she was thinking.)
When we got to the shallow end and I looked out of the corner of my eye and noticed that she had started to catch up and we were almost neck-and-neck, I stood up and RAN the rest of the way to the wall.
And I won.
Although we weren't
really
racing, it felt so good that I felt compelled to talk smack the rest of the way home.
"Yeah. How do you like me NOW? Uh-huh. That's what I THOUGHT."
Today while I was at the gym, I was jamming out to music and I noticed out of the corner of my eye that a person on the bike next to me had a higher RPM than I did. So, I stepped it up a notch. And then, I noticed that they were burning more calories than me. So, I cranked up my resistance. When I started pedaling faster, I noticed they started pedaling faster. And before I knew it, I was
racing
the person on the stationary bike next to me.
And then, I noticed that he wasn't a day younger than 70.
As I've been working out with consistency, I have noticed that I am getting stronger. I have a little bit more confidence in myself to push a little harder and further than I did before. And it feels really good to push myself and know that I can do it. Because in doing it, I become even stronger so I can do it better the
next
time.
At the end of October, six weeks from now, I'm going to have another iPod shuffle giveaway. I thought about offering up a new prize, but the fact is - those things are
so
cool. To own a shuffle is to
love
a shuffle.
To participate in the giveaway, leave me a comment telling me what you are doing to challenge yourself ... and then, every Wednesday from now until then (10/29), you need to tell me how you are doing towards the accomplishment of your goal. If you have a blog, please leave a link so that I can come by and encourage you.
Because in encouraging others >> I am encouraged myself.


My goal is to shave 15 minutes off the completion time of my next triathlon.
And just maybe, I'll be able to beat some of those people in the 60-age range.