Despite the best intentions of waking up this morning an hour before the children, we were up for three minutes and 15 seconds before William came in to our room, looking for Batman.
Carolyn was next.
Elizabeth was next.
Henry had been there for the past two hours, rolling across the top of me while I tried to sleep.
It was a flurry of activity to get the children dressed for school, fed breakfast, teeth and hair brushed, faces washed, lunches packed. Charlie will be attending a business trip in Washington, D.C. for a full week in November and I am weak wondering how I'll ever do all of this on my own. Who knows. Maybe by then I'll have a good system in place.
Or maybe by then, the children won't feel compelled to change their clothes minutes before we walk out the door because they want gween undawear. No pink.
No, buddafly. EVERYONE wants buddafly undawear. Except William.
Because he has a
penhus
and buddaflies are for GOYLS.
So are yellow carseats with flowers, which even though William has sat in a yellow carseat with flowers on it - at varying times over the past three years - suddenly it's an offense punishable by a full body seizure.
Maybe by November they won't hack in to their lunch boxes that I had packed nicely next to the front door and start eating their sandwich, apple and spill raisins from the living room to the kitchen and back again.
Or, get globs of toilet paper wet and throw baseball-sized spitballs on the walls.
Or, pretend that they are dogs and lay on the ground eating grass.
Or maybe, Henry will outgrow this insane stage of frustration where he screams a lot, sleeps a little, eats even less, and throws himself on the ground in violent tantrums.
Or maybe, I'll just tell Charlie that there is
no way
is he leaving for four days on a business trip. Because as difficult as it is in the morning to get everyone ready for school, the afternoon - when I pick them up - is even more insane. It's like these children have been "so good" for the past three hours that when they reunite and their triplet energy once again becomes one, they morph in to creatures that prey on me,
whole.

My whole mind, my whole body.
Coming at me from every angle,
"Mommy, hold me. Look at me. LOOK AT ME!" ... "Mommy, I wet. I WET! I WET!" ... "Mommy, mommy, mommy, MOMMY, mommy, mommy, mommy, MOMMMMMMYYYYY."
Does it sound like I'm complaining?
I'm not.


OK. Maybe I am a

little

bit.

But the truth is, I
wouldn't trade my life for any other.
One of the amazing things about blogging is that I am "introduced" to so many individuals that if not for the internet, I would never know existed. I have stumbled across some incredible people and some incredible stories. And every so often, I will read a blog post written by someone who is going through an extremely challenging period in their life and I'll sit at my desk - looking in on this person's life through their words and photos on my computer screen - and I can hardly breathe through the pain of what
they
are enduring.
I am so grateful for the blessings that I have in my life. Even though those "blessings" have been known to drive me clinically insane and make me question the need for heavy doses of antipsychotic medication. But whenever I feel myself start to go off the deep end, I remind myself of just how lucky I am at this point in my life.
I remind myself of the blogs that I read.
There is the story of
Daniel
. An 18-year old boy, the oldest of seven children, who was hit and killed by a drunk driver while riding his bicycle his first month away at college. I have been reading a blog written by his grief stricken
mother
and I wish I could reach through the computer and give her a hug or make her some homemade cookies. I'd like to do
something
to take away some of her hurt. Thus far, all I can come up with is leaving her comments to let her know that she is in my prayers.
There is the story of
Stephanie and Christian
. Together they have four small children and last month, they were in a small plane crash where the pilot was killed and they were left in critical condition with severe burns over their bodies. While the parents recover from their life-threatening injuries, Stephanie's sisters have taken in their four children. Stephanie's sister
Courtney,
is documenting her sister and brother-in-law's long road of recovery on her blog and has been spearheading fund raising efforts to help offset the staggering medical costs.
And there is the story of
Carol Decker
. She prematurely delivered a baby girl this past June by emergency c-section, due to complications associated with an infection. Soon after the birth, the infection became worse. Ultimately, the doctors had to amputate both of her legs below the knees, her left arm and one of her fingers. Due to various medications used to save her, Carol is now also blind.
Last week while we were at Sea World, as we were making our way over to wash our hands after feeding the sting rays, I noticed a man and woman who were with their son. The little boy couldn't have been more than seven-years-old and he was confined to a wheelchair. His body was terribly atrophied and on the back of his bald skull, I could see that he had recently had some type of surgery. My heart instantly ached for this family.
When the father spotted our three children, dressed alike in their matching hats, he inquired "Are those triplets?" and I proudly replied, "Yes, they sure are!" He stood staring at us for a brief moment before shaking his head and saying, "You have my most sincere apologies.
I am so sorry."
I've heard that line many times before. But I really didn't expect it from a parent who had a child that was gravely ill. My cheerful response was,
"These children are the greatest blessing I have ever received. They are

healthy

and

happy

and I wouldn't want to imagine my life without them."
When I turned around to walk away and he spotted Henry, previously unseen as he was strapped to my back, I heard him exclaim
"OH MY GOD. There's ANOTHER one."
That's right.
My bonus baby.
And he just got his professional photograph taken which is now hanging proudly on the wall alongside his siblings at one-year-old.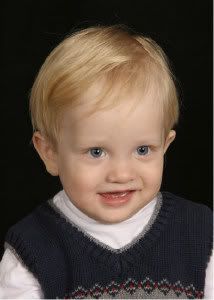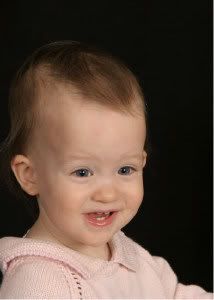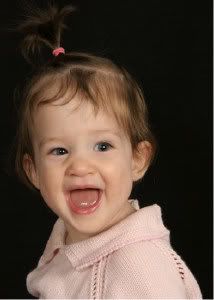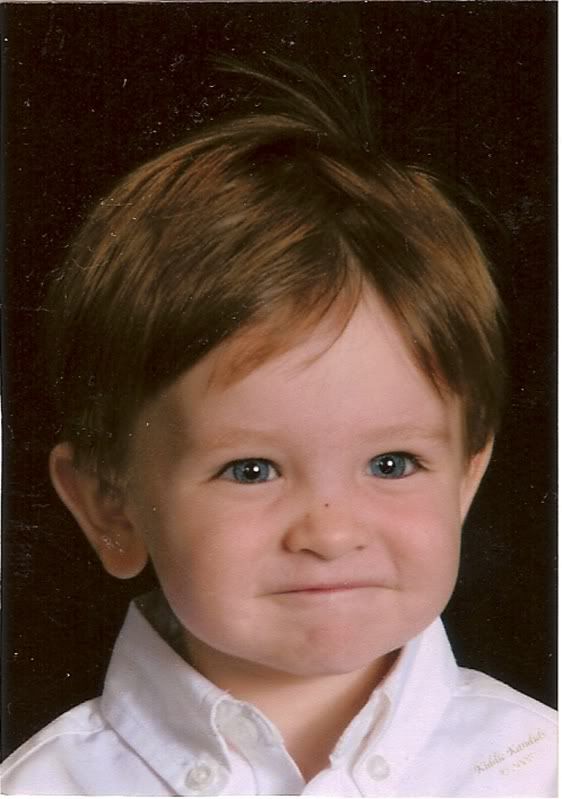 They are the most magnificent little things I've ever seen.