Tomorrow is our big race day.
This afternoon, we picked up our pre-race packet containing our bib number, timer chip and colored swimming caps. Then, we went to a triathlon store and spent a small fortune on tri shorts, which are similar to bike shorts but you can swim in them and because they have a thinner seat pad, when you come out of the water, it's not like you are wearing a soggy diaper.
We also bought bib belts - a novel gadget that holds your bib number on a belt that you wear in the back when you are riding, and then move around to the front when you are running - so you don't have to fiddle with safety pins.
We bought a few packs of Power Gel.
And new socks.
And new goggles.
And I bought two new tri tops because I couldn't decide if I liked blue or black better.
And I also bought a new pair of shoes - that everyone told me I most definitely shouldn't wear running tomorrow, but eh, what does it matter. I'll probably walk most of the way, anyhow.
Although, now that I look so good in all my new gear, I'm sure I'll be pumped.
Tonight, we packed our bikes in the car and our duffle bags are ready to go with all of the gear we purchased today, as well as our bike helmets and gloves, running hats, sunglasses, towels and water bottles. I'm thinking that I should also bring my passport because this race is being held at the most southwestern beach in the entire United States. All it would take is a moderate current, and I'll be washed right in to Mexico.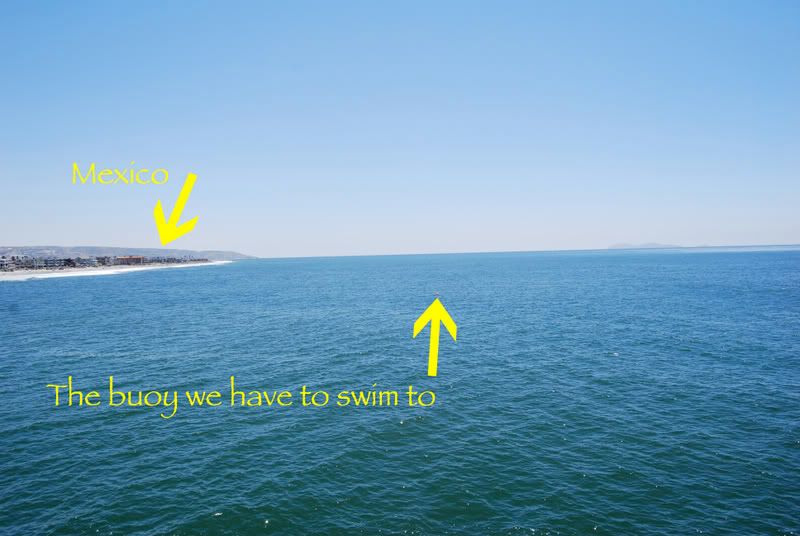 If I don't post tomorrow night, chances are:
1) I've been consumed by a shark, or
2) I'm on my third margarita in Tijuana.