We are scheduled to have a new bed dropped off for William, today.
It is a twin over full bunk bed.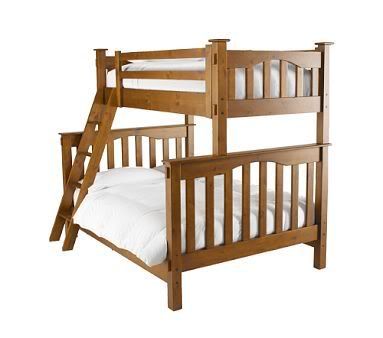 I'm rethinking my decision on this purchase - - and all the associated linens I bought for a twin and full bed, yesterday. Today, I'm thinking that perhaps I should just buy William a twin. But soon, I'll need the extra space for Henry and I like the idea of a bunk, but maybe not now.
I just want the one purchase that I make now, to last for years and years - and not have to replace it down the road. My concerns with this bed is that:
1) It will be hard to make - especially the bottom if it is pushed in to a corner;
2) Fall factor. I know someone whose child broke their neck falling off a top bunk (my plan is to keep the ladder off until the kids are old enough to go up top >> ~6yo);
3) Space factor. I could split the bed in to a twin and full, but we really don't have a lot of room in this house. Especially since Henry is still in his crib.
The advantages:
1) It's very cool.
2) Space factor - we could fit all three kids in this spot.
3) There is more space in the full, if they boys ever want to sleep together.
This bed will last us for the next 15 years - or more - so I want to make the right choice.
The buzzing with all this indecision is making me dizzy. I have until 11:00 AM to make the call.
What would you do?