A few weeks ago, Charlie rode his bicycle to a local hardware store to pick up a few supplies to repair the drain on our bathtub. I hesitated when he told me that he was riding his bike on this particular errand, because I knew that he would have to cross over a relatively busy intersection and the roads in our area are especially congested since the traffic in our neighborhood has increased 100-fold in the past 10 years.
When he told me his plans that involved a four-mile round-trip bike ride, my entire life with this man flashed before my eyes. I could imagine him getting mowed over like a blade of grass by some punk kid that just got their learner's permit, and there was my beloved husband and father of four children, laying on the side of the road, bleeding, fading from this life and in to the next.
I didn't tell Charlie any of this.
I didn't tell him that I was afraid he was going to be hit and killed by a car when he was attempting to make a left. Because if I had, my husband might think that I was a bit UPTIGHT and PARANOID.
Instead, when I looked out the kitchen window and saw that he was pedaling his bike down the street without a helmet, I threw down the baby I had been nursing, grabbed the helmet that was sitting on the kitchen table, and chased my husband down yelling "HONEY! HONEY! You forgot THIS!!!" and then I added, "Whatever you do, don't go to the light. I need you here, on earth." He laughed before giving me a kiss and saying "I'll be FINE!"
I stood there watching him ride off, until he disappeared from view.


Of course he'll be fine.
That's what our loved ones always say before they join the ranks of angels.
Twenty minutes later, when my mother called, I told her that I was worried about Charlie. I told her that he was out riding his bike on the BUSY roads in our neighborhood and I was worried something was going to happen to him. She said that it was normal to have fear. But when I added that I was waiting for the police to come knock on my door and say that he was hit and I'd need to figure out how to raise four children all by myself, she told me I was a loon.
When Charlie walked in the door a few minutes later and overheard me talking to my mother about his funeral arrangements, he was flabbergasted. "But, I just went for a bike ride and you are burying me already?!"
"No," I replied. "I'm not burying you, I'm planning to have you
cremated
. But yes, I'm talking about your arrangements and until you run errands in a TANK this is the price you have to pay for being married to me."
Fear. I've got it.
I've got lots of it.


I tell myself that it's normal to have a
healthy dose
of fear because fear is an instinct that can help to keep us safe. It is because of the fear that I have that something will happen to me or my family, I try to be as prepared as possible. But I know that in order to keep my children safe, there is more that I need to do than arm myself with a first aid kit, pepper spray and a reflective security blanket.
The world can be a very scary place.
Two months ago, after having seen a review on
Protecting the Gift
, I purchased the book and within 24-hours of it arriving on my doorstep, had read it from cover-to-cover.
It was an eye-opener for me to read that 1 in 6 children have some form of sexual involvement before the age of 12 and it was extremely frightening to read that nearly one million school kids, grades 6 to 12, carried a gun to school last year.
One million.
Parents must be more diligent in knowing what is happening in their children's lives. Who are their friends? Who are their teachers? Who are the people that they interface with? What are they doing?
The primary message that I picked up from this book is that in order to protect the gift that is our children, we must be educated on how to protect the gift of intuition and fear. Currently, I'm trying to teach our children how they shouldn't walk up and talk to everyone that they meet. I've told them that like the diver in Finding Nemo, if they don't listen and come to me when I call them, they can be picked up and taken away.
I've told them that they must protect themselves and look out for each other, and if anyone ever treats them poorly or touches them inappropriately - they need to let me or their father know. I'm trying to explain to them in terms that they can understand how not
all
people in the world are good. This is proving to be a lot more difficult than I expected because children are naturally curious and very trusting and the last thing I want to do is traumatize them with the message I'm attempting to convey.
But my job is to protect my children and I'd prefer that they be a little afraid than have
no fear.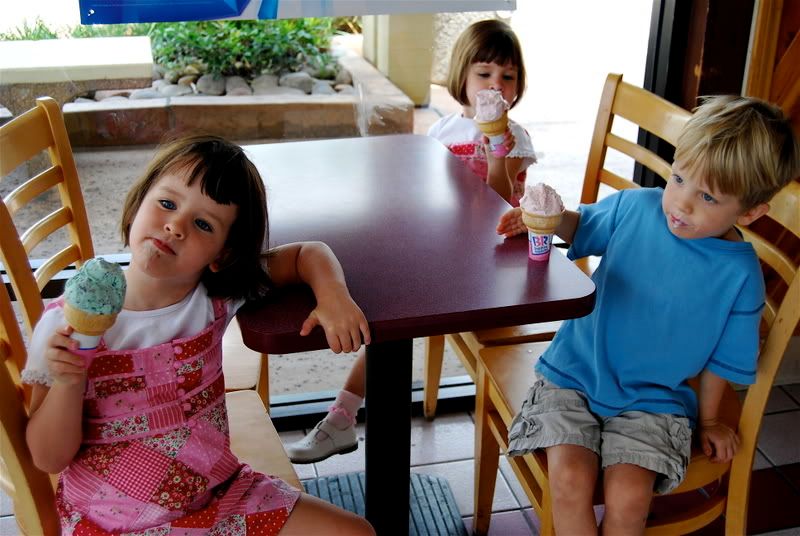 I've written before that I really enjoy sharing stories of my family with people that know us and even with those who don't, through this blog. According to my statistics meter, I receive a few thousands visits, every day. On the one hand, I am really flattered to know that so many people visit this website and enjoy reading about our lives. But when I noticed that the most frequent pictures that are viewed from various search engines were pictures of my babies' bare bottoms or photos of them sitting on the potty, I immediately went to those various pages and deleted the images.
When I started receiving e-mails earlier this week from my YouTube account indicating that I had messages on the potty training video I uploaded in January, I was blown away to see that a video I uploaded eight months ago had received over 20,000 visits in two days. After a little research, I found that my slide show had been picked up by two "Classic Rock" radio stations and was featured on the front page of their websites.
Then, yesterday, I received an e-mail from someone that indicated a "woman" from a parenting board that they frequent had stolen pictures of my babies and my triplet birth story from this blog, and after some very slight modifications, posted it as her own. Interestingly, it didn't bother me as much that this person had hijacked my picture and story as much as it troubled me that she might try to prey on people's sympathies for money or who knows what. One hundred years from now, it isn't going to matter if someone took my story and photos, unless they tried to cash them in on a book deal.
The fact is, both of these incidents have brought a lot of attention to my blog - a lot of attention that hasn't been particularly nice or good and I'm not sure what I'm going to do about it. One option that Charlie and I are seriously considering is to make the blog private. My fear is that there are a lot of people out "there" with ulterior motives and I don't want them seeping in to my children's lives via the internet. Suffice to say, there is some serious soul-searching going on right now about what this blog is, why it's here, and what it's future should be.
If only I could stick a helmet on it and arm it with pepper spray, I'd feel a whole lot better.