By the time my Mom and Jim arrived to our house early this morning, and everyone settled in to bed, it was 3 AM. Henry was awake at 5:30 AM and the triplets were up by 6:15 asking,
"Noni here? Noni here yet? Where Noni?"
Once Noni was woken from her slumber, the rest of the morning the kids chanted
"Noni, watch this! Noni, Noni, Noni, Noni, Noni, Noni, Noni, Noni, Noni. Noni. Are you watching? WATCH THIS!"

I'm fairly certain, the only thing that allowed me to function today, on less than three hours of sleep, is the large volume of water that I consumed throughout the day. Although right now, I'm not entirely certain if I am actually writing this post, or if this is all a dream?
It has been estimated that approximately 75% of the population is chronically dehydrated.
For the past several years, I've carried a water bottle with me every where I go and try to fill it up at least 2-3 times a day. But after an unfortunate incident involving an open-mouthed water bottle and a laptop computer, I stopped carrying my water bottle.
Until.
A few months ago, while shopping at my
Mecca
, I spotted a
water bottle
that looked promising.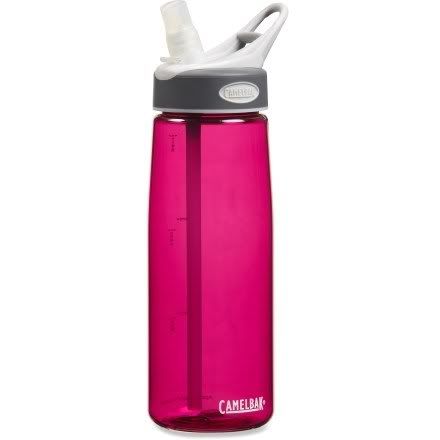 The CamelBak Better Bottle comes in an assortment of vibrant colors ... has a "bite valve" option ... and a mouth diameter large enough for variable sized ice cubes.
And, it is BPA free.
I liked the look of this water bottle so much, I bought two of them. And then I went back to the store a week later and bought two more. And then, I was really disappointed that I had bought a different variety of water bottles for our children, because if I'd only known that

these

water bottles come in a smaller size for kids, I would have bought at least four more.

I love this water bottle.

This is the type that I have.

This is the type that Charlie has. (He isn't as fond of the straw. I

love

the straw.)

This is the type that I wish I bought for our kids, and it is quite likely Santa will bring some at Christmas. (Although, he might pick them up here because they are $1.00 less, per bottle.)

Now that I have a water bottle that won't spill if knocked over, I once again carry it with me everywhere I go. Including to bed - which is where I'm heading before I fall asleep and land face first on the keyboard.