Today, I came home after a long day at "work" to the aroma of fresh baked cookies and a spotless house. Now, granted, the cleaning people were here this morning - but the fact that the house was still clean
several
hours later ... is downright impressive.
Over dinner, Charlie was telling me about a conversation he'd had with one of his colleagues. Apparently, he was explaining that he wasn't in a position to go out of town on any business trips for a while, because he didn't want to leave his 8-month pregnant wife at home, alone, with our 2.5-year old triplets.
And then - it struck him.
My God.

Jen's pregnant.

We're going to have a new baby.

In a matter of
weeks.
As he was telling me the story, Charlie became animated - his eyes got big - he started talking fast - and his arms were gesturing about all the things
he
needs to do before the new baby arrives. The nesting bug that I had seems like
nothing
compared to the psychosis that has overcome my husband in the past few days.
This weekend, Charlie's planning to paint the
entire
inside of our house before we're scheduled to have our hardwood floors installed next week.
He's also planning to paint 500 linear feet of 4-inch baseboards, replace the lighting fixtures in the bathroom, and re-arrange the children's rooms.
He's lined up a vent cleaning service to blast out all of the airducts in our house.
He's replacing the smoke detectors and installing carbon monoxide alarms.
He's ordering and installing a new front door with three different locking devices.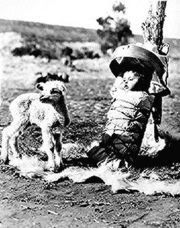 He's packing a bag for the hospital and has lined up 10 different people to call on, in the event I go in to labor before my mother comes to California, next month.
He's
laminating
and hanging on the side of the refrigerator the list with the 10 different names.
And
then
, he's going to hunt down a buffalo - with his bare hands - smoke the meat and use the hide to make a cradleboard for our newborn son.
My goal this weekend is to attend our monthly neighborhood crafting event.
I'd
really
like to finish knitting the baby blanket I started five months ago for the Higgins' before Madeleine starts Kindergarten.