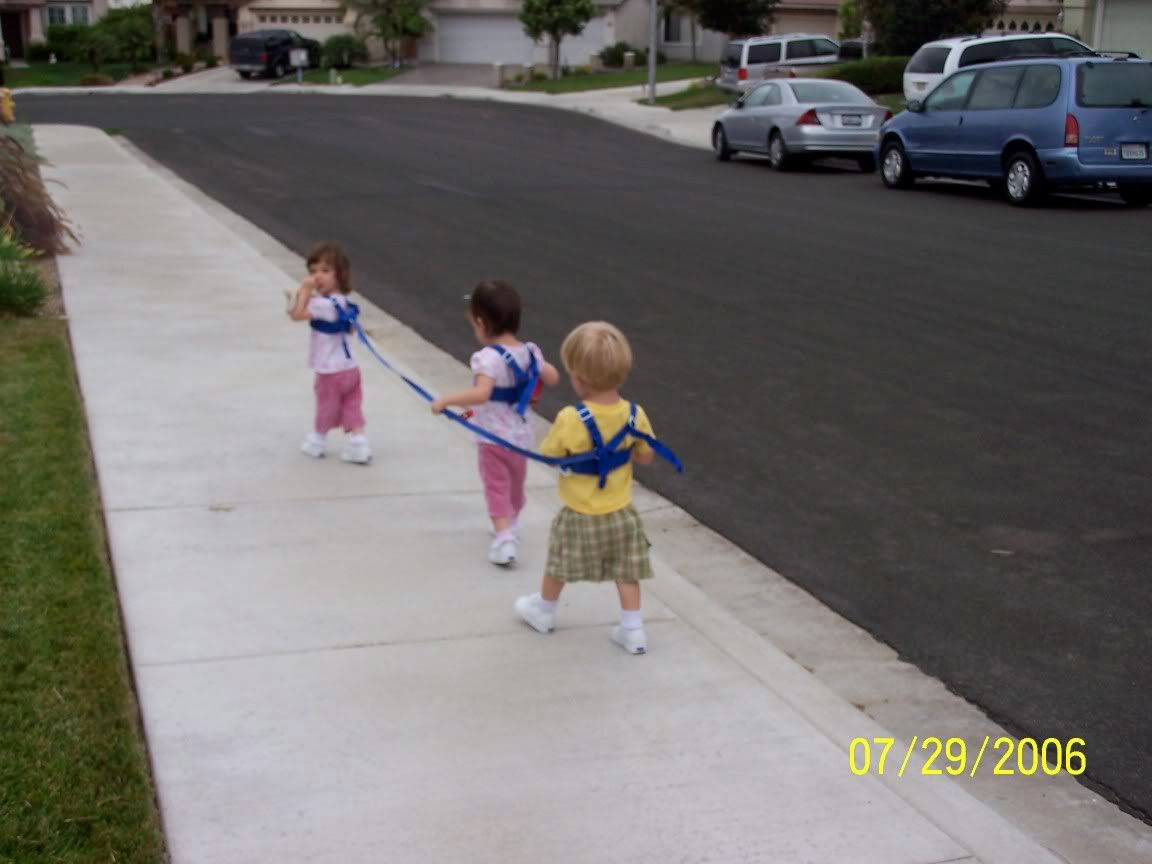 Yet once again ... my
short term memory loss
comes in really handy.
Especially on a lazy Saturday afternoon when I am home alone and have three toddlers who are climbing the walls of our house ... while Dad is at the gym.
I figured that if I was
ever
going to be in a position where I could leave the house with the kids sans baby stroller ... we need to work on
staying upright and not falling all over ourselves and each other
our coordination with the
safety harnesses
. Post haste.
Truthfully, we had much better success walking around the block this time.
Perhaps most importantly, I remembered to bring my camera.
Everyone
kinda
stayed on the sidewalk - and I made the brilliant decision to tether the babies together, so I was only holding on to one "harness" and not three separate
leashes
straps.
There were only a few topples and one major pile-up.
The most notable topple came at the start of our voyage, when they ran in three different directions, and all wound up on the ground - looking at the sky. They quickly realized they had to move as a pack to prevent
that
from happening again.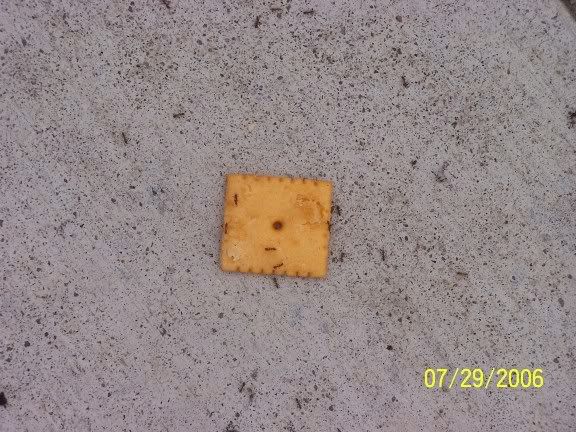 The pile-up occurred when Elizabeth, who was the leader of the pack (with her ever faithful "Bunny" I didn't even realize she had him until I took this picture) ... came to an abrupt halt because she spotted a Cheez-It.
We love Cheez-It's.
But, we don't love Cheez-It's when they are on the ground and covered with ants. I would have stopped her
before
she picked up this tasty treat and stuck it in her mouth ... but these kids are lightening fast.
The
Omniverous Ones
strike again.
Several cars slowed down to gawk ... a few beeped their horns and waved ... and some actually stopped.
It took us 90 minutes to go 1/2 way around our block, so we were walking at a pace of approximately 0.005 miles per hour.
Stated another way ... the ants on the Cheez-It's were covering more ground than we were.
Fortunately, there were no rabbit droppings to worry about.
I'm thinking a cute Halloween costume would be to dress the kids in black and white pinstripes and load them in to their safety harnesses. Charlie and I would be Bailiffs.