Charlie has been out of town for the past four days. Although there have been some crazy times, like when Henry wouldn't stop crying for
three days straight
and had an average temperature of 102 degrees ... and when the toilet in our bathroom overflowed moments after the kitchen cabinet fell of it's hinges and I had to dig out a plunger
and
a screwdriver to complete repairs while
also
trying to supervise children who
get in to things ...
this has been a really fun week
.

I love being with these kids.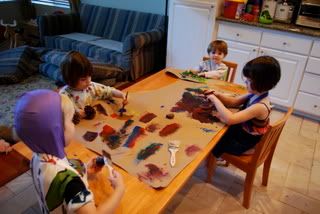 Even when I set up a paint station and less than two minutes in to it, the baby (who I hadn't planned on having paint but who climbed up in his chair and clearly wanted to participate) smartly mixes yellow and blue for green.
And instantly transforms himself in to a little Hulk.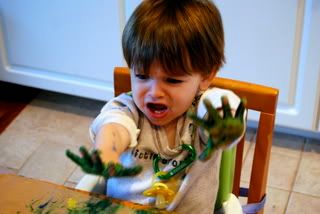 And one of my children who was given specific instructions to go rinse off her hands in the sink, decided instead to give her brother's FAVORITE TOY a bath. So now Buzz Lightyear sounds like Little Bo Peep meets E.T., because oddly enough, battery operated toys don't fare too well when submerged in water.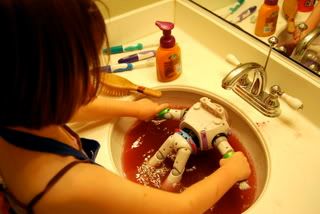 My schedule this week has been so full that I've really had no time to myself. When I'm not holding a crying baby - I'm cleaning up - or driving to or from school - or taking the children to gymnastics or swimming or on a bus trip to an outing - or cooking - or visiting the Pediatrician - or grocery shopping - or researching various preschools - or writing 26 thank you notes. Which should have been written a month ago, but I only recently was able to sneak out and buy the $0.01 stamps that were necessary to bump the $0.41 stamps I have on hand up to the requisite $0.42 postage value.
Am I the only one that no sooner buys a big roll of stamps and the very next day, the postage rate changes? I'm telling you ... it happens to me
all the time.
The only reason I was able to unload my thoughts twice today on my blog was because Henry was sound asleep on my lap and to move him would be to wake him and considering my poor baby has been unable to sleep or eat all week ... I wasn't going to even
bother
risking a transfer to his crib.
Even though I have a 5K run I'm supposed to participate in next week for a
local homeless shelter
, I haven't done any running this week. I have done my
Yoga tape
twice and before Charlie left on his trip, I went for a few early morning power walks with my neighbor. But since my husband has been gone, I haven't really done anything aerobic.
Well, except DASH to the grocery store with four children in tow when I heard that a carton of Dreyer's ice cream was on sale for $4.00.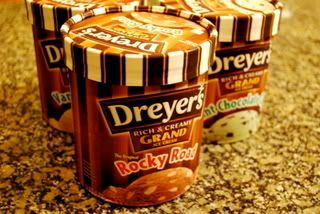 Yes, I know that the hypocrisy continues.
But enough about me.
How are you doing with your goals?