Let the record show I have tried quite a lot...
To teach our children to correctly poo in the pot.
Now I'm reverting to poetry and rhyming prose...
Can you feel the desperation -
who out there knows?
I probably should not write all of this or put it in verse...
For soon my words will be the subject of an adolescent's curse.
But I am desperate and do not know what to do...
How to convince my child that the
potty
is where you go poo-poo?
I have tried stickers, presents, candy and gum...
I have tried timeouts, scolding and a spank on the bum.
I have tried time and patience, understanding and praise...
I even created a
video montage
that became an internet craze.
Then there were suppositories, laxatives and an
enema one day
...
Surely
that
would solve the problem, at least that's what the
experts
say.
I know that telling my children the
police
would take them away
had
to be a sin...
But I was feeling rather hopeless and thought I'd soon be in the loony bin.
Last week I thought we were in the homestretch - heading for the final mile...
When suddenly my child has regressed and is now
peeing on the tile.
Calls were made to specialists, behavioral therapists and more...
This is primarily about helping our child - and secondarily, saving our floor.
Is this a crazy power struggle or developmental delay?
Is it physical or mental, or variable each day?
If this is four, my body shakes with fears...
For what lies ahead in the teenage years.
I know I need to give up control, so
please
help me Lord!
Because I am tired and frustrated and going completely out of my gourd.
Daily I repeat the
Prayer of Jabez
and ask God to please bless
me
indeed...
A divine guiding hand on my heart is what I
really
need.
I have fully surrendered and am now waving a white flag of defeat...
I have resigned myself to poopy diapers and have retired the
enema Fleet
.
The appointments aren't until next year, mid January I think...
But at this point, *I* am the one that
really
needs a shrink.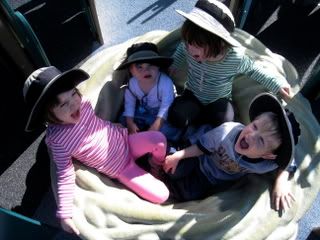 As tides rise and fall and the day is filled with the sun...

Potty training,
no -

being a good mother
, is the toughest job I've
ever
done.