Apologies up front because this post was *supposed* to be about how I organized the 2.5 closets in our house to accommodate the clothing and footwear needs of six people, four of whom are growing at warp speed and one of whom cannot get rid of
anything
remotely nostalgic.
But eh ... Election Day is tomorrow and it turns out I have a few more opinions to voice.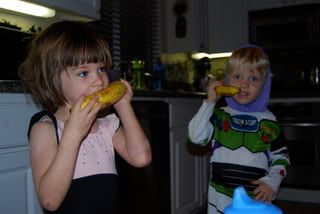 Late last night, one of our neighbors came over to tell me that voting "No" on Prop 8 was a direct violation and opposition of God. My response was that although marriage may be spelled out in the Bible as a union to be formed between a man and a woman ... the civil rights associated with such a union have been put in place by
man
and until such time that equal rights prevail, I will vote
against
discrimination. I indicated that perhaps a solution that would satisfy the majority of people who are opposed to this measure based on religious principles, would be to have churches perform marriages and states perform unions? But both couplings would be entitled to the exact same civil rights and privileges.
My neighbor told me that the fact that homosexuals are not afforded the same civil rights is punishment for chosing to live a sinful life. I abruptly changed the subject because I couldn't see going down that road without crashing headlong in to a tree, so I broached the topic of abortion.
My question was whether or not they had an opinion on my triplet pregnancy and what their position would have been if I had to deliver our babies before they were viable. Without hesitation, my neighbor replied that they would have put their complete faith in God and they would absolutely not have delivered the babies before they could survive outside of the mother's body.
All I could think was,
"Wow. I wish I had that kind of faith."
Because although I do consider myself a very faithful person, if doctors told me that I was going to die and I could actually see that my body was failing ... I don't think I would have the courage to refuse treatment.
It is estimated that only 54% of the eligible population will vote tomorrow. Regardless of whether you agree with anything I've written in the past few days or not, I hope that anyone that is eligible to vote, will get out there and do it. This is a hugely important election for our country. So if you don't do it for the satisfaction in casting a vote for the next leader of the free world, do it for a free cup of
Starbuck's coffee
. Or, a free ice cream cone from
Ben and Jerry's
.
(Or both, if you are me. Or Charlie)
In other news.
Four is HARD.
Not just the number of children mind you, but particularly THE AGE.
I don't know what happened. What went wrong? What should we be doing that we aren't?
Charlie and I really strive to be a disciplined yet happy and loving family. We try to create a peaceful environment where our kids have the freedom to explore. But this weekend?
It was horrific.
I would ask the children to please stop doing something - anything - and they would look at me square in the eye and continue to do it.
"Elizabeth, please don't nibble the new
dryer balls
that I just bought."
She stares at me for a moment, and then takes off running with the dryer ball in to
the other room and ferociously CHEWS it. I run after her, grab the ball away and incredulously ask,
"WHAT ARE YOU DOING? Did you not just hear the WORDS that came out of my MOUTH?"
She coyly smirks while trying to grab the balls away from me.
We attend a party where there is a beautiful birthday cake on display. All three of our four-year-olds wander off and slyly drag their fingers through the frosting, scooping up entire cream roses and wolfing them down. Charlie and I catch the scene from the back. We see the kids, looking at the cake. We can see them pointing. And the next thing we see are three little heads, bobbing, like dogs who just found chunks of prime steak on the ground. That's when we ask each other "Please tell me that they didn't just do what I think they just did...?" And of course they did. And it takes everything I have to not knock them clear in to tomorrow.
The kids are beating each other. They are picking up random objects and smacking each other as hard as they can. They chase each other around the house - the store - the doctor's office - and they grab at each shirts and then with all the force they can muster, they whip their sibling to the ground. They JUMP on one another. While one lays on the floor, the other one will stand on their abdomen and jump up and down as hard as they can. How it is we've avoided any visits to the emergency room for internal bleeding is a mystery.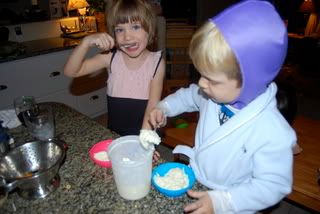 On Halloween night, Charlie took the children trick-or-treating while I stayed home with Henry to hand out candy. One of the first (and last) stops was by our neighbor's home, a lovely Filipino family that had just sat down to dinner. When they open the door, Charlie said that the delicious smell of pancit wafted out from the kitchen and Carolyn and William both held their noses and yelled,
"I SMELL POOP!!"
My poor husband said he almost died on the spot.
When they came home and Charlie traded off with Henry while I sat outside and handed out candy with the triplets - and Elizabeth, in her full Princess regalia, hiked up her dress and pee'd on the front lawn in front of a 12 trick-or-treaters,
I almost died on the spot.
While at the store on Saturday, the kids are innocently playing with the huge display of snow globes and Rudolph the Red Nose Reindeer stuffed animals that are lining the check-out aisle while I'm trying to unload my groceries and pay for the purchase. I'm glancing down every few minutes to be sure that my children aren't being destructive ... when I notice that Carolyn has opened the boxes on FOUR of the Rudolph's and is disassembling the battery pack. In the blink of an eye, she has completely trashed the packaging. I ask, "Wha... WHAT are you DOING?"
She shrugs.
"I don't know. Deese for me?"
Today, despite having a full blessed extra hour thanks to the beauty that is Day Light Saving Time, we were late getting out the door for school. I would tell the children, "Kids, come on, let's get dressed. Let's get a move on ... the family bus is leaving in five minutes!!" If the children were to communicate with me, as opposed to say, completely ignoring any prompt for conversation, I suspect they would respond,
"Take a hike. Can't you see I'm laying here naked on the couch shredding your newspaper?"
I start to get angry. I start to raise my voice. "KIDS! I NEED YOU TO FUNCTION. LET'S GET DRESSED! MOVE IT!!" They pick up a book and start flipping through the pages about the same time I start to black out. I think back on a
comment
I received last year, where someone observed that I expect my children to have control when clearly I have none of it, myself.
But why must this be so difficult? Why do my stickers and rewards and counting to three and etcetera etcetera etcetera NOT work? Why are these kids driving me so crazy? Why has one of them had a
huge
regression in the potty training arena? Why do they feel compelled to destroy our home?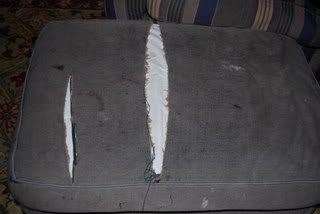 Within seconds I'm at a full-force rage. I look down and see Henry, running two steps behind, shaking his hands at the kids, grabbing at his head and yelling.
Just like me.
I stop ranting long enough to pick up the baby, smother him in kisses and thank God for sending him in to my life.

Henry is my reality check.


Charlie loads the children in to the car and starts to drive to school. Seconds after he has left, I remember that I not only forgot to brush their teeth, but I also forgot to sit them on the potty.
On the way to school, as I will hear about later, William smacks Elizabeth in the face with his Batman figurine. Her lip is split wide open and there is blood
everywhere
. Charlie leans back and swats at William's leg, while yelling, "WE DO NOT HIT!!" (Well, except for when in a fit of fury,
we
hit
you
. Because we are hippocrites and we have no control over our actions, although we expect more of our four-year-olds.)
Suddenly, someone has to go potty. IMMEDIATELY. Charlie is in the truck and doesn't have a potty chair. There is no way they are going to make it for another 15 minutes to school. He pulls off the road and directly in to a fire station parking lot. He unloads the kids. William is standing up, peeing on the grass. Carolyn and Elizabeth are both sitting down, peeing on the lawn. A fireman appears to ask if my husband needs any help. Charlie pauses for a moment, before nodding to the kids and asking,
"Do they still qualify for a safe child drop?"
This afternoon, when I picked the kids up from school I vowed that I would have full control. I vowed that for at least the rest of the day, I would
not
get angry. I vowed that Charlie and I would be a united front and regardless of what the kids threw our way, we would stick together and we
would not crumble.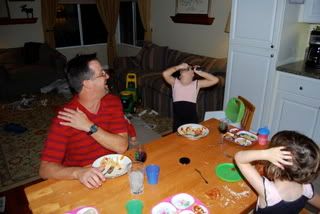 So tonight, we poured ourselves big glasses of wine and we listened to Beatle's music. And while our children played with bananas that they pretended were telephones, disintegrated the daily newspaper across our living room floor, grated cheese directly in to their mouths and ate tapioca straight out of the carton ... Charlie and I were so happy.
Nothing that our children could do would bother us.
For the first time in a very long time, we were

above

being annoyed.
The moral of this story is that when you sip good wine, listen to timeless music and dedicate yourself to not stressing over things things that really aren't that important, it's incredibly liberating. It is for that reason, Charlie and I will be drinking wine and listening to "Let It Be" every single night from now until the day our children move out.
Or, at least the day they stop pooping in their pants.
(which ever comes first is anyone's guess)