Within the past 24-hours:
We came within 30-feet of the Easter Bunny;
We ate a small amount of lunch, threw the rest all over the kitchen and watched joyously while mom and dad cleaned up;
While our mom ran to the store, we desperately tried climbing across the counters to put our hands in the bowl while dad made brownies and guacamole;
We accompanied our parents to our neighbors house for a barbeque - even though our parents have
sworn up and down
and around the world that they'd never take us to another house that isn't "babyproofed";
(Mom says darn her short-term memory)...
We made our parents publicly repent for taking us out in a social setting before we were 10-years old ... particularly when we tried to climb the 8-foot cat condo, take a bite out of several plums that were strategically placed at our eye-level, picked up every breakable item that we could possibly get our hands on, kicked the cat food bowls, tried to escape upstairs an untold number of times, ran around screaming "NO!!" - just because, and spit out the lovely food that our hosts made for us - all over their clean floor;
We cried and cried and cried when our parents wouldn't take us out of our booster chairs following dinner - so that we could run around and continue ransacking our neighbor's house;
We watched our mother convince our father to RUN home, grab the new movie "Happy Feet" that she had just picked up, RUN back and let us watch television ... in our neighbor's house ... so that everyone could finish their dinner in peace;
We sat in our booster chairs ... in our neighbor's house ... while quietly watching Happy Feet and heard a big sigh of relief from
all
the people in the room that were over the age of 2.5 years old;
We cried and cried and cried when 10-minutes later, after the novelty of the movie wore off and all we wanted to do was play tug-of-war with our neighbor's ceramic vase collection ... mom and dad decided that it was time to bring us home and put us to bed;
We listened to our mother politely explain that as much fun as it is going out - it is MUCH MORE fun - if everyone were to come over to OUR house for the next barbeque;
We came home - ran around the house like a bunch of wild banshees - and climbed out of our cribs, continuously - until 10:30 PM;
... and now, for a cameo, by Elizabeth ...


I woke up at 3:30 AM, climbed out of my crib - wandered in to my parent's bedroom and scurried on top of my daddy's sleeping head;
I laid perpendicular across my parent's bodies and while kicking my little feet for the next 3.5 hours, contemplated if the reason my parents didn't catapult me back in to my own bed is because they really, really love me ... or because they were too tired to move (?);
The two times I did doze off, I quickly woke up and screamed "BUNNY!", jolting my parents from their shallow sleep, because that rascally rabbit has a way of creeping more than 0.5-inches from my face;
... joined now by my sister, Carolyn ..
.
I climbed out of my crib, thankful that our nursery is a den conversion and
COMPLETELY DEVOID OF ANY DOORS OR MEANS TO CONTAIN ME
, swept back the curtain, and joined my sister who had taken full control of the big bed;
I laughed when I saw that mommy was hanging over one side of the mattress - daddy was hanging over the other side ... and Elizabeth was entirely spread across the middle;
Using my highly-developed pincher grasp, I pulled my daddy's closed eyelids open and yelled "AKE UP, JOOCE!!!" directly in to his face;
While daddy climbed out of bed and mommy groaned
"Surely it can't be morning yet - is this a nightmare?! We HAVE to move!!!"
I climbed in to the spot daddy had kept warm and pulled the blankets over my head;
... joined now by big brother, William ...

I heard a racket - started making a racket of my own - and was quickly reunited with my fellow womb mates;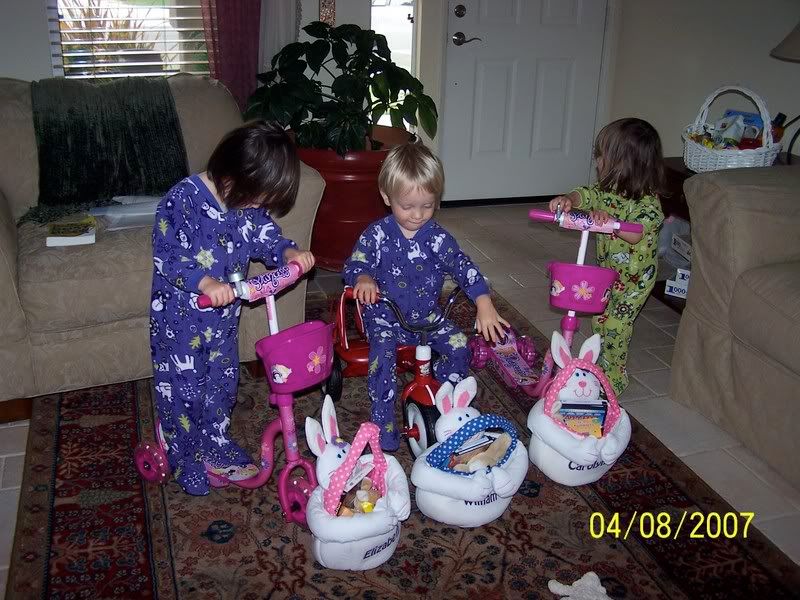 While our parents tried to keep their eyes open, together, the three of us ran around the house, chasing each other - pushing each other - fighting with each other, hugging each other, biting each other, kissing each other - and then ... we spotted NEW STUFF in the living room;
Apparently, that fluffy character that we don't like too much, decided to pay us a visit.
Maybe it was the Easter Bunny that woke Elizabeth up at 3:30 AM!

We rejoiced over our new scooters and tricycle - and the baskets that were stuffed with all kinds of goodies;
We quickly started fighting over our new scooters and tricycle - and the baskets that were stuffed with all kinds of goodies;
With joyous voices we tried our best to say "Happy Eata" and "Tank-YOU Eata Bunny!";
We watched as our mom presented our dad with an Easter Basket
that she swears, if she'd had more time to go shopping, wouldn't have been predominantly stuffed with items that were laying around the house or left over from Christmas
;
We listened to our mom and dad tell each other that despite the four hours of sleep they were functioning off of ...
and their hope that we take good naps today
... watching
our
excitement made this their
best
Easter ever.
The fact that they're planning to keep us?
Our parents agree - that's got to be the
greatest
miracle of all.