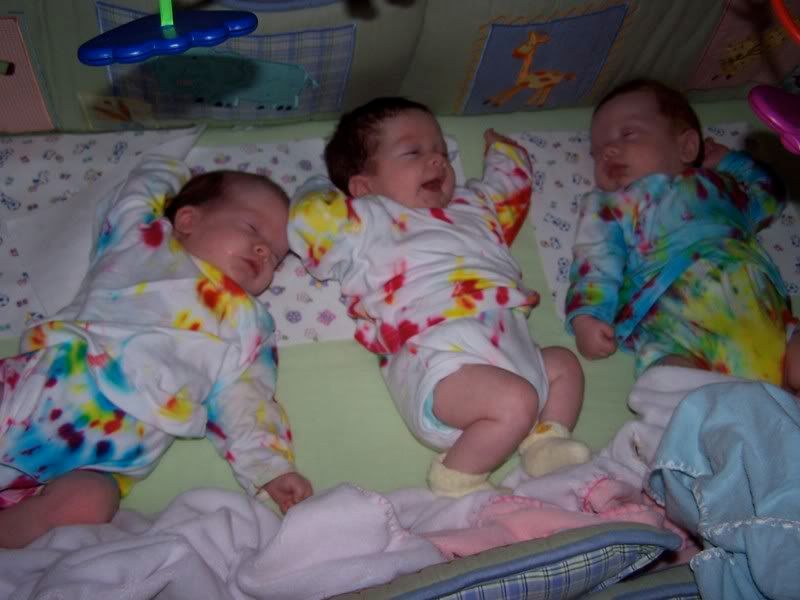 Like the other major
transitions
we've had thus far - weaning our babies from breastfeeding and then, their bottles - gender segregation has been more difficult for me, than it was for them.
The term "gender segregation" is one that our pediatrician threw out several months ago when he asked how much longer we planned to keep the children all sleeping within the same room. His question took Charlie and I by surprise. It was our intention, although we'd never really discussed it openly, to keep the kids together until
they
asked to be split up - which we figured, might not be until they reached highschool.
Of course our children will always remain best of friends and never have the need for their own space...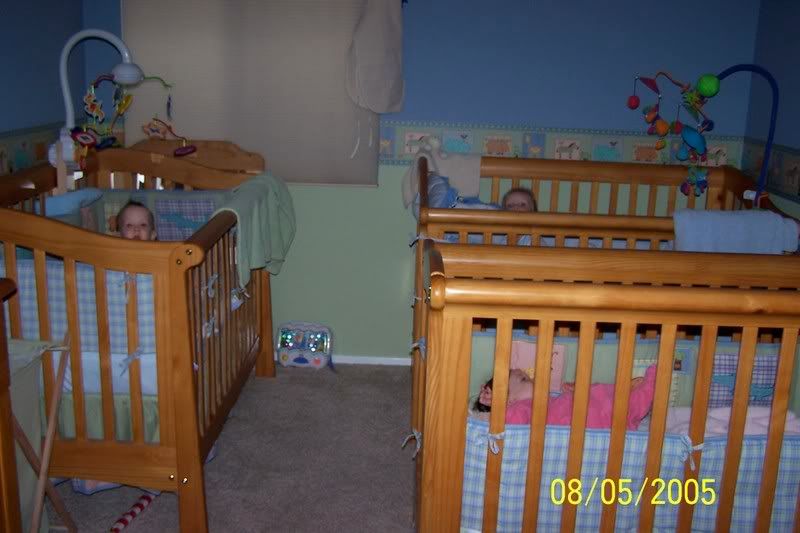 The nursery that we created for the children is located within our former den [converted from a second bedroom and without a closet] in the middle of our house, directly off the kitchen. We had tried to set the nursery up in our third (and final) bedroom, but when we realized that we could not fit all three cribs in to the tiny 10 x 12 room (plus a dresser and a changing table), we strung curtains across the den doorway, painted the walls with gender neutral tones, and
painstakingly
placed a safari'ish border around the chair rail.
Up until recently, this arrangement has worked really well for us.
We didn't expect that we'd be separating William from the girls for at least a few more years. It seemed natural to me, and I thought to them, that the kids would be most comfortable sleeping in the same environment. When you consider that when they came home from the hospital as 5 pound preemies, they all slept in the same crib for the first four months. It was only when their little arms started flailing and knocking sleeping siblings out of sound slumbers, that we moved each of the babies in to their own cribs. For the past two years, they have been falling asleep with each other and waking up with each other in the same room. And during that time, Charlie and I have had more fun, listening in on them.
In the beginning, we would try to decipher the babies by their cries ... was that Elizabeth, or Carolyn, or William? With time, the cries gave way to giggles and baby babble. Many a day, Charlie and I would stand outside the curtain, with our camcorder in hand, and record the belly laughs and jumping that we thought for sure, would catapult one of them over the railing and wind us up in the emergency room.
More recently, a highlight of my day has been eavesdropping on the conversations of our 26-month old children during crib-time social hour. William is by far, the most vocal and jabbers
non-stop.
Although the girls' vocabulary repertoire includes a few words, William is extremely verbal and will throw out every single word that he knows while the girls laugh hysterically at their brother. A crib-side conversation might go something like this, "Yellyow. Twuck. Big Twuck! Moooo. Cow. NEMO, NEMO, NEMO!! Doggie. Woof! Wion. ROAR!!!" This exchange is typically followed by the children flinging every item out of their cribs, climbing out of their cribs to retrieve said items, and running around the room like a bunch of wild monkeys.
Even though the thought of splitting the children up gave me a knot in my stomach and brought tears to my eyes, last week I came to the rapid conclusion that it was time. All told, there were two primary reasons we decided to put the girls in one room and William in the other.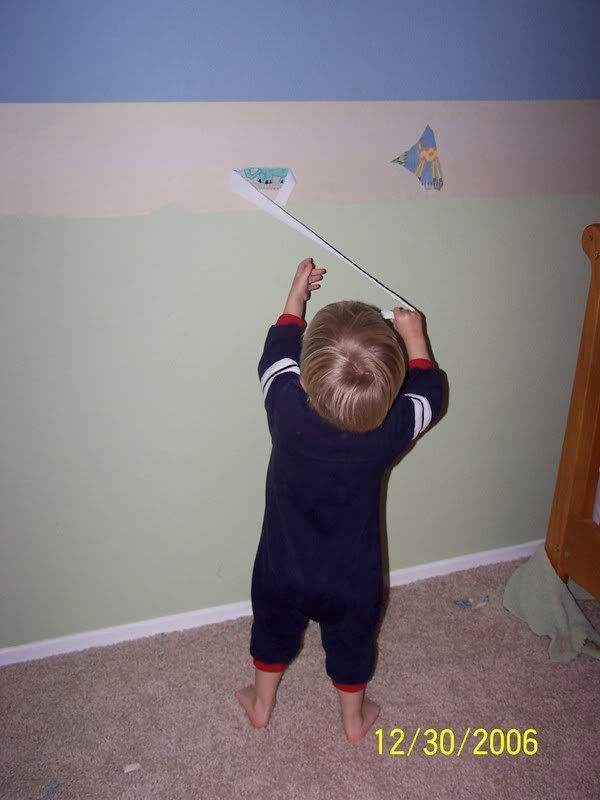 The first reason was because it dawned on me that our little angels might be negatively influencing one another.
Because they were in such close proximity to each other, when one threw everything out of their crib ... they
all
threw everything out of their cribs.
When one climbed out of their crib ... they
all
climbed out of their cribs.
When one took off their clothes ... they
all
took off their clothes.
Then, early last week, William and Carolyn peeled off the
entire
border that Charlie and I had painstakingly put up in the nursery. William started on one side of the room, Carolyn on the other. By the time nap time was over, the adorable nursery we had created looked like a destruction zone.
The second reason was that we needed to purchase a second dresser. Not surpringly, as the children have grown larger - so have their clothes and we could no longer keep all of their clothes in one chest of drawers any longer. Gone are the days when I could keep boys and girls socks and clothes neatly organized in distinct rows.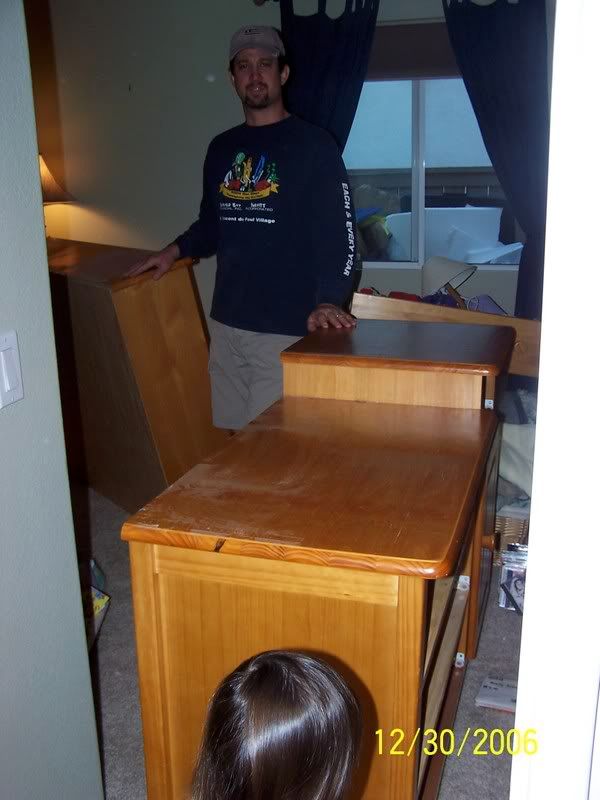 Within the past few months, I have noticed that more and more, we were stacking their clothes on top of the dresser or over stuffing the drawers such that the only they way they would close is if I laid on the floor and pushed with my legs.
Several months ago, Charlie clued in to the fact that we needed to purchase a second dresser. But because I can never see the logic in
anything
Charlie tells me for at least 60 days - I told him he was crazy. "Of course we don't need a second dresser. We just need to be more organized!! Besides, where is the second dresser going to go?!"
However, following the most recent round of escapes and obliteration, within 3-minutes I was picking out new paints and curtains for Charlie to put up, calling Pottery Barn Kids to order our new dresser, and bringing in tools for Charlie to disassemble William's crib and move it to the third bedroom. POST HASTE.
Ah yes. He is a lucky man to have a wife that is so on top of things.
The last night of 2006 was the last night that all three children slept in the same room. When I tucked everyone in, William began to cry. However, once I brought him in to say good night to his sisters - and he gave them both a kiss - he was perfectly content to be in his own room.
In the event the kids continued to climb out of their cribs, I had a contingency plan to purchase crib tents to keep everyone contained. However, we've since devised our own type of tent that seems to work just as well. We just put a small blanket over the top of the crib and tell the kids to crawl in their "fort." Money saved? $210.00, which should cover the cost for new paint and border.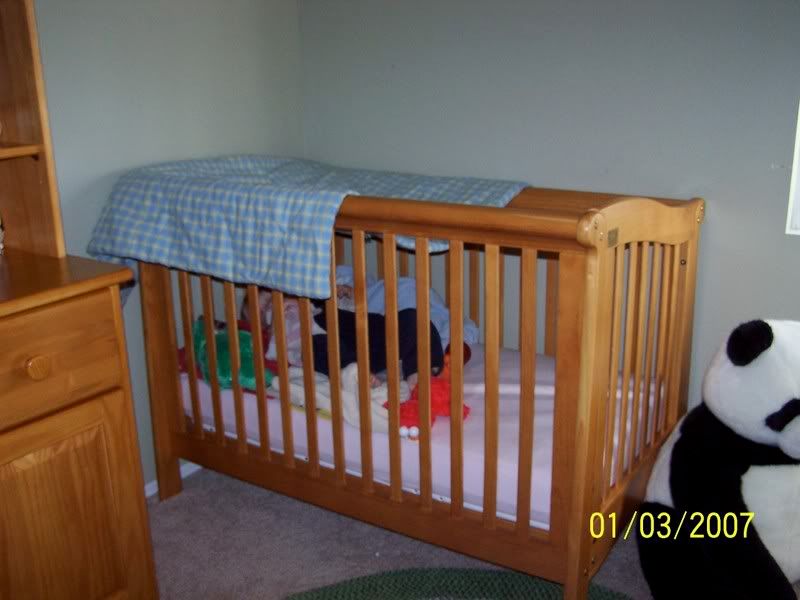 Since our transition, the kids will literally run to their cribs when it is time to go to sleep, our naps have expanded from an hour and a half to almost three (with the exception of Elizabeth who has always been a light sleeper), there have been no escape attempts, no clothing malfunctions, and everyone is happier.
Including me.
The only people that might not be happy are the visitors who come to stay with us. Rather than having their own private room with cable television and a DVD player ... they now must share a hot pink gingham room on a pull-out couch, with two toddlers. Two toddlers who may or may not jump out of their crib at 2 AM and stick their fingers in your ear asking for a "kwaka pweeze."