Breakfast is my favorite meal of the day.
Although I rarely give dinner a second thought and am often scrambling to pull together something early in the evening - I will contemplate, the night
before
, what will be served up on the menu
when we finally drag ourselves out of bed at 8:00 AM
at the break of dawn.
Breakfast is always a grand event at our house. This morning, I decided to capture what has evolved in to a typical morning with our two-year olds.
Doesn't everyone sit with balloons at the breakfast table? If not, they really should - it makes dining a much more enjoyable experience...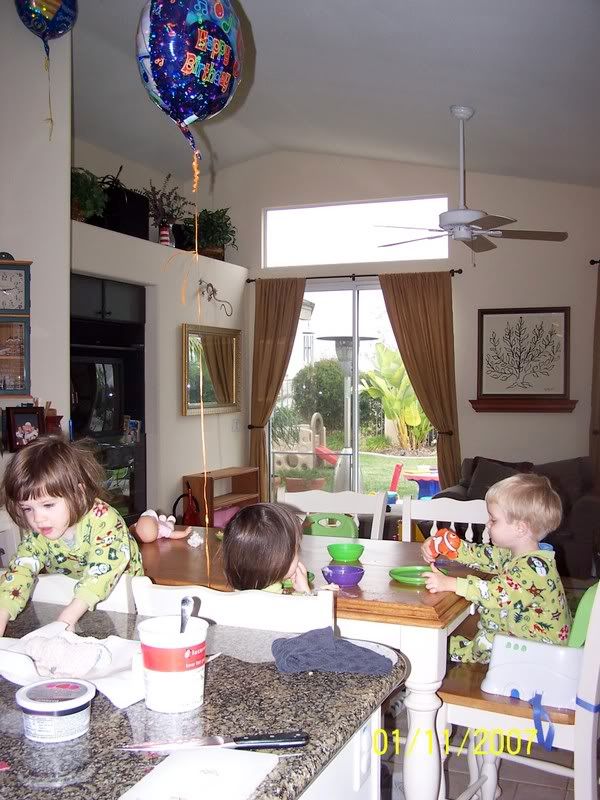 William offering some of his bagel with berry cream cheese to his Choo-Choo train (check out the stylish haircut, I didn't do too bad, eh??)...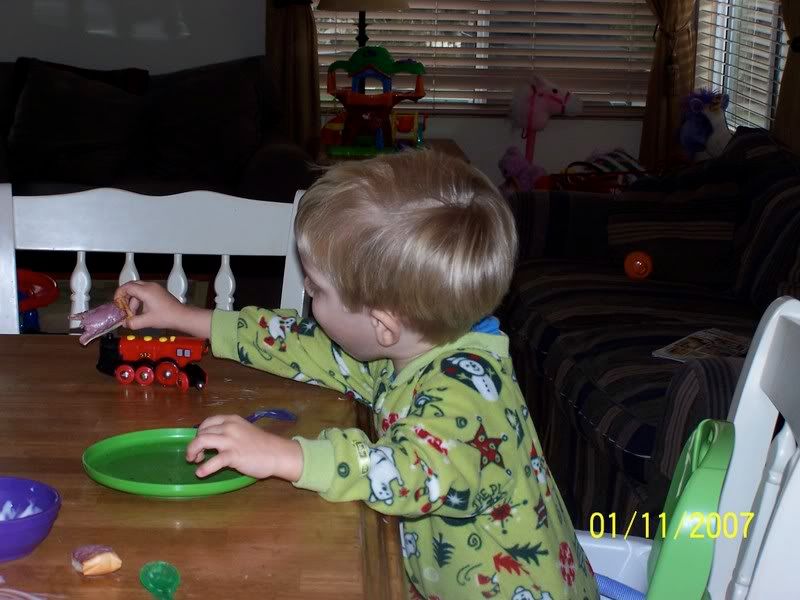 Carolyn graciously sharing her bagel with Nemo...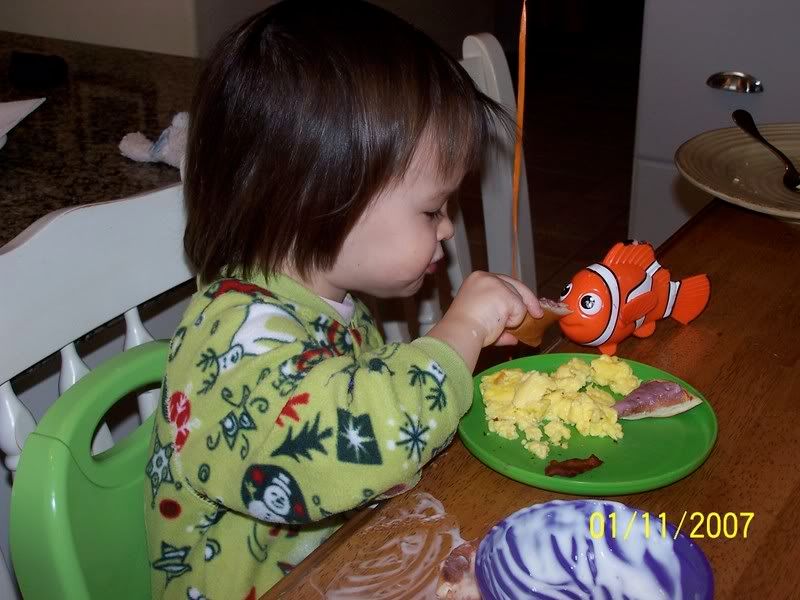 Elizabeth giving her baby doll a bite of bacon. Oh, how we love bacon...
Utensils, please, why bother??? We don't need no stinkin' utensils!!!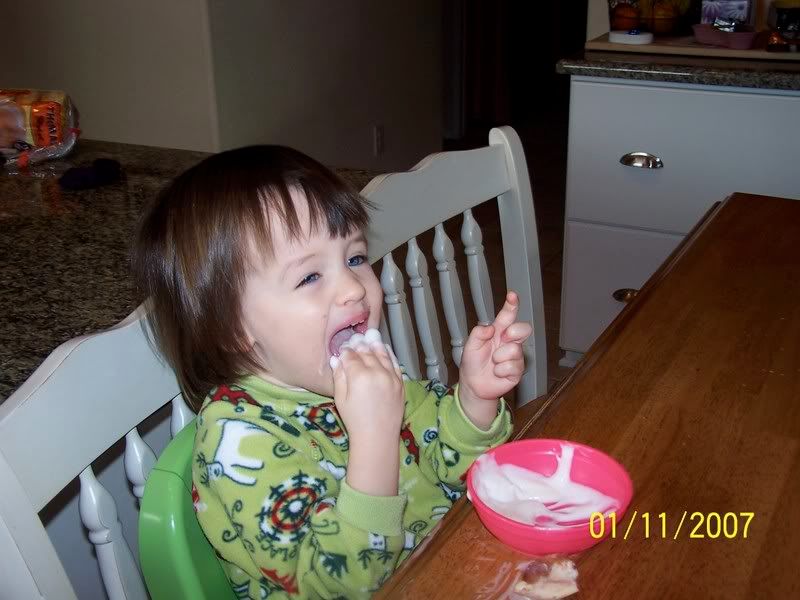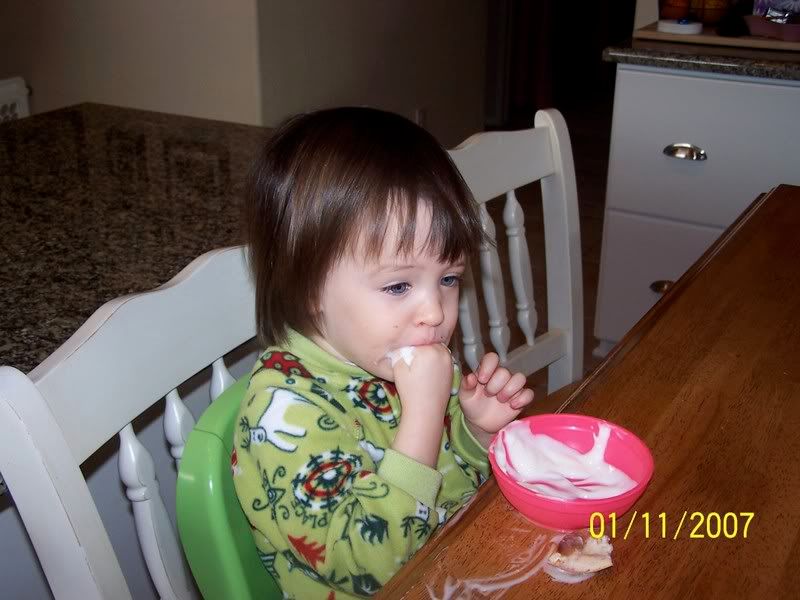 This last photo is what I had for breakfast this morning.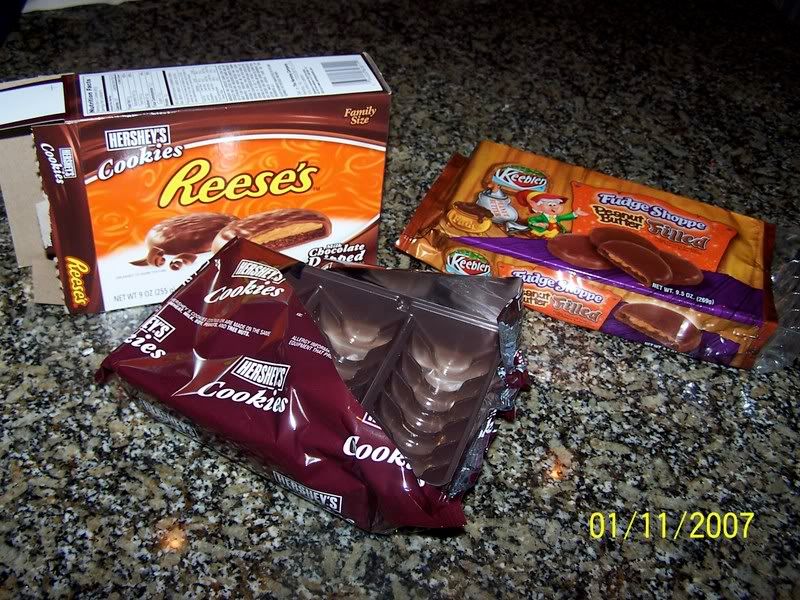 It is a remnant of the first uncontrollable food craving I have had thus far, in my pregnancy. It struck at 10:30 PM last night. Like a ton of bricks it hit me that I MUST HAVE A CHOCOLATE AND PEANUT BUTTER COOKIE.
RIGHT THIS VERY INSTANT.
So Charlie, being the wonderful husband that he is, dragged himself out of bed and drove down to the store. He returned with
two
different kinds of cookies and a pint of Haagen Daaz chocolate and peanut butter ice cream. I couldn't have been happier seeing my husband walk through our bedroom door with a bag full of peanut butter and chocolatey goodness. I was positively giddy. Fortunately for my thighs, I only needed two cookies and a scoop of ice cream to satisfy my craving.
But, this morning when I woke up, the ice cream was gone and there were only four cookies left. When I asked Charlie what had happened to my goods - he chuckled and told me that he'd had a craving, too.
I looked at him in disbelief for a solid two minutes. And then I said, "WHAT THE &%*$!!!&*#*! ARE YOU KIDDING ME?!"
Maybe it's my current state of mind - but in my opinion, it is
suicidal
to indulge on a pregnant woman's stash of crave-satisying food. That's just NOT something that you do.
EVER.
What I had failed to inform Charlie, is that before I went to sleep last night, I was already thinking about my breakfast this morning ... which was going to consist of scrambled eggs, bacon, a bagel and cream cheese, a bowl of yogurt .... and chocolate and peanut butter cookies. That, my friend, is a well-rounded meal.
Of course, I was also thinking about the four marathons that I am going to have to run this year, after the baby is born, if I ever plan on wearing a single item from my pre-pregnant wardrobe, again.