"Things are going to get worse, before they get better."
That's what our foreman told us, yesterday. Since I've never seen our house in this kind of disarray before, I can only hope that things will start getting "better" today.
What I didn't anticipate going in to this project is that
everything
would take three times as long as we thought it would and the mess generated would be ten times greater than expected. It's taking two days to lay down the hardwood floors in our family room. The bedroom hasn't even been started, yet. Because although I don't work on weekends, or 24-hours round-the-clock ... I fully expected that our contractors would.
Until our bedroom is finished, probably not until the middle of next week, Charlie and I are sleeping on the fold out couch in William's room.
My sincerest apologies to anyone who has ever slept on it, I really had no idea how uncomfortable it was, until now. Although, until we move in to a new house - you're stuck with it.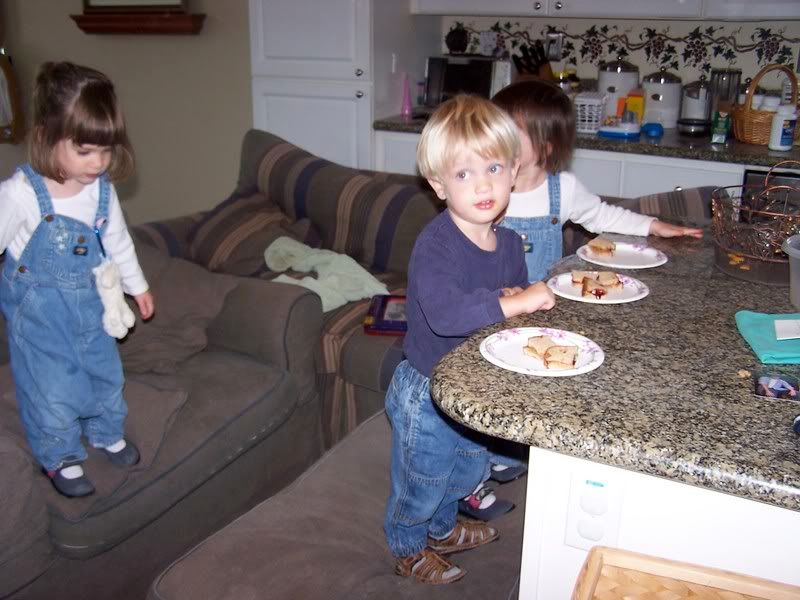 Yesterday, the kids enjoyed eating, while standing on random furniture, directly off the counter. But when the contractors started giving me funny looks, I ultimately decided that a "better" parent would let their children sit down to eat. So we cleared the 5-feet worth of junk off our kitchen table, moved the table back in to the family room, securely strapped them in to their booster seats and let them eat their breakfast while watching television.
Because there was kid-unfriendly machinery scattered about (i.e. saws, nails, sanders) we kept the kids in their booster chairs until we finished cleaning up the kitchen from breakfast, packing a picnic lunch and preparing to leave for the day. I'm not sure why I felt the need to justify my actions - but I was compelled to tell the contractors that our children hardly
ever
watch this much television. You can imagine my embarrassment then, when when our kids would shout out every show that came on to PBS "HI CAILLOU!! HI BARNEY!! HI TEWETUBBIES!!!" And then, they tapped their legs, along with the kids on "Little Einstein's" so that rocket would go "SUPER FAST!" I think maybe they're super smart.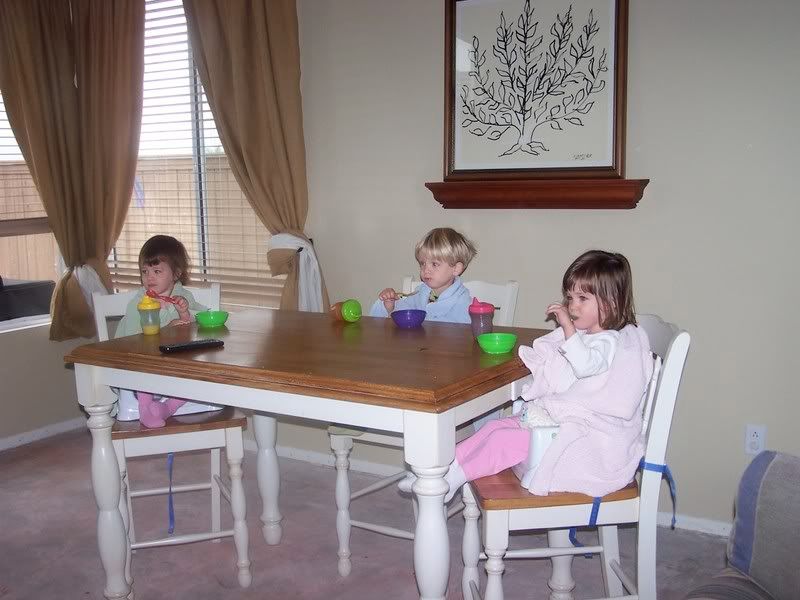 This embarrassment only slightly rivaled what I felt when I stepped on the scale at the doctor's office and learned I'd packed on
15 pounds
in the past two weeks. With five weeks still to go, I'm afraid I'm going to gain as much weight with this singleton pregnancy as I did with our triplets. My blood pressure is fine. But I can no longer wear any of my own socks, thanks to the swelling that has morphed my legs and feet in to something unrecognizable.
Without further complaining, here are some things that have brought me great joy over the past few days:
1) The arrival of Wyatt Charles, my nephew and grandchild number 19. My brother and sister-in-law gave birth to twin boys, nine months to the day, after our triplets arrived. Soon after I learned that I was expecting our fourth child, my sister-in-law told me that she was expecting their third. On May 30, a healthy little Wyatt joined our family. His "big" brothers Walter and William, will turn two on July 14.
The thought of seven grandchildren, from two people, in less than three years is overwhelming. The fact that more than 50% of them coming from me is mind numbing.
2) After a brutal 18 days, the dishwasher has finally been repaired. This makes life so much easier, on so many levels, I get choked up just thinking of it.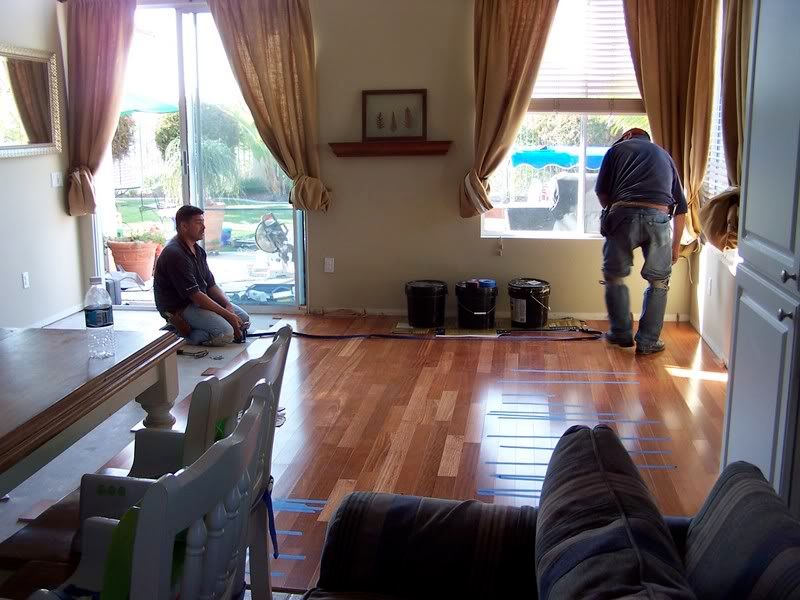 This is very
unlike
the kind of choked up I get when I think about sleeping on the couch in William's room for the next five days.
Or, the inconvenience that will result from putting hardwood in the children's rooms, too.
Because it looks so gosh darn beautiful.


From what I've been told, this will only add another week, to our project.
Drawing upon my experience with home improvements, that means they'll be done in July.