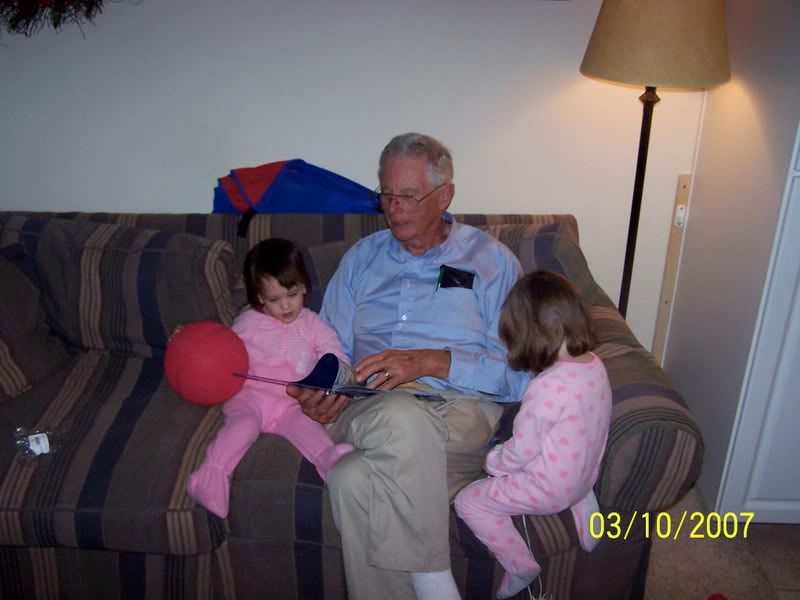 This past weekend,
Poppa Alex
flew in from Arizona to lend his parental wisdom on our most recent quandry. Charlie called his dad on Tuesday night to tell him that we were seriously contemplating purchasing a new house, and it would be great if he and his dad could have some face-time.
By Saturday afternoon ... Poppa Alex was here.
One of the great things about this blog is that our friends and families are totally in-tune with our lives. Infact, they are dialed-in to the challenges and decisions we are facing each-and-every day, because that's usually the stuff I write about.
Fortunately, because of this blog, Poppa Alex already knew alot of the background on why we feel compelled to move. He knew about the
house across the street
... the concerns with taking on
more debt
than we might possibly should ... and how our seemingly dwindling home is slowly driving me
clinically insane
, despite my best attempts at
embracing a small space
.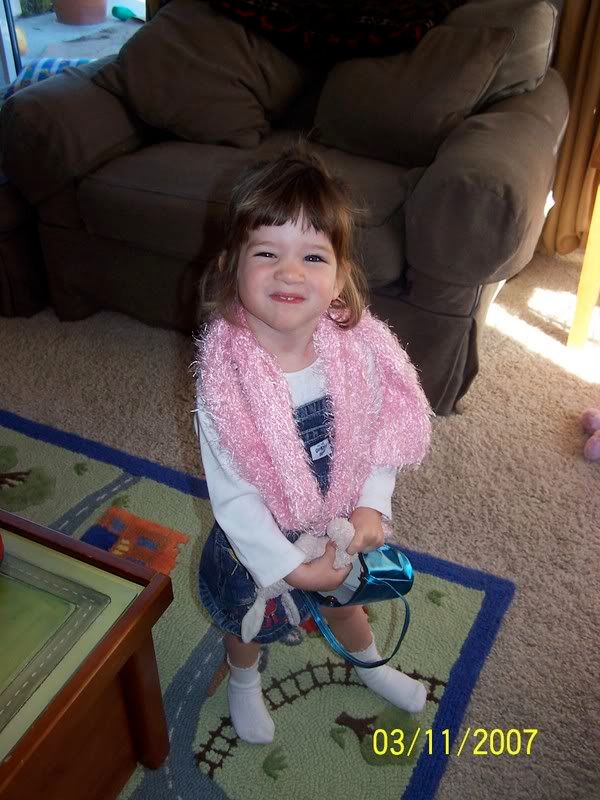 So, rather than spend a lot of time catching him up to speed on WHY we need to move ... we were able to spend a lot of time watching the kids play with the fuzzy scarves, shiny pocketbooks and beaded necklaces that Grandma Kathleen sent. Yet as much as the children loved their new toys, for the first time ever - they were
more
enamored with having a new person in the house that they could follow in to the bathroom and have read to them.
After visiting with Poppa Alex for a while, Charlie and his dad went to look at the new house we are considering.
The brand spanking new house that is on a cul-de-sac and backed up to preseve land that will never be developed.
A 3,200-square foot sprawling one-story with 5 bedrooms and 3.5 baths that is surrounded by beautiful parks, and some of the best schools in San Diego.
Equipped with an interior fire sprinkler system, the most gorgeous gourmet kitchen I've ever imagined and a laundry room that is the size of our current nursery. Not to mention a three car garage and a walk-in pantry that could double as a sixth bedroom.
A home that costs almost
twice
what our current home would sell for - giving us a mortgage payment almost
three times
what we are currently paying. But man oh
MAN
is it nice.
Poppa Alex even thought so.
After seeing the house, discussing finances, and gushing over how we would have wonderful parties for years and years to come around the 8-foot center island ... Poppa Alex thinks that we should wait for
at least
a year until we move. Not because this house is ridiculously expensive (which it is) ... but because I am 6-months pregnant and putting our house up for sale within the next few days seems ludicrious. Especially when we might have to get it ready for potential buyers on a moment's notice ... when it looks like this.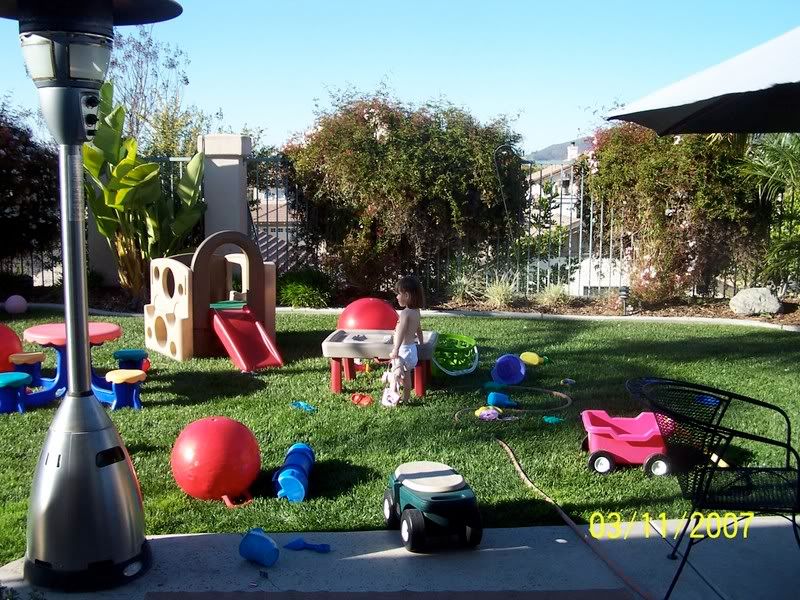 My mother, who has been religiously reading my blog while vacationing in Florida, has been calling every couple days to inquire if we've made a decision, and then adds her two cents. "You're absolutely crazy to consider moving and should stay right where you are and pay off your current mortgage, completely! But, I say
nothing
."
My friends tell us to DO IT.
Our family tells us to WAIT.
My boss told me that I have job security for at least the next 30 years (the term of the mortgage) and if we do buy this house, he wants to come to a lavish party.
Our tax accountant thinks this new house is doable, but we we might be biting off a bit too much since we're both planning to continue working part-time.
Our realtor wants to show us other houses that might be a good intermediary step. Provided I wanted to move now ... and then, again at some later time. Which I don't. Moving is physically and financially draining and a complete hassle. I'd be perfectly happy staying where we are - if we only had the room.
In hindsight ... we went about this house buying stuff all wrong.
What we
should
have done ... is figure out what we can
comfortably
afford and then look at homes in that price range. Instead, we looked at a dream house and are now trying to figure out how we can afford it. At this point in the game, all the other homes that we can comfortably afford look like crack-houses.
In defense of this back-asswards approach I would like to add that we have found a house that we could truly see ourselves living in ... forever. Therefore, although it might be a financial stretch now, eventually ... in say, 10 years ... we will undoubtedly feel comfortable with the expense. Provided our children don't need braces. Or glasses. Or new shoes. Or, have any desire to go to college.
Besides,
i
f
we're going to move ... I've decided that this is the
new sink
I want. I could put all
four
kids in it ... should our other two bathtubs, or whirlpool tub, be unavailable.