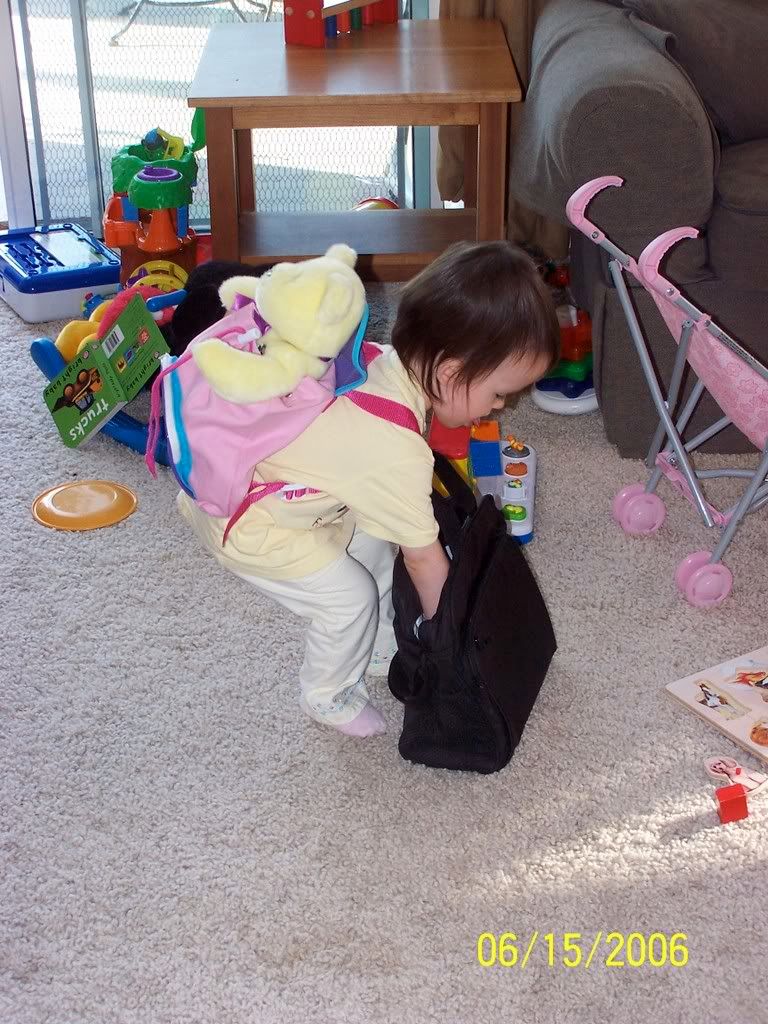 At around the same time our children were stable enough on their feet, such that they no longer had to hold on to the wall to balance themselves, they have used their little hands to collect things.
Each and every day, they will either push around a cart that is chock full of goodies, or, they will carry around buckets and bags that they will stuff with Legos, books, blocks, snails, crayons, sticks, leaves, spoons, dirt, refrigerator magnets, rocks, toy trains, Fisher Price Little People, scraps of paper, Kleenex ... pretty much
anything
that they get their paws on.
And then, they will guard their stockpile as if their very lives depended upon it.
When my sister, Beth, sent the kids small backpacks, their hoarding skills were taken to an all new level. Now, they are able to put all of their prized possessions in a backpack - which they then require me to cinch up and help them put on - and they'll strut around the house looking for even more objects that need to be added to their stash.
This art of searching out objects that they can carry around with them - is an event that will literally keep them occupied for an hour (
or more
) at a time. At the end of the day, once the kids are securely tucked in to bed, the art of returning all of the miscellaneous objects to their original locations - is an event that will literally keep me crawling around on my hands and knees for an hour (
or more
) at a time.
Sometimes, I'll take a break from "restocking the kids ammo" and while laying flat on the floor and watching the ceiling fan go 'round and 'round, wonder how much longer our children are going to find such great sport in making a mess of the place. It is
no
exaggeration to say that everything at or below their eye level - is strategically OUT of place. This uncanny ability to spread random objects near and far doesn't stop with the house. The yard and car is part of their stomping ground, too.
If I can't find the remote control from our stereo and it's not under the couch, beneath the cushions on the sofa, or in the planter in the backyard ... there's an
excellent
chance it is sitting on the floor in the van. Along with some Tupperware, a metric ruler, a potato masher and the spray nozzle from our garden hose.
I didn't put those items there, nor did Charlie. We'd much prefer to sit in our living room - rather than in the hydrangeas - watching American Idol. And as it turns out, neither of us think that the car is the most convenient place to make mashed potatoes.
These days, the entranceway to our house is littered with all kinds of objects that I have to pry from our kids fingers on the way out the front door. But what I find interesting is that sometimes, I don't even notice that the kids are walking out of the house with a cache of items, which leads me to believe that they are hiding it. They must be tucking the goods inside of their overalls - knowing full well that if I see it - I'll make them leave it at home. Not only are they
pint-sized schizophrenics
... they are pint-sized kleptomaniacs, too.
Due to an unfortunate event, I've initiated a "pat-down" before the kids are buckled in to their carseats. I'd rather know
before
we pull out of the driveway that the kids have hijacked Charlie's set of car keys ... as opposed to when we are 14 miles down the road on the way to a playdate and my husband, who is now late for a meeting, calls me in a panic.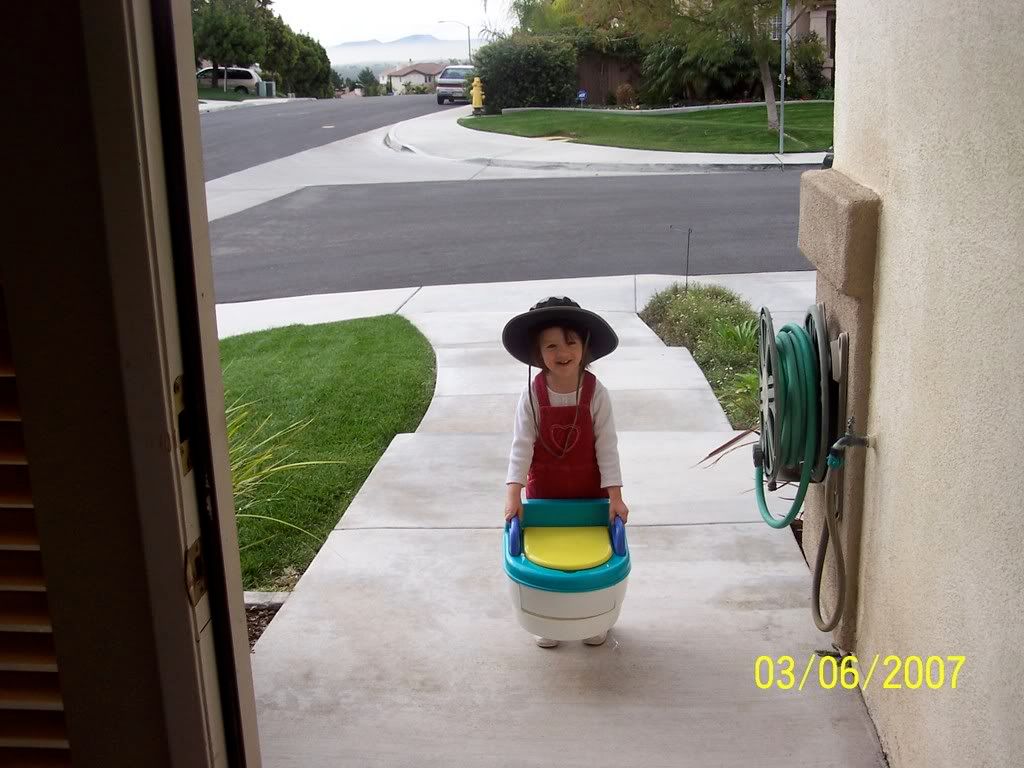 Yesterday, I took this picture of Carolyn - on her way to the Zoo with Charlie - walking out the front door with a potty chair. If you recall, she isn't potty trained. Alas, not even close ... despite my efforts at getting at least
one
of our children out of diapers before July. It seems that as far as our kids are concerned, the potty chair is yet one more vessel, conveniently equipped with handles, that they can fill with random treasures.
But if only they would fill it with ...
Ah, never mind.