Today was the last day of our Girls Only Weekend and it was perfect. Nobody
threw up
, the
doorbell
didn't ring at some ungodly hour, and for the most part - there was peace in the land.
Because we've been running around so much for the past few days, I decided that we needed to have a quiet morning. We enjoyed pancakes and an O'Henry bar breakfast (because that's what women in my family do) and I then worked with the girls on their shapes and colors using the Melissa & Doug toys I bought on Friday. I figured if the
Pediatric Dentist
didn't approve of
chocolate milk
- she really wouldn't condone me teaching our children their colors with the aid of
M&M's
.
Although, I may opt to not share that tad-bit of information when I return to the dentist for the children's visit next month.
It was unanimously decided that no "Girls Only Weekend" would be complete without a little pampering, so everyone received a pedicure this morning. Painting a toddler's toenails has got to be one of the hardest things I've ever done. For starters - their little toes are the size of corn niblets and their toenails are smaller than the head on my knitting needles. If that wasn't tricky enough - they curl their piggies and wiggle their legs, and once I finished, they tried to stick their feet in their mouth. Once I got their teeny tiny nails painted ... my next challenge came in the form of taking a picture with thirty bright red toenails, all in one frame.
As the morning wore on, we retreated outside to play in the sand and water our plants. More appropriately, we watered the sand and played in our plants. Ah ... tomato, tomato ... potato, potato. Whenever there is sand and running water, we have happy children. So what if we've gone through more than 500 pounds of sand and a few thousand gallons of water this summer - all for our children's amusement?? It's not like we live in a coastal desert with the constant threat of wildfires, or something.
Uh, actually ... we do.
I highly doubt that we are at risk for fire because the land surrounding our house is like a marsh. I wouldn't be surprised if the water table is shallower beneath our lot than anywhere else in our neighborhood, simply because of the water run-off from playing in our backyard.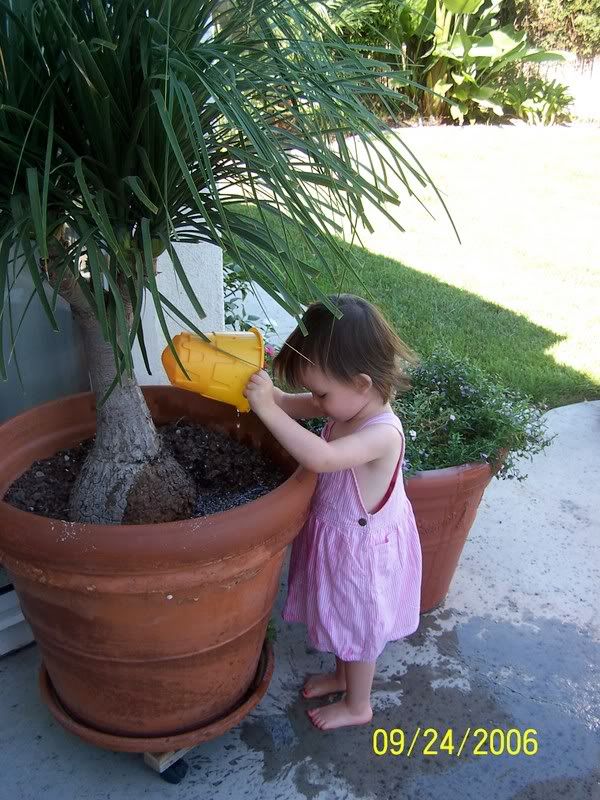 Just before naptime, the girls had a fun time running around and playing with their dolls. Each girl has laid claim to their very own baby doll and very own doll carriage. They tend to get quite
territorial
about these things. They were adamant that I wrapped each of the dolls up in a blanket, and with their tightly bundled dolls, they had stroller races around the kitchen. When I tucked the girls in for a nap a short while later, I was amused that Elizabeth insisted on being wrapped up tightly, with
bunny
stuck in the blanket under her chin - just as I had done with her doll. I snapped off some photos of her being wrapped up cuddly, and when I came back two minutes later, she was fast asleep. She didn't move from this swaddled state until she awoke from her nap, two hours later.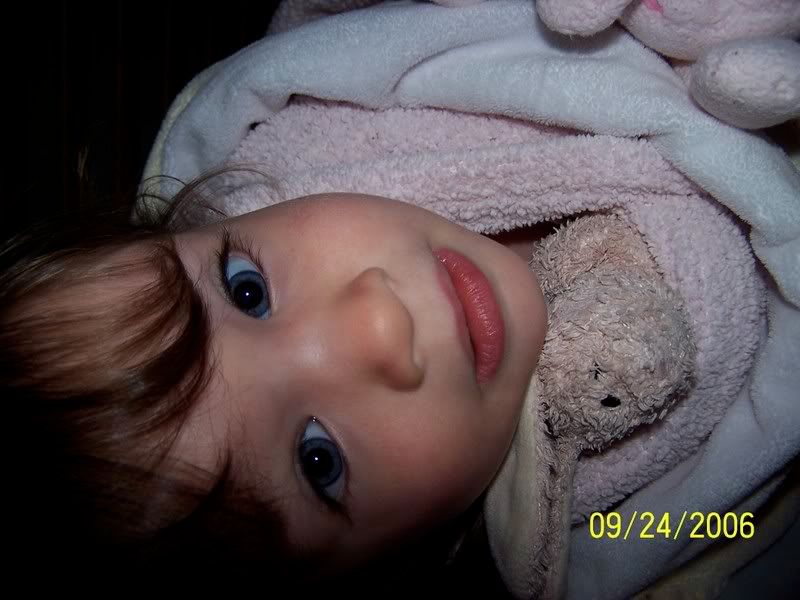 When the girls woke up, they were still a bit groggy, so I made them a snack and let them watch "The Princess Diaries" while camped out on our bed. I didn't intend for them to watch this particular show, but, since it held their attention more than anything else on at the time - that's all that mattered for me. Thank goodness it wasn't Montel. They sat contentedly for a good 30 minutes while I vacuumed, mopped and folded laundry. As they grow up - I truly hope that they always have a strong friendship and bond. A majority of the time, like today, they are so loving and sharing with one another that it absolutely melts my heart.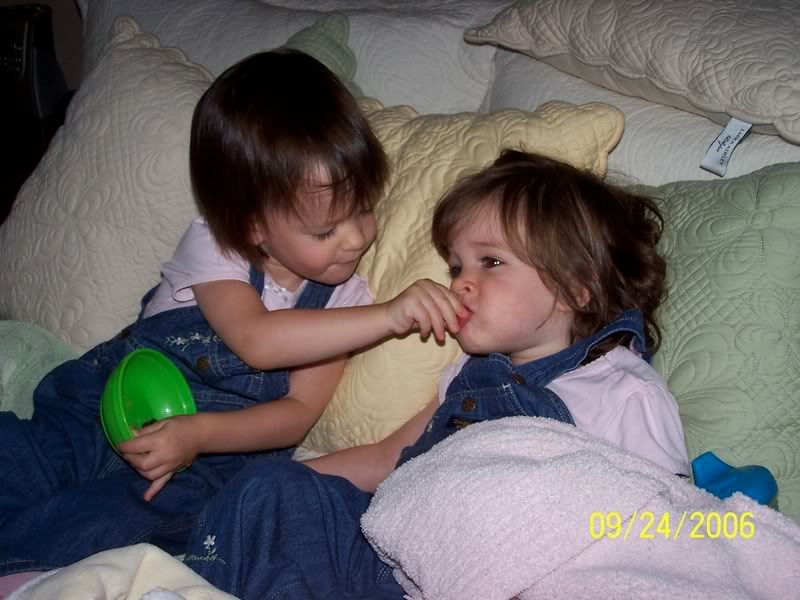 As I finished trying to get the house tidied up for the boys return, I gladly welcomed the assistance of my two little helpers. UNTIL, we got to the bathroom. I turned my back for a split second, and they wasted no time unrolling toilet paper directly in to the commode and then stuck their hands in to stir it up. Fortunately the toilet was clean. However, as I was washing Carolyn's hands, Elizabeth grabbed the toilet brush and before I could stop her - stuck it in her mouth.
That's right.
The toilet brush
.
In her mouth.
She licked it like a lollipop.
But only once - before I shrieked and grabbed it from her hands. I almost lost my pancake and O'Henry bar breakfast. Heck, I almost lost my dinner just thinking about it, again.
The only reason I am writing this out, is because as Elizabeth grows older ... if she happens to have the vague memory as a small child, of being held on the ground while her mother screamed "ARGH!" and sloshed water on her face and mouth ...
this is the reason why
.
Charlie and William were due to arrive at 5:30 PM, so once all the evidence of our raging "Girls Only Weekend" was successfully cleaned up ... I loaded the kids up and we took off for the carousel. The girls love going on the merry-go-round. We had a little over an hour before we needed to be at the airport, so I bought 9 tickets and we went 'round and 'round and 'round until we were positively dizzy. Elizabeth's looks of panic slowly gave way to joy ... while Carolyn screamed gleefully the entire time.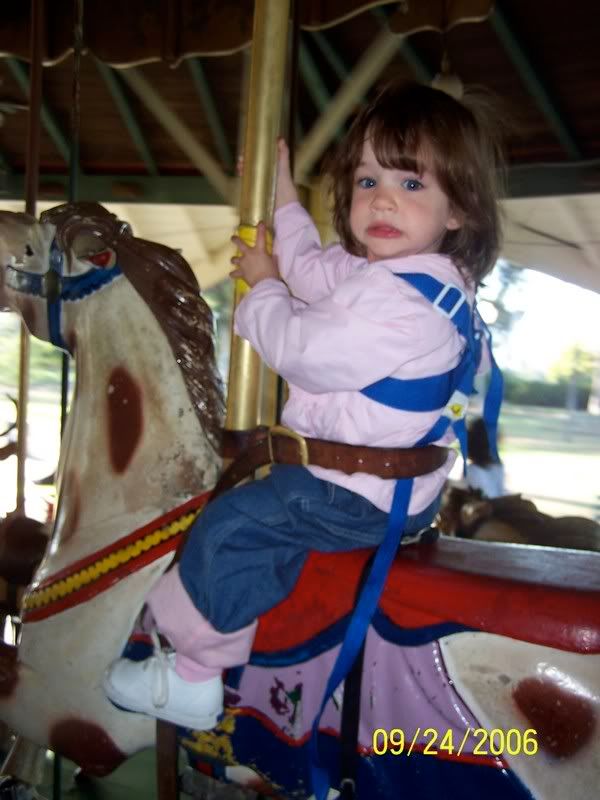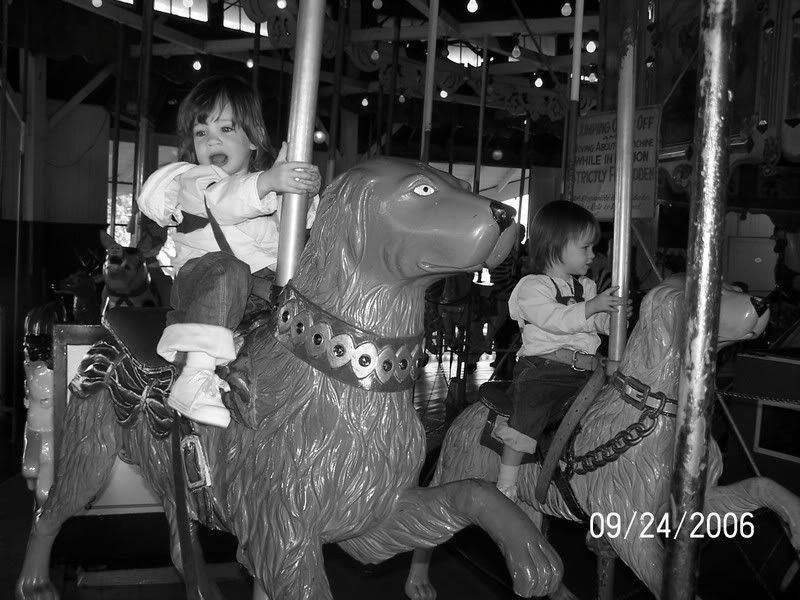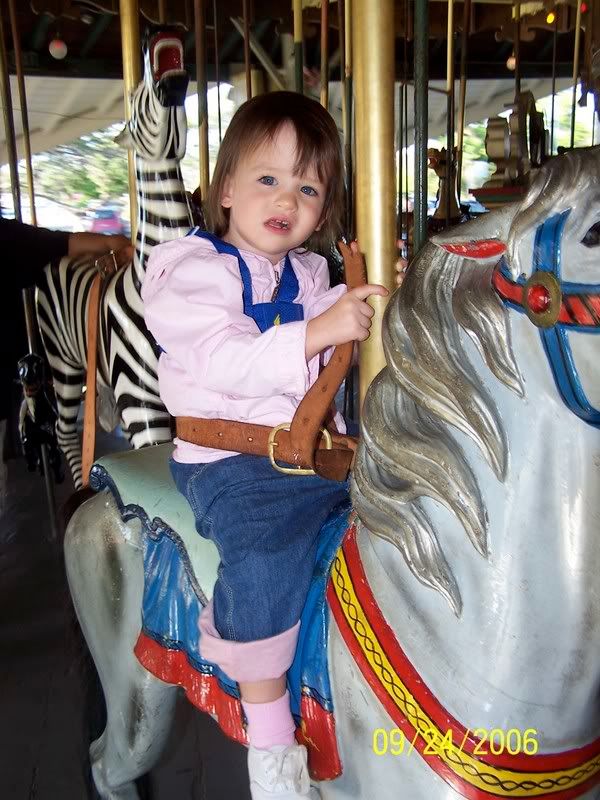 In my mind, I kept thinking about the MasterCard commercials. If I had to do my own commercial ... it would go something like this:
Eight years of infertility - ovulation predictor kits, home pregnancy tests, endless boxes of Kleenex for wiping away frustrated tears: $4,550.00
Surgeries, medications, and more heartbreak: $27,720.00
Three rounds of IVF+ICSI: $45,450.00
Triplet pregnancy, bedrest and delivery: (~) $150,000.00
6 long weeks for my babies in the NICU: (~) $1,000,000.00 (That's a guesstimate based on talking with the neonatologists. Believe me, if it wasn't for excellent insurance coverage - I'm sure I'd know the exact amount. I didn't see a single bill...)

Round trip airline ticket for father and son: $120.00
9 tickets on the Balboa Park merry-go-round: $18.00
First ever "Girls Only Weekend" with my two long-awaited miracle daughters: Priceless
.
These children are unbelievably amazing. I feel so incredibly blessed that of all the people in the world - they were born to me.
We left the carousel and 5 minutes later ... the savages tribe was reunited. Charlie and William arrived home safely from their "boys weekend away" and I heard some wonderful stories about the places and people that they visited. I have some great pictures of their first ever "father-son adventure" and I caught some awesome pictures of the reunion. But, you'll have to wait until tomorrow to see them.
Before it gets too late, I need to enjoy a bottle glass of wine with my husband.