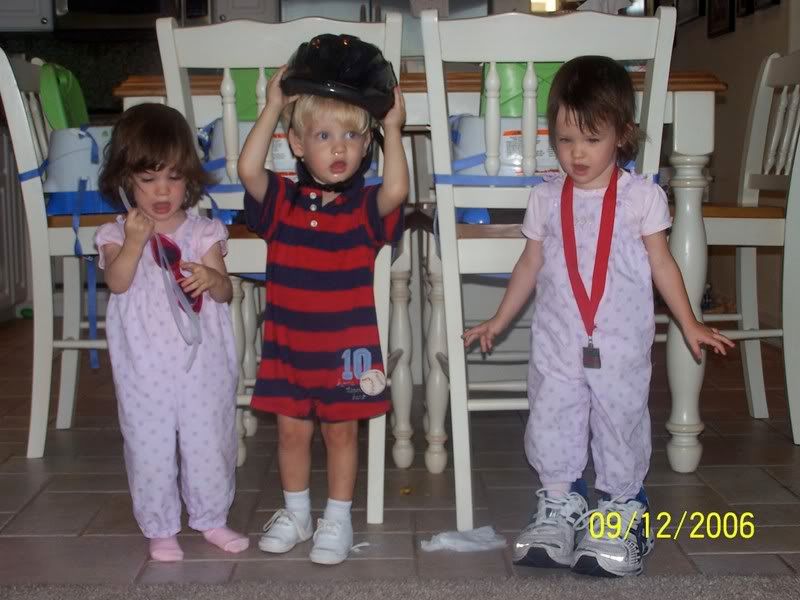 This past weekend, we took off for an overnight jaunt to Los Angeles so Charlie could compete in the Los Angeles Tri. If you recall, my company had pulled together a relay team and needed a cyclist ... so I
nominated
my husband. One of my co-workers swam 1-mile, Charlie was responsible for riding 25-miles on a bike borrowed from my boss, and another co-worker ran 6.2 miles. I was suppose to be there to photograph the event, but that was before I realized the race started at 7 AM. Unfortunately, that early hour just didn't work well with my
inability to open my eyes before 8
schedule.
Because there was NO way three portable cribs, three booster chairs, a jogging stroller, a Kelty backpack, two suitcases, a cooler, a diaper bag, five people, AND Charlie's bicycle were all going to fit in our van ... we moved the carseats over to the backseat of Charlie's extended cab truck which is equipped with a camper shell - moved the front seats as far forward as they could go without having our faces pressed against the windshield ... loaded all of our gear in to the back of the truck which lacks a fancy navigation system nor any maps of Southern California, and set off for our first road trip in almost a year.
If you think that paragraph was long and disorganized ... you should have seen us trying to get ready with three toddlers underfoot and no baby gates.
Our goal was to get on the road Saturday morning by 10 AM. We left at 11:41 AM. It probably would have helped if I'd packed all of our stuff the night before, because what I realized on Saturday morning - is that as soon as I would put stuff in the suitcase and turn my back to add more items ... the items I had just packed were strewn about the house and yard. It got to the point where I had to put the suitcase next to the closet and stand in it, to hold down the stuff I'd already packed, while figuring out what else needed to go in the bag.
Of course if I'd packed the night before, that would indicate that I am organized and well prepared ... and quite frankly if there is one thing I am not these days, it is organized and well prepared. Infact, each time I think my life bears any resemblance to organized, my children prove to me otherwise.
Charlie had the brilliant suggestion to put the suitcases in the crib which was the only place the kids weren't able to reach stuff and pull it out. Alas, he didn't come up with this suggestion until I was just about finished ... but it's something to keep in mind for the next time. What's funny is that we weren't packing a whole lot of stuff. We were only going out of town for one night. If I did the math right, that's just a little over 24 hours. Yet to see the amount of gear we had and the volume of swim diapers - you'd think we were setting off for the Straight of Gibraltar.
Anyway. We made a pit stop to top the car off with gas ... and another pit stop to buy new sunglasses. I had lost mine the week before and Charlie needed a good pair of athletic shades for his bike ride on Sunday. Apparently there is scientific evidence to prove that the better you look, the faster you go. Two hundred dollars later - Charlie looked really good.
Four hours, rather than the anticipated two hours, and several unplanned detours later (that took us through a large portion of Orange County), we arrived at my boss's house to pickup Charlie's race registration material. We were desperate to stretch our legs after having been cramped in the front of the truck for the past several hours and our kids were desperate to
destroy everything in sight
"explore".
I've come to the conclusion it's bad enough when our children splash in our own toilet ... it's a tad bit more horrifying when they splash in someone else's. Especially when that someone else is your boss. I'm really learning to go-with-the-flow (aka:
riptide
) ... which is what saved me from screaming when our kids ambushed his closet and came out holding a pair of underwear.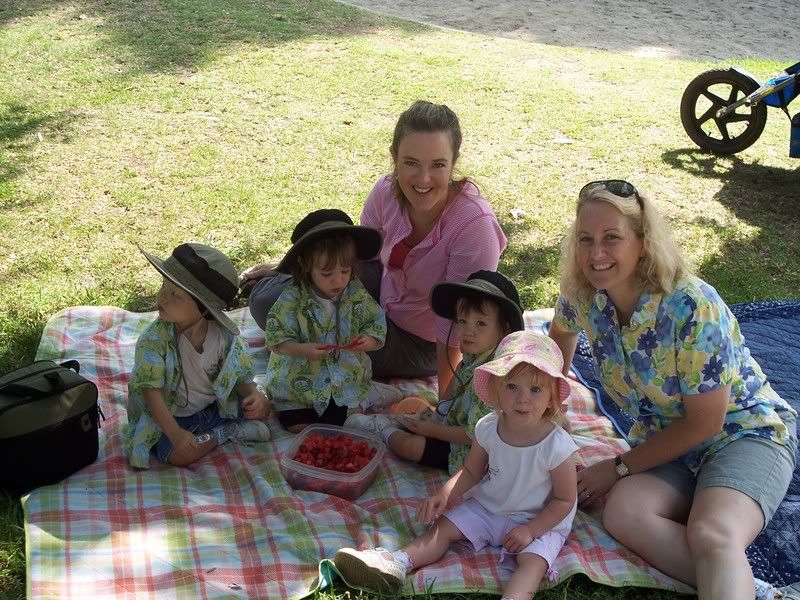 Ah, yes. That's a memory for the babybook. Thankfully, they didn't put my boss's underwear ON their head, which is usually what they do with their parent's britches.
After an excruciating 26 minutes and 38 seconds ... everyone was
kicking and screaming
happily loaded back in to their carseats while we continued on to our second destination, the home of our good friends
Mark & Lorie
.
It's been several years since we've visited Mark and Lorie at their house, so of course we got lost getting there, too. The last time we were at their home - Charlie and I were just about to start our third round of IVF and Lorie was blissfully unaware that she was two weeks pregnant. Since we all went to college together - and are all geologists - we have a lot in common. Our friendship grew that much deeper when their little girl, Shayna, was born two weeks after our triplets.
Since the catastrophe of visiting our friends last week, we were a bit concerned how this weekend was going to go. I'm here to say that God is good and prayer works. If I ever questioned that before, I don't anymore. I have been praying non-stop for this to be a good experience for everyone. I was actually prepared to cancel the whole trip because the last thing I want to do is unleash our trio in to the house of our unsuspecting friends. (Although, Lorie does read this blog - so she had an inkling of what was coming...)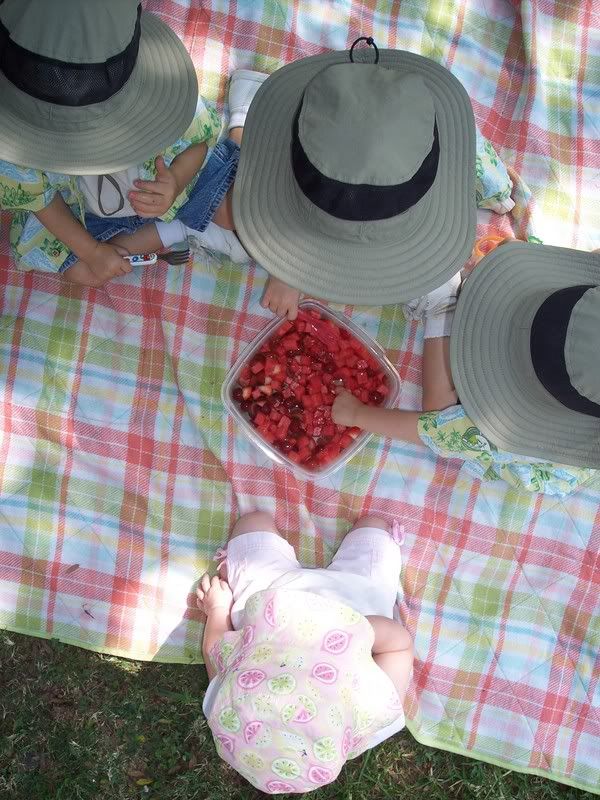 Mark and Lorie have a fully fenced in front yard surrounding their one-story bungaloo. The doors to the front and back were wide open and a cool breeze was blowing through the house. They had tents set up in the front and side yard and they had more toys than the North Pole. The kids had a great time playing together, we had a great pizza dinner ... and when Charlie went to bed at a reasonable hour because of his race the next day ... the three of us sat and enjoyed wine. Lots and lots of great wine.
Sunday morning, while Charlie competed in his race ... we hung out at a local park near Mark & Lorie's house. The kids had a fun time running around and playing on the different structures, while I savored having two additional adults help me supervise. The only thing that would have made this outing more fun is if we I had a 4th hat so we could pass Shayna off as a quad. With her blonde hair and blue eyes - it would be easy to do. Although, we got enough looks and comments as it was.
When Charlie returned, we loaded up our sleigh - assumed our cramped positions in the truck - and took off for a picnic one hour south (on the way back home). It should have taken us one hour to get there ... but it took us almost two and a half. Once I realized we were on the wrong freeway, my motto of "We don't need no stinking map!" became "Charlie, how could you forget to pack a map?!!"
Over the past few years of struggling with infertility, I have become acquainted with several people over the internet that have gone through the same challenges in achieving parenthood. A few months ago, several of us met for the first time. This weekend, we met again. Unfortunately, we were three hours late arriving to the picnic ... but with all the other things we had happening that day - it's a wonder we made it at all. Before loading the kids up for the 2-hour trek home, we filled their little bellies with a Slurpee. Maybe it was the frozen fruity processed goodness, or maybe it was the excitement of the weekend ... but our children passed out before we even left the parking lot and remained unconscious until we pulled in to the driveway.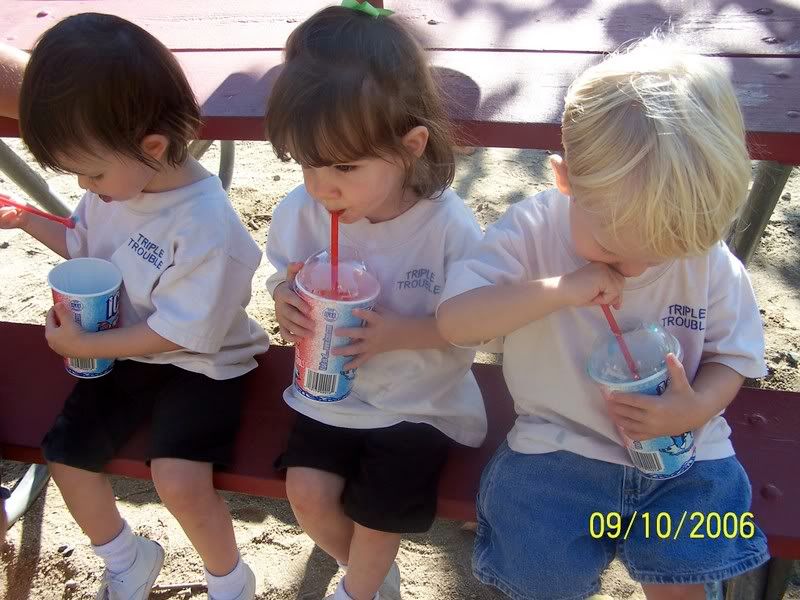 Although Charlie is a natural born athlete, he hasn't really been on a bike for at least three years. This race that I signed him up for was a big one and an excellent catalyst for him to get back in to something that I know he loves. His official time for riding 25 miles was 1 hour, 16 minutes. His relay team finished the LA Triathlon 6 overall out of 50 teams.
That's not too shabby.
As a family we enjoyed a great weekend with new friends and old, and even though we questioned the logistics of leaving the safety of our house, we threw caution to the wind and went for it.
I suppose that if there is a moral to this story, it would be even when you think it's too much to do - it's always good to give it the old college try. When you're packing for a trip with your children - just make sure your humor and sense of adventure are the first things to go in the suitcase.
Along with a map.