When we found out that we were expecting triplets ... one of the very first things we started to do was research equipment for transporting three babies, simultaneously.
We quickly discovered that when transporting babies from Point A to Point B ... your options are severely limited when you add in a "Baby C" to the mix.
There are several challenges in finding a stroller to carry three babies. In general - triple strollers are:
1) Extremely rare. Not all baby stores carry them. Your best bet is the internet.
2) Special order. You'll never see one on a showroom floor, and most orders take >60 days.
3) Expensive, relative to 'other' strollers.
We spent several months during my pregnancy, researching our limited options and trying to decide what would be the most versatile stroller and wisest investment. These were the criteria we were looking for:
Must be able to snap infant carrier / carseat in to;

Must come with seats for when babies outgrow infant carriers;

Must be durable to handle casual strolls around the mall and power walks on the beach;
Must be easily disassembled for loading in to the car;

Must have a good sunshade;

Must be maneuverable (I use that term loosely), and last but not least...

Must be capable of fitting through a narrow doorway, considering most doctors offices are designed with a single door.

Bonus points if it has adequate space for our monster sized diaper bag.
More bonus points if it has a cup holder.

Simple, right?
Only if you're the kind of person that has one pair of shoes in your closet that you can wear for every possible occasion.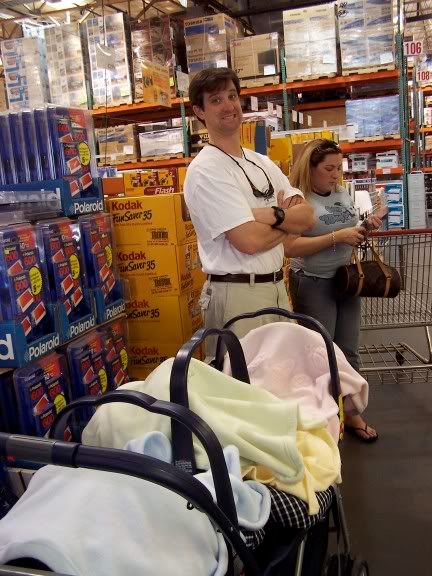 What we learned was that in 2004, there was no such single stroller out there that would fit
all
of our needs. The in-line 3 seater
Runabout
didn't hold infant carriers and wouldn't easily fit in our car. A few companies manufacture
triple joggers
, but they are too wide for our neighborhood sidewalks, or - the front gate at the zoo.
To accommodate our stroller criteria, Charlie and I have spent a small fortune (think mortgage payment) on various combinations for transporting our bambinos. This is a run down of our stroller fleet:
Peg Perego Triplette. This is our "Limo" and it worked great when the babies were small because two infant carriers snapped in to the frame and the third rested comfortably between the two. This also worked well when they grew older because the plush reclining seats (with full sun canopies) can hold kids up to ~45 pounds (or total of ~135 pounds). This stroller breaks down pretty easily and can fit compactly in our car. The one drawback is that the Peg can be a bit tricky to maneuver and when loaded with kids, not even
Juoko Aholo
could push it across a sandy beach.
BOB Single. BOB is an acronym for "Beast of Burden" and I'd have to wager that this is one of the most durable baby strollers on the market. It has suspension system (i.e. shocks), like a mountain bike ... or car. As a result, the ride is totally smooth and it has a big canopy that provides excellent sun protection. It collapses very easily, maneuvers across deep sand like a charm, and has been a critical piece of baby equipment in this household. The only drawback is that it holds one baby. We have three.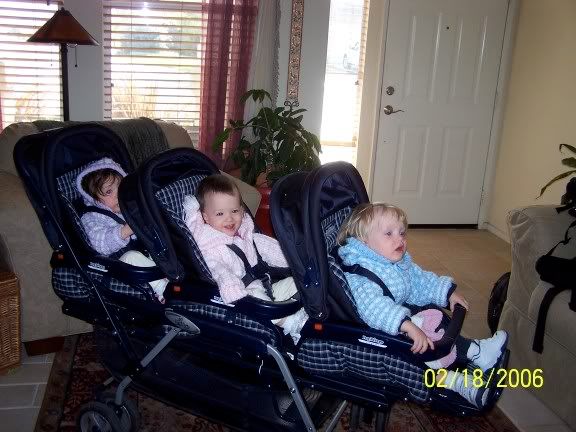 BOB Dualie. Same stroller as above, but with two seats. This stroller can easily navigate through the checkout isle at the grocery store along with the gate at the zoo, but we can't get it through the front door to our house unless we remove the tires. That's a drawback. Another drawback is that it only holds two babies. We have three.
Most times, when we go for a walk with the kids by ourself ... we will take the BOB Dualie and stick the third baby in a backpack. The backpack works fine except for when the "rider" uses your sunglass strap as a rein, and pulls so hard that your glasses nearly snap in two. Or, when after walking 2-miles you realize that your "rider" has lost their hat, or more likely thrown it off, and you backtrack to find it ... sitting safely on your driveway.
Even with our fleet of strollers and associated baby backpacks, I am
always
on the look out for new and improved ways that we can transport all three babies - for hearty walks - by ourself. I'm also
always
on the look out for the perfect purse and diaper bag ... but that's a whole different story.
Recently, I spotted something that looked promising...
While we were at our
Fourth of July
parade, we eyed a Phantom wagon with a red-white-and blue clad flag-waving 2-year old rider. According to the "driver", their toddler
loved
this wagon. Apparently, the child always remained in a seated position, never attempted to climb out, and was perfectly obedient during the entire duration of each and every ride. If that wasn't enough ... it had a sunshade, a cushion, a cooler rack and it looked terribly cool.
Because the Phantom was specifically designed for the beach, with big fat tires and a bearing load capacity of 1,000 pounds - this wagon could do it all. Best yet ... it was something that we could use for years and years after the kids outgrew their stroller. This wagon could be used for a multitude of purposes ... and only a few of them involved transporting children.
Having thoroughly completed our due diligence rationalization to justify another large object in our garage ... within 3-days we were Phantom wagon owners.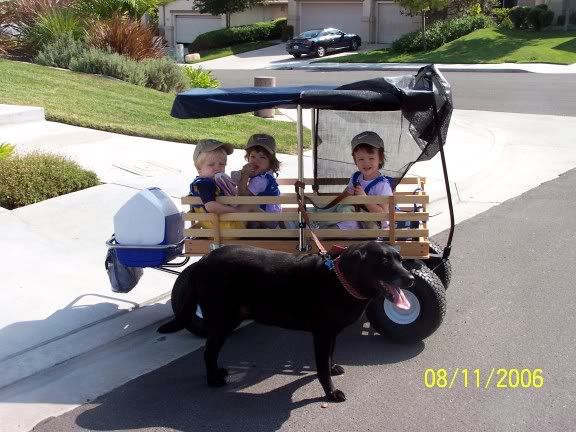 Yesterday, I decided to load the kids up and take them for a walk around the neighborhood in our new wagon.
Just me and my peeps. The kids, a cooler filled with snacks and drinks ... and Molly.
Even with all the walks I do, I never realized just how mountainous of an area we live in. We were either going down a magnificently steep hill and I was trying desperately to keep the wagon from crushing me ... or ... we were going up a magnificently steep hill and I felt like I was in a Strongman truck pulling competition.
All the while, I was trying to keep all three of our kids from climbing out of the wagon - smacking each other in the head with their sippy cups - and leaving behind a trail of Nilla Wafers like Hansel and two little Gretels.
Poor Molly was jumping around like a kangaroo trying to stay away from the huge tires and was nearly choked by three kids that were playing a game of tug-of-war with her leash.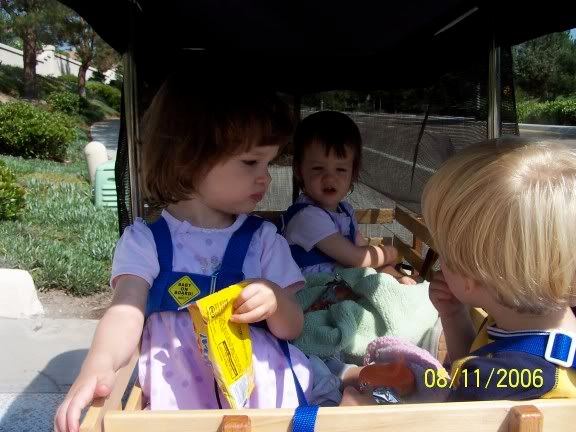 Despite the puddle of sweat I had melted in to after trekking 3-miles, and straining muscles I didn't even know I had ... we had a good time. The kids really enjoyed the ride and Molly and I both got in a great workout. I could maybe see doing this again. Maybe.
Whether I am pushing the monstrous Peg ... trekking with the dualie BOB and baby in a backpack ... bending down to pick them up as they collapse on their safety harnesses ... chasing them when they are "free" ... or lugging them around in a 1,000-pound bearing capacity wagon ... I'm getting in a serious cardio workout each time I step foot out of the house with the kids. I really don't need the gym, at all.
Truly. Who would have ever guessed that giving birth to triplets would be the catalyst for me getting in the best possible shape of my entire life?
If it wasn't for the wine and ice cream I indulge on at the end of the day ... I could be a bikini model. Maybe.