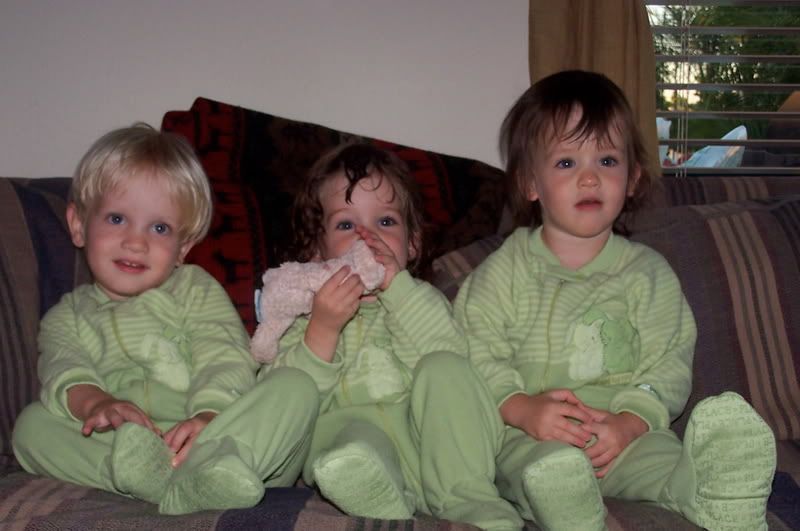 Charlie survived an almost full week without me. While I was at my business meeting in Los Angeles, Charlie was home by himself. Well, not
entirely
by himself. He was alone with three toddlers, who were fully recharged after their weekend vacations, and in destructo-mode.
I received a voicemail message on Thursday afternoon. I picked up the message while I was in the lobby of my hotel, on my way up to my room to drop off some things before going back down to the lobby for dinner. The message was left by Charlie and he didn't sound too good. He sounded monotone, like someone who might be in a state of shock. The condensed version of his voicemail message went something like this:
"Jen, love of my life. It is me, your husband. I am losing the war, Jen. I am losing badly. I am outnumbered and I have been for the past several days. Your children are in to everything. Your children don't understand the meaning of the word "NO" or if they do, they scoff at me. I need you, Jen. I, I, I can't do this by myself. Carolyn. Carolyn. Carolyn - sweetheart - please get off the table. Please. Please. Please. Jen, this is your husband. It is now 4:00 in the afternoon and I am still in my pajamas. Your children are dressed and look adorable but I haven't showered in ... uh ... I think two days. I am suffering casualties and I am losing the baby war. My zone defense has been breached. Jen, I need you. Please come home soon. Please."
The voicemail message went on for three minutes. It spanned the entire time it took me to get on the elevator - go up nine flights - walk down the end of the hall to my room, drop off my stuff, grab a sweater, walk back to the elevator - go down nine flights - and re-enter the lobby. As Charlie droned on, I could hear in the background screaming and what I think were pots and pans being clanked around.
When I returned home on Friday night, poor Charlie was sick with a cold. He was miserable. I handled the rest of dinner and managed getting the kids bathed and in bed, by myself.
Even though bath time can usually be quite chaotic, our little angels were perfect and it felt so great to be home again. The children were thrilled to see me and would stop their playing in the tub just long enough to stand up and give me a hug and kiss. As I was getting ready for bed a few hours later - I told Charlie that I was feeling melancholy about how quickly our children were growing up. It is physically painful to think that they will be two in less than two weeks. I also told Charlie that I could seriously see trying for another child once our toddlers are successfully
potty trained
.
Charlie just gave me a look. The kind of look that is pure disbelief, amazement, and fear. Here I am, telling him "Aren't they WONDERFUL?! Let's have MORE!!!" and he's ready to run away. My husband reminded me that less than a week ago, I was prepared to abandon the family and move to
New Zealand
. Charlie also reminded me that absence makes the heart grow fonder - and perhaps I should give it a few days of being "home" before making grandiose plans for more little munchkins.
He then pointed out that although my dress shoes looked great with my outfit, my shirt which I had worn in business meetings all day on Friday, was on backwards.
Maybe I am
losing my mind
after all.