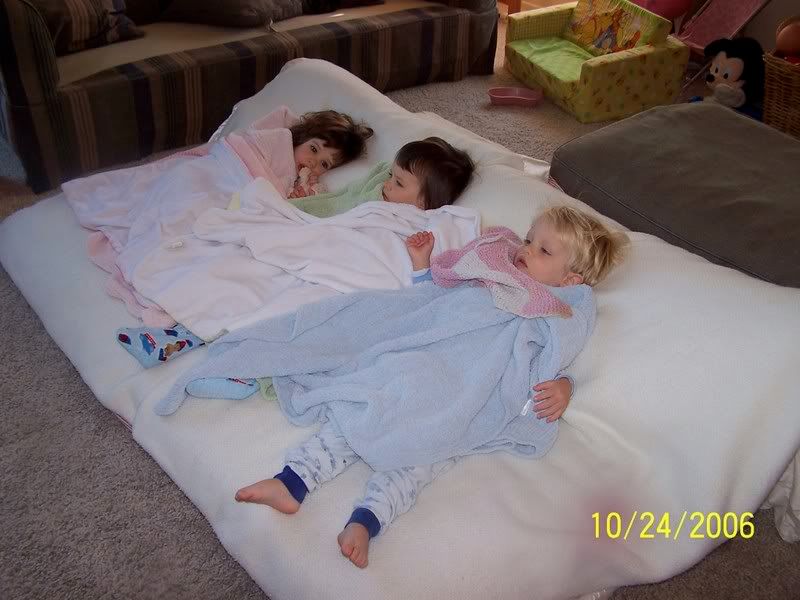 Yesterday we set up a sick bay in our family room. The covers from the couch cushions were stripped off and washed, and we covered the barren cushions with blankets and towels. The children were then propped up in front of the television all day.
We have watched more television during the past two days, than we have the first two years of our children's lives.
When I posted on Monday, Carolyn had just been sick. Reminiscent of the newborn days, Charlie and I set up the baby monitor in our bedroom Monday night so that if the kids so much as coughed, we'd hear them. We were woken up at 12:10 AM by Elizabeth who began vomiting ... and two hours later by Carolyn who was also vomiting.
Everyone seemed to be doing a bit better yesterday, although terribly lethargic. At around 5 PM, Elizabeth vomited again. We tucked all three of them in to their cribs at 7:30 PM, and within an hour, Carolyn was up followed by William. It broke my heart to see them so sick. They would faintly cry "no! no!" whenever I held up the plastic emesis pan. I don't blame them - they knew exactly what was coming next.
We've been giving our pediatrician updates at least twice a day. He thinks that this is a severe case of gastroenteritis and is ruling out rotavirus because they do not have the green-guacamole diarrhea that is a key indicator of rotavirus. He also thinks that this is something that needs to run it's course. Thus far, he is not concerned that they are dehydrated - but we are watching for the signs of dehydration very closely.
From the limited research I've done, I wish what the babies had was rotavirus, considering the majority of children contract it before their third birthday. If this isn't rotavirus ... it is upsetting to think that our children could ever be this sick again. At the risk of sounding drastic, we might have to stay inside and NEVER go out.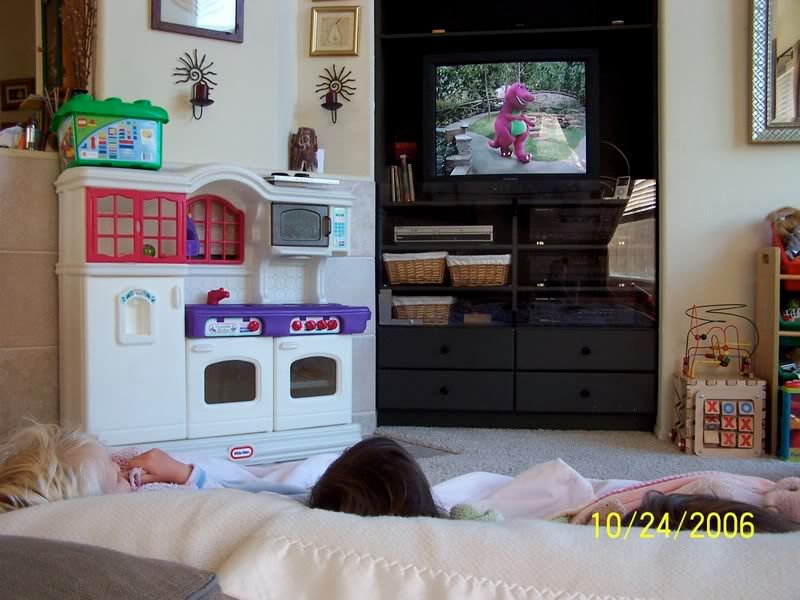 We're doing the best we can to keep them hydrated - popsicles, ice chips, sips of Gatorade and water, Jell-O and applesauce. As they can tolerate it, we're also offering them Goldfish crackers, saltines and toast. Because the girls are so weak today, I've been giving them tiny amounts of water using a medicine dropper.
We decided to stop giving them the suppositories because we suspect that is what is causing the lethargy with the girls. It is difficult to see them so exhausted that they do not move from the same location for hours. We spend much of the day sitting with a sleeping baby in our arms ... sometimes with two sleeping babies in our arms. I had a moment of brilliance yesterday when I rediscovered our Baby Bjorn and found that our children still fit in it.
Neither Charlie nor I have been able to work all week ... it is a two person job taking care of three sick toddlers. Actually, it's a five person job. We are a bit overwhelmed at the moment.
Surely tomorrow will be a better day.