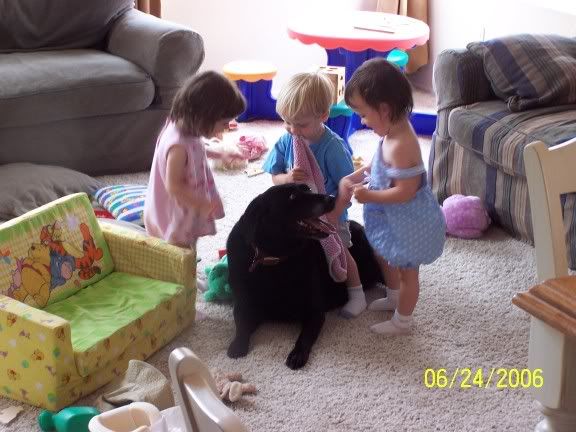 Death is exhausting. Not for the one that has died, of course ... but for the ones that are left behind.
This weekend, not surprisingly, was exhausting for us. When something happens that is emotionally draining, like losing a loved one, there reaches a point where you are physically drained, too. There's no doubt about it ... being sad consumes
a lot
of energy.
After spending the majority of the day Saturday mourning (i.e. bawling our eyes out), we spent Saturday afternoon at the Pet Supply store. We picked Molly up two new beds (one for inside, one for outside), a few new toys, a new brush, a couple new bowls and a hodge podge of doggie treats. Molly then got another bath and was ushered in to the house ... where she was
immediately
swarmed by toddlers.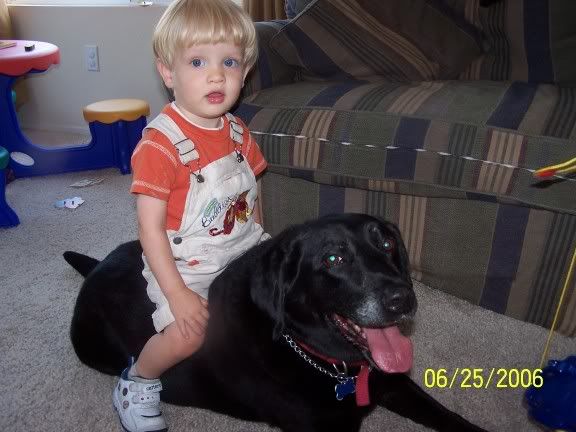 Now, when I use the term "swarm"... imagine walking in to a bee hive covered in honey. Molly was the one covered in honey. Our triplets were the bees.
Molly has always been a pacer. She paces, constantly. Monty on the other hand, would lie down when ever and where ever he had the opportunity. In that way, our two dogs couldn't have been more different. But even as a pacer, there is only
so
much pacing you can do, before you need to take a load off. Of course as soon as Molly would stop her pacing to take a rest for a moment, she had three curious children touching her tongue and her collar and her eyes and her nose and her tail and her teeth and her ears. And, last but not least, climbing on top of her like she was a pony.
From what I could tell, she loved every second of it.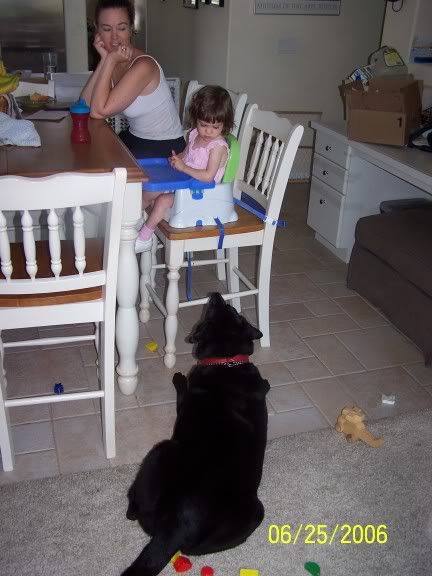 Even though it appeared Molly enjoyed the attention of being front and center, we have been extremely cognizant of her need for space and we are very cautious that the babies are gentle with her. Charlie and I sound like a broken record constantly repeating "Gentle kids, GENTLE."
In return for Molly letting the kids swarm her, they have been indulging her with all kinds of goodness from the kitchen table. I came to the conclusion on Saturday morning that we may be able to permanently retire our broom and mop. As soon as a crumb lands on the floor, it is instantly picked up by Molly.
However ... there are definitely a few kinks to our new lifestyle we need to work out.
Kink Numero Uno:
Even though Molly is a good replacement for our mop and broom, I don't think it's a good idea for her to be in the house during meal time. Having a dog patrol the kitchen table causes several areas of concern for me.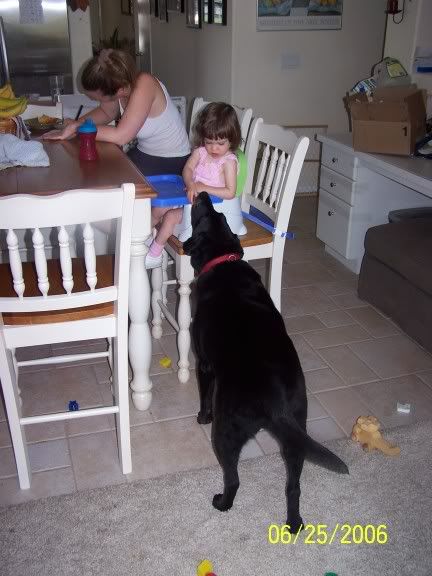 First. I don't want Molly to balloon up to the size of a house, which she will if she feasts off of our kids floor scraps. (Have I posted a picture yet of mealtime? I'll have to do that, soon.)
Second. I don't want the kids to find entertainment in throwing food off their tray for the dog to gobble up - especially since they find
enough
entertainment in throwing food off their tray, as it is. The last thing I need to do is add fuel to THAT fire.
Third. I don't want Molly to start taking food out of the babies hands. Yes, she is gentle. But I can imagine she would get highly excited if a pudgy hand offered her something tasty like say, a half eaten Ritz or a Cheerio.

Kink Numero Duos:
Dog hair. I didn't realize just how much dog hair there was, until I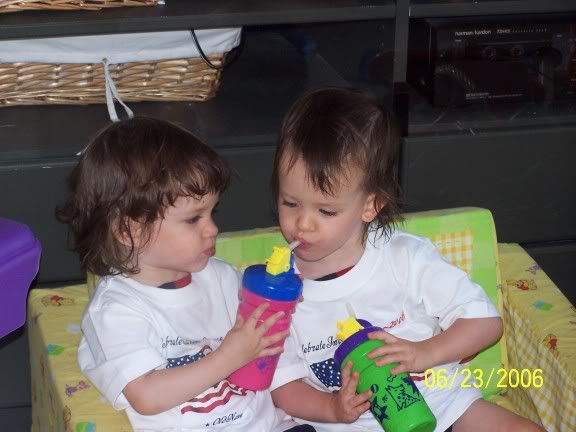 looked at our kids after they rolled around the floor for 5 minutes. Dog hair on the kids clothing is one thing. Dog hair on their sippy cups and loveys, both of which go in their mouth ... one word - three syllables.
Dis.Gus.Ting.
And here's another thing with the sippy cups ... as much as I enjoy seeing the babies offer one another a sip off of their drink, I'd prefer NOT to see them extend the same generosity to the dog.
Molly, never one to turn down anything
remotely
consumable, will eagerly lick the cup - and then the babies always turn it back around and take a sip while I am (graciously)
flying
across the room to try and stop this hospitable exchange. Might I add ... NEVER, EVER do I make it on time. Nor, do I have my camera handy.
Did I read somewhere that a dog's mouth is cleaner than a human's? At this point, all I can do is PRAY that it's true.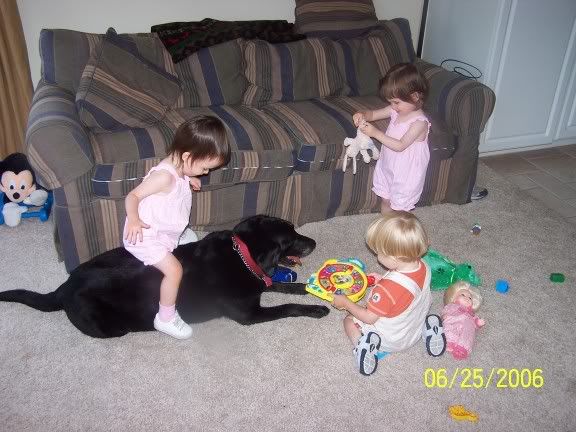 Kink Numero Tres:
The backyard. You already know where I'm going with this ... don't you? So today, I had some work to do. While I was working in the back office, I heard Charlie outside playing with the kids and Molly. They were having a grand time, running around, chasing a ball, playing in the sandbox ... all was well. Then I hear Charlie exclaim "OH OH! OK kids, over here. Over here."
I hear Charlie run in the house for a bag, I hear him run back outside - to presumably - scoop up the "Oh Oh!". Then I hear the hose come on, to wash down any residual "Oh Oh!" that might be left on the grass. A few minutes pass and I hear Charlie yell "OH NO!!!!"
What I later learned is that William had located another fresh pile of "Oh Oh!" that Charlie had missed. William found the "Oh Oh!" and picked it up in his pudgy little hands and squished it. Suffice to say - playtime in the backyard came to an abrupt halt. William's hands were completely scrubbed down, washed numerous times with soap and water, and smothered in Purell. I didn't actually need for Charlie to tell me what happened. I could hear him gagging from my safe spot in the back office.
The fourth thing, which is preventable by keeping the bathroom door closed, and hence - isn't really a "Kink" but which I believe deserves honorable mention, is the task of keeping both the children AND the dog, out of the toilet.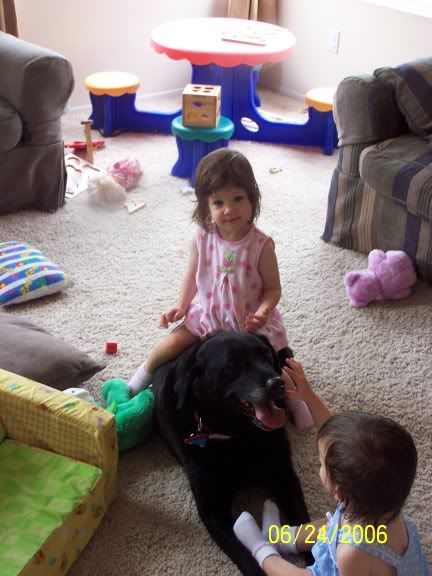 Just this morning, I heard a splashing sound emanating from the bathroom ... which I incorrectly assumed was Charlie. When I went to investigate, both Carolyn and Elizabeth were splashing in la commode up to their elbows. I picked up both of my daughters, soaked with toilet water, to carry them out, while using my legs to block William from wandering in and continuing with the splashing. Meanwhile, Molly ducked in around both me and William, and proceeded to take a drink from the pot.
So. There you have it.
Not only is it exhausting grieving the loss of our beloved Monty, it is exhausting trying to figure out how we are going to succesfully incorporate Molly in to our lives, as an indoor dog. Although, I feel I should add that she will
continue
to stay in the garage at night, because we can't get any sleep with her pacing and tags rattling. We did try ... for about 20 minutes.
I am now open for suggestions.