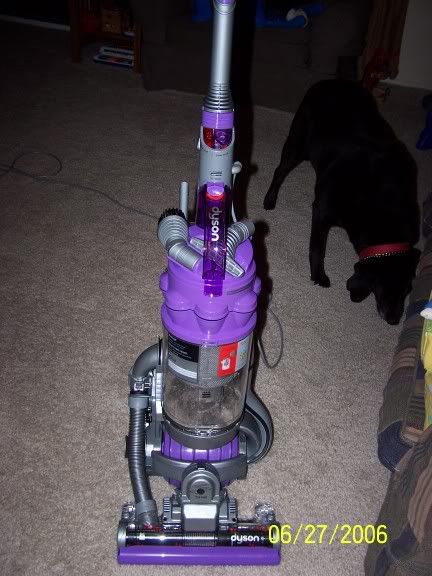 Dyson Animal
, that is.
I've been hearing about this vacuum cleaner for a long, long time. How GREAT it is. How it NEVER loses suction. How it maneuvers easily around furniture. How wonderful it is to never have to change vacuum cleaner bags, again.

Aside from that, Charlie really likes the guy's commercials and the way he says in his British (Scottish? New Zealand? Aussie? South African?) accent "I just believe things should work properly."

Armed with Charlie thinking the commercials were good ... a 20% off coupon from Bed Bath & Beyond ... a 5-year old Kenmore canister vacuum that is on the fritz ... and the fact that we've got enough dog hair in our house to knit a full body suit (Kink Numero Duos) ... I headed off to buy a new vacuum cleaner today.

Not just any vacuum ... a Dyson Animal vacuum.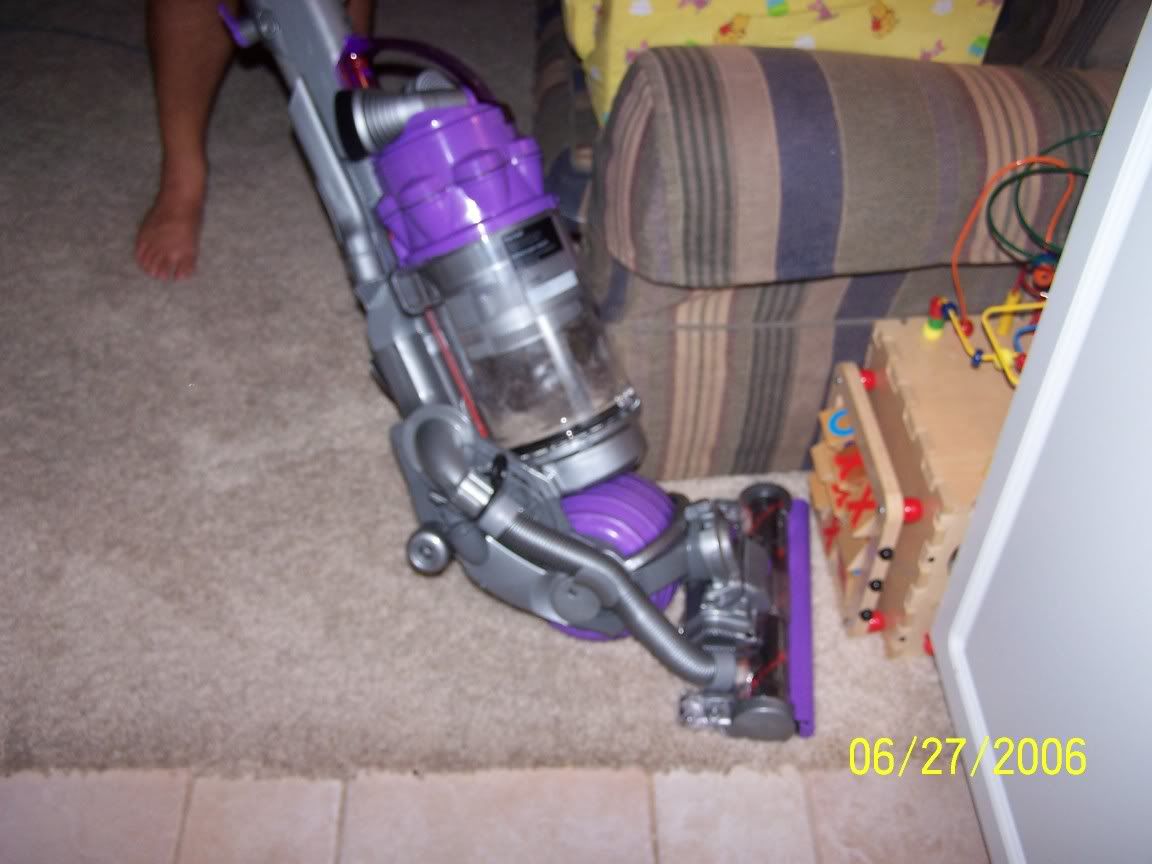 The vacuum that I purchased is apparently the "Baddest Ass" vacuum on the market. It brags a DC15, with root cyclone technology, the "ball", telescopic reach, and is the most powerful upright for pet hair. At least that's what the box says.

I'm not entirely sure what a DC15 is ... it sounds like a jet engine. But what's really neat is that it looks like a purple robot!

Wasting no time, we rip open the box and drag out this costly apparatus. There is a lot of plastic and several booklets with instructions and the history of Dyson. I've tucked those items away to read at some later time or when I can't understand how to use the telescopic reach. (Am I the only one that never reads the instruction manual? Maybe I'd know what a DC15 is, if I took 5 minutes to read the brochure.)

I then sit back on the couch with a bottle of wine and my trusty camera, while Charlie demonstrates what a vacuum with root cyclone technology is capable of accomplishing.

It's really incredible what I can get away with in the name of "research" for my blog.
Thank you, blog. Thank you. During my course of "research" tonight ... my husband vacuumed our living room. And bedroom. And guest room. And hallway. And all the oriental rugs in our dining room and family room. And I decided that Rodney Strong makes a marvelous Cab.

I must admit, at the conclusion of my research, I was thoroughly impressed and equally grossed out. The way the vacuum maneuvers around the furniture is awesome and seeing the amount of dirt on the floor ... it was horrific.

Now maybe it's a visual thing ... because I could actually see all the nasty dirt, dust, Cheerios, and pet hair that was sucked in to the cyclone. With a bag, you can't actually see what you are vacuuming up. But since we just vacuumed our floors two days ago, I was disturbed with the amount of gunk that was on the ground - in one room - tonight.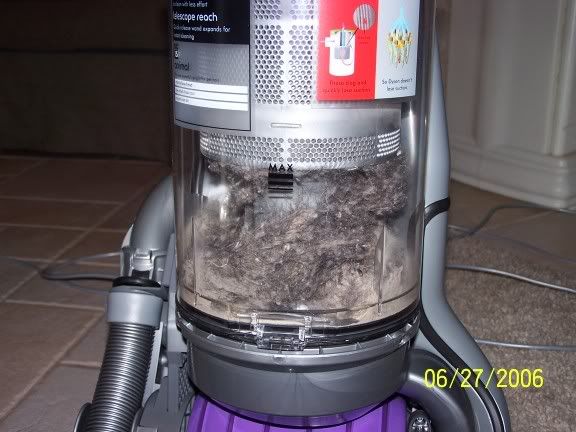 The house will be vacuumed every single day from this point on.

Or, at least until we forget how grossed out we are, at this very moment.

This concludes my public service announcement on the Dyson Animal vacuum cleaner. It's pretty cool. If you've got a lot of carpet in your house - and a dog - and $480.00 (after you use your 20% off Bed Bath & Beyond coupon), I highly recommend it.

Most importantly, it really does work properly. From what I could tell, it never once lost suction. Of course I could probably tell you more if I read any of the instruction pamphlets.

The fact that I'm getting excited about a vacuum - and posting a story plus pictures about it on my blog, does that make me a Domestic Diva, or a loser?? I really can't tell ...