Every so often, my mother (Noni) volunteers some of her free time at the church thrift store. Once in a while, she will come across great finds. A bonus of her volunteer work is that she has the advantage of seeing items available for sale, before they hit the showroom floor ... so to speak. It's a church thrift store, afterall.
A couple weeks ago, someone donated a baby doll carriage. A real fancy one ... the kind that the baby lays down in, with a little canopy over the top and a basket underneath. I think Noni said that she bought this baby doll carriage for a whopping $3.00. Maybe it was $5.00. Anyway. She takes the doll carriage to the post office to mail it - and it was going to cost $85.00 ... 17 times more than it was worth. Our Noni lugged this doll carriage to several different "We-Ship-For-You" companies until she finally came to UPS ... where they said that they would mail it for $14.00. Only 3 times more than it was worth. Yay for UPS!
I received the package this week. I eagerly opened the box, pulled out the carriage - assembled the handle, screwed on the canopy and put the little doll that it came with inside. Charlie was out on a walk with the kids - so when he arrived home, I waited for the kids to recognize this new plaything. Elizabeth came in to the room first. She hesitated, and then walked over, peered inside and looked at me with a huge grin as if to say "Can it BE?!" Less than two minutes later, Carolyn came in to the room.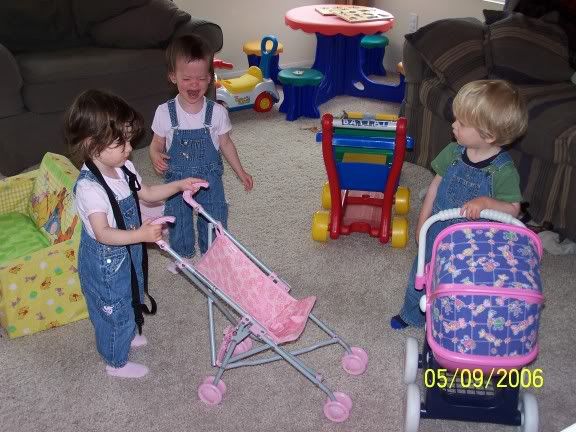 OK. Stop.
Maybe it's the insane amount of food our kids put away - or genetics - or a little of both ... but within the past month, Carolyn has actually grown TALLER than William. He might still weigh a couple pounds more than his younger sister, but what she lacks in weight, she makes up for in passion. We use to joke that William was going to grow up and work for the IRS, because he would take away anything that someone else had and that he wanted. "Oh oh girls ... better run ... here comes the TAX MAN!"
These days, it's a different story. There is no doubt about it ... Carolyn is the alpha leader in our pack of babies.
Back to my story.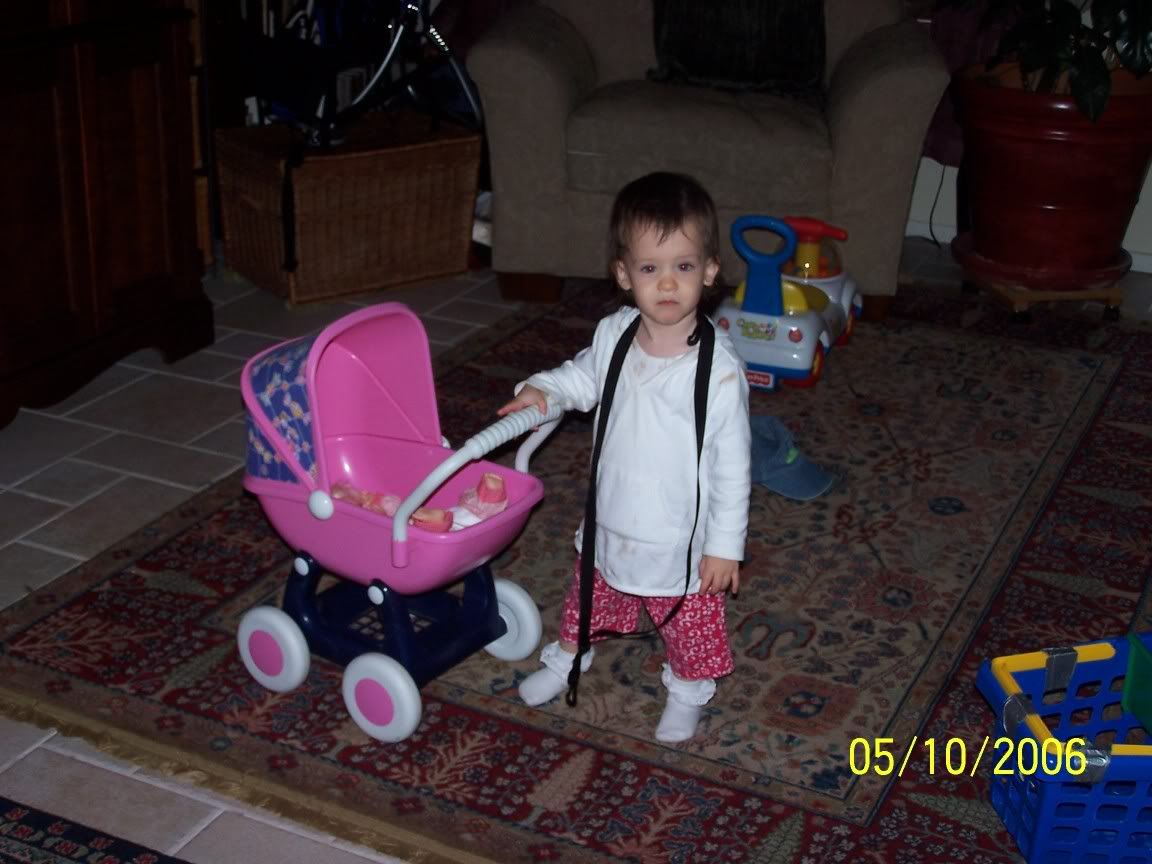 Elizabeth looks over at Carolyn and screams. She knows what's coming. Her moment of undisturbed joy with the baby doll carriage is ending - in a matter of seconds. She tries to run away with the carriage, but Carolyn intercepts her exit and ... just as I expected ... straight arms Elizabeth to the floor. I wasted no time running over to tell Carolyn "Be gentle with your sister!" while I scooped up a sobbing Elizabeth.
What Elizabeth doesn't remember is that
Santa Claus
(or maybe she does remember, but chose to forget after being traumatized by the Patron Saint of Children) visited us this past Christmas. And, well, unfortunately, two of his reindeer fell ill and the only way that he was going to make it back to the North Pole, was if he unloaded the remaining contents of his sleigh at our house. It just so happens that one of the items Santa left behind was a baby doll carriage. Elizabeth didn't remember this baby doll carriage because 15 minutes in to Christmas morning, Mommy realized it was not age appropriate for 14-month old toddlers and stuck it in the back of her closet. Where it remained, until now.
I pulled the Santa doll carriage out of my closet and Elizabeth's happy demeanor was instantly restored. She placed
bunny
in and stood back looking at the stroller and her lovey, with pure joy. I let her enjoy a few quiet minutes playing with this doll carriage before I brought her back in to the
lion's den
playroom. Once she was reunited with her siblings, all eyes were on the NEW doll carriage. William and Carolyn started to circle Elizabeth, who stood in the middle of the room clutching the carriage, eyes diverting left and right, fully aware of the impending danger.
Then something happened that I never expected.
Our little Elizabeth, who weighs 6 pounds less than William, 4 pounds less than Carolyn ... defended not just one, but both of the heavy-weights off.
She opened up the biggest can of whoop-ass I've ever seen.
With arms flailing, feet stomping - she pushed Carolyn to the ground with one hand (other hand was planted firmly on the carriage), and then turned on William and said "You want some of the THIS?!" I was shocked. I've never so much as heard her utter "Mama" and yet I could have sworn she straight away challenged her brother to a fight, right there in our playroom.
William's no fool. He tucked tail and ran over to play with Noni's baby doll carriage, while Carolyn processed what had just transpired.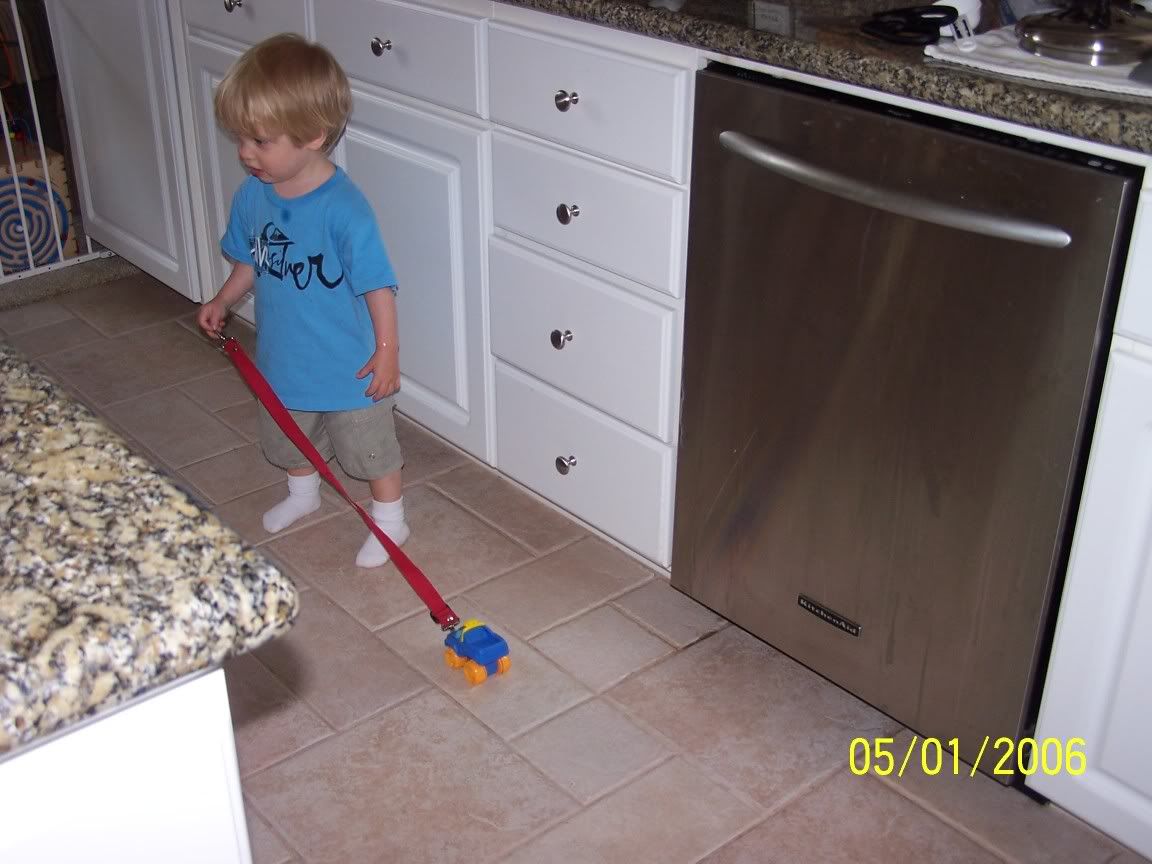 Sadly, for William ... he didn't get to play with Noni's baby doll carriage for long.
The pecking order has been established. Carolyn remains the alpha leader for all matters,
except
baby doll carriages. Her baby doll carriage is the one that Noni mailed out this week. Elizabeth remains passive and sweet, unless someone comes near her baby doll carriage, the one that Santa had to unload at our house this past Christmas. William, meanwhile, has resigned himself to playing with toy trucks fastened to a belt.
Get use to it little guy ... you're outnumbered.