I'm sitting here on Sunday night ... barely able to remember what I was doing two nights ago, at this same time. Wait. It just came to me. I was updating my blog while sipping on a nice cab. Kind of like what I'm doing again, tonight.
Saturday, we spent organizing. We've got a community yard sale coming up next weekend - and we have a load of stuff taking up space in our garage that we're anxious to move. By the time we'd finished - it looked like a daycare center went belly-up. Three baby mobiles, three crib sets, an exersaucer, a walker, a jumperoo, three infant tubs, three bath rings. The list goes on and on. Fortunately, I'd also donated a lot of stuff to the NICU where our children were born ... or people might think we'd robbed Babies R' Us.
By Saturday afternoon - the natives were getting restless, so we loaded them in the van and headed out. Destination ... someplace. We didn't really know where we were going, but we figured a drive on a beautiful day would be nice. We ended up at Chevy's Mexican restaurant. I'm keeping a running log of all the topics I want to post about on this blog. One of these topics is the art of dining out with toddler triplets. It's insane to me that a restaurant like Chevy's would only have five highchairs. Two were being used ... we took the other three.
Note to self: keep booster chairs in the car at all times for situations like this.

William went nuts over the rice and beans from our fajitas. He also snacked on a blue crayon. Quite a delicacy, those crayolas. Carolyn enjoyed the chicken and tortillas. Elizabeth didn't touch a thing. This child can usually pack away more than her brother and sister combined. When she's not eating ... it's a pretty good indication something's up.
(self adhesive placemats are a must-have for dining out. Except for when the kids pull the placemats up and stick them to their head ... like William is in the process of doing, in the photo above.)
We get home and get the babies ready for bed. We put them to bed. We sit and relax. We head to bed at around 11:00 PM. I am awake up at 12:43 AM. And, I remain awake, minus a few quick snoozes here and there ... until the sun comes up at 6:30 AM. With Elizabeth. With a temperature of 102. I don't know how, when or where she picked up this latest bug. Maybe it is a delayed response to the bug that I had two weeks ago.
Today, Elizabeth spent the majority of the day, camped out on my chest. Not in her crib, not playing with toys. Laying on my chest. This was perfectly fine by me. I had nothing better to do then hold my baby, all day. Charlie had wanted me to go spend a day alone - shopping, getting a massage, reading a book. But, my time was better spent at home. On the couch. With Elizabeth.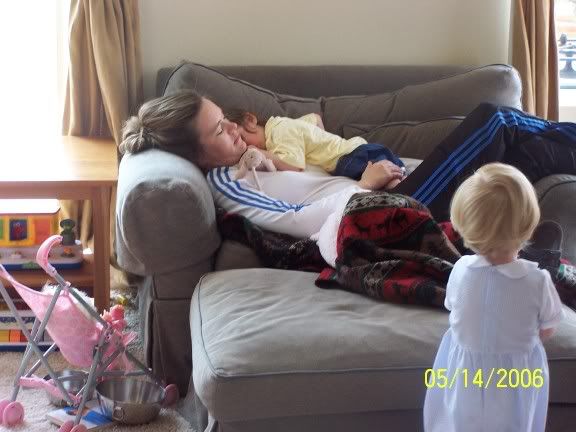 William and Carolyn appeared to be feeling OK. Chasing each other all around the house, babbling up a storm and being plain adorable. Carolyn is turning in to quite the little mother, with her doll "baby" and William loved playing with his new truck with the telescoping ladder from Noni. Charlie went for a run this afternoon, and took the two of them in our double jogger, while I stayed home with Elizabeth. By the time Charlie came home from the run, William and Carolyn both had a temperature of 101.
So. Here we go. Again. If someone could tell me how to get off this "sick-train-from-hell" I'd be most appreciative.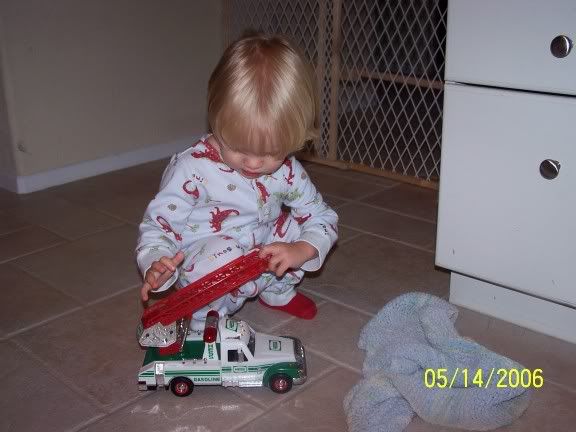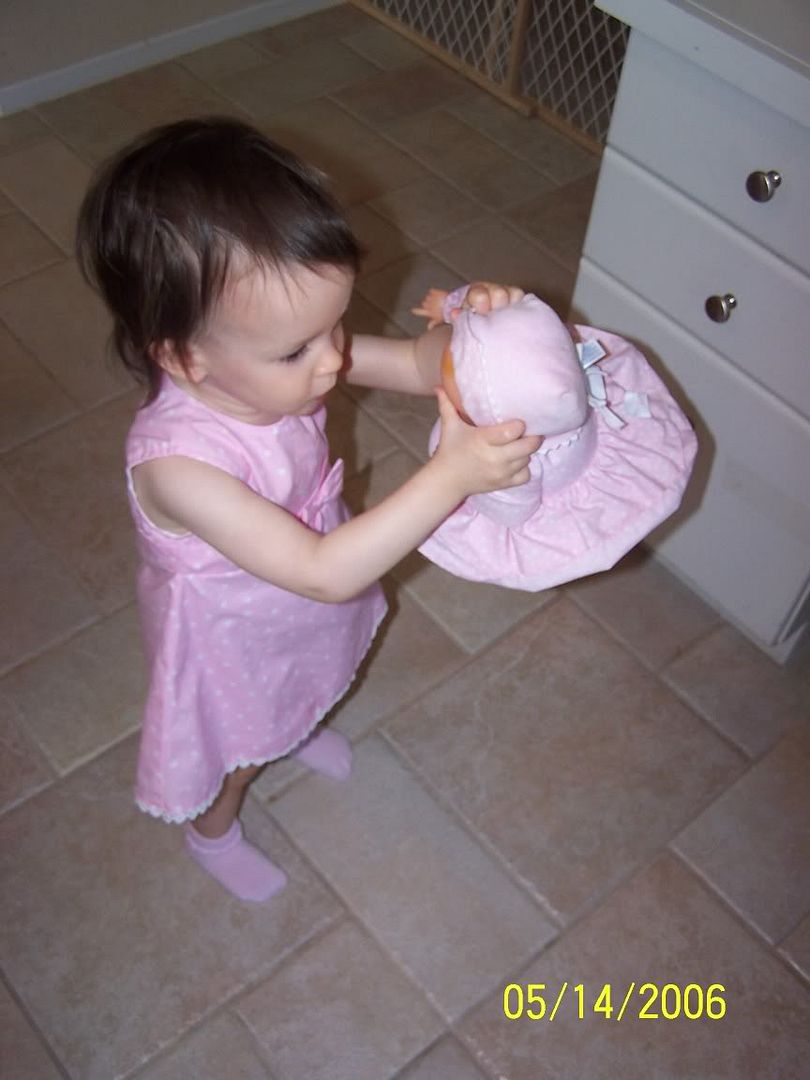 Tonight, I gave everyone a tepid bath in the sink. Cool compresses. Lots of fluids. I just pray that this is some *quick* virus that isn't accompanied by runny noses, a cough and the dreaded ear infection. I pray that everyone feels better by morning. I also pray that Charlie and I don't get struck down by this latest round of crud. By the time they went to bed, I could tell they were feeling a little better. (Some good news is that Elizabeth and Carolyn appear to have struck a compromise on playing with baby strollers).


As I was giving the babies a bath, I started thinking about my mom. My mother always had a knack for making me feel better. Whether I was sick, or not. Whether I was 3 or 33. Her presence. Her loving eyes that could assess what was wrong with me and how to correct it, before I even knew there was a problem in the first place. Sometimes, it was her cool hand on my forehead, or a gentle rub on my back. Or maybe, just her words.

After our babies were born, William came down with necrotizing entercolitis (NEC). A nasty infection that affects the intestines and is common in premature infants. The neonatologists at the hospital were preparing us for the worst. Surgery was highly likely. It could be fatal. Our 4-pound baby, less than two weeks old was very sick, and we were scared to death. Never before have I had that kind of fear surge through my heart. Never before have I felt so completely helpless.

There was nothing that we could do, except wait.

Because I delivered the babies so early, my mother wasn't in town yet. She was 3,000-miles away, on the opposite side of the country. The day she finally arrived, we met at the hospital. As soon as I saw her, I completely broke down. Emotionally and physically. It was as if I was carrying around this heavy burden and once she arrived - she took it from me. Nobody else could do this. That's the kind of super hero power that only my mother has.
Being that it's Mother's Day, I'm in a reflective mood.
On this Mother's Day, I am so grateful for my mom. She is and always has been, a bright light in my life. She makes my world a better place. More than that, she makes the world a better place for every person that she touches. My mom has one of those nurturing, kind spirits. My mom is a gentle soul who has taught me to always be kind. Perhaps it's because she's a nurse. Or, maybe it's because she's the mother of seven children. I think it's because she's just an amazing person and I am so thankful that I was blessed to be her daughter. I love you, Mom.

On this Mother's Day, I am completely in love with the three healthy, beautiful babies that arrived in to our lives, 19-months ago, today. And, I am so thankful for the maternal instinct that I have inherited from my own mom. Tonight, with three ailing toddlers, I knew exactly what to do. I hope and pray that I am always as good of a mother and teacher to them – as my mother has been to me.
On this Mother's Day, my heart aches for all those mom's, the world over, whose children are sick. Those mother's that feel no sense of control and whose hearts run cold with the fear of helplessness. As of late, my mind is consumed with positive, healing thoughts for my friends - Sara, Lori and Zanne. All three have baby boys that are giving their mom's a terrible scare.

On this Mother's Day, my heart breaks for all those mother's that have lost a child and who never believe that they will be whole, again. A friend, who lost her baby girl to NEC, has a saying that there is no foot too small that it doesn't leave an imprint on the world. Another friend has a saying that everything has God's fingerprints on it. Those are beautiful sentiments and the only way that I can grasp the apparent senselessness of losing a child.

On this Mother's Day, my heart is full for all those mother's who are waiting for the arrival of their child. And waiting. And waiting. I know, firsthand, the longing that these women feel. The sense of absolute desperation, frustration, sadness and anger. I hope that one day soon - all of these mom's will be united with their babies.

According to my online thesaurus ... the synonym for mother is protector, nurse, and advocate. On this Mother's Day, even with three sick babies that I anticipate will be awake at some point during the night (hopefully, not at the same time), I am so thankful to finally be one.
There is no greater reward than in giving ... and there is no greater gift than being a Mom.